Wondering what to gift your parents for their anniversary? Or just a gift without having any occasion? There are tons of gift ideas out there but the best idea would be to gift them something they actually need and can make use of. Be it birthdays, anniversaries or just because you want to, we got a selection of useful gifts for parents. These are things they will love to use for every single day to come.
al giftcards has got everything you need for that ultimate gifting experience. Look out for the best gift cards from tops brands like BabyShop, MaxFashion, Splash, and much more. Today we bring you products from Amazon. ae, which are cute, simple, and practical. We are sure, these will prove to be the most useful gifts for parents.
Along with that, get an added gift of Amazon Giftcards, 'cause you never know what your parents may have on their wishlist.
6 most useful gifts for Parents
1. Self-stirring mug
Get them a self-stirring mug, maybe a pair for them both and let them relax. This Mengshen Self Stirring mug has a capacity of 480ml, with a no-spill feature. Keep the beverage at the same temperature, no matter the choice.
Click on the activating button and let the fluid motor do the job. Self-stirring mugs are useful gifts for parents as they can use them for their favorite cup of coffee or take it with them on a commute. Pour some coffee, cream, and sweetener, press the button, and there you go!
2. Posture Corrector
Maintaining a proper posture helps you avoid a large number of diseases and illnesses that become prominent in old age. Good posture can help boost energy levels, help you breathe better, make you appear taller, and reduces the chances of injury.
These posture correctors contribute to the overall well-being and daily activities. Let your parents get pain relief and get the most benefits. 
3. Xiaomi Mi TV stick
Streaming technology has blown up and if your parents are missing it, get them a TV stick. This Mi TV Stick can be the perfect gift for your parents. Tap to cast wirelessly from your other devices to the TV. You can connect from the iPhone, iPad, Android devices, laptops, etc. You may need to sit through already seen Facebook videos that your dad likes, but it is worth it.
Also, you can take calls without interrupting whatever you are playing. Good luck!
4. Blue light glasses
Blue light blocking glasses protect the eyes from glare and reduce damage to your retina. These can serve as an amazing choice in useful gifts for parents. These block or filter out blue light emitted from digital screens and save your retina.
Now that daily life revolves around digital screens, from mobile screens to TV, these should be a daily use item. Digital eyestrain and retina damage are the two main problems caused by blue light. It results in fatigue, dry eyes, bad lighting. Also, Symptoms of eyestrain include sore or irritated eyes and difficulty focusing.
Save them from all the trouble!
5.
Infusion Water Pitcher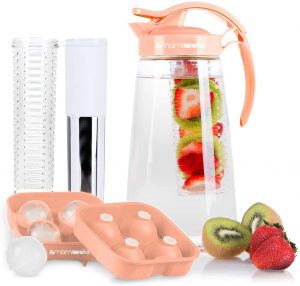 Sugary vitamin water is a huge nay-nay. Offer your parents a sugar-free alternative. Get them an Infusion Water Pitcher. They will be drinking much more water and staying hydrated, every single day. Now that's something to add to the useful gifts for parents' wishlist.
You can use this pitcher for both hot and cold beverages. The solid Tritan body and the stainless steel herbs infuser will let you use hot water. You can brew a hot beverage and let them cool in the fridge as well.  As it is made up of a thick and durable Tritan material, it is heat resistant, dishwasher safe, and shatterproof. Also, the Hermetic seal mechanism makes the pitcher odor resistant. 
As a bonus, you also get a matching silicone Ice Ball maker. You can make perfect round and fruity popsicles for the little kids. The slow-melting ice balls are the best way to cool your beverages. You will also receive an exclusive Infused Water Recipes Booklet, with many combinations and recipes that will help you get started.
6. True wireless earpods
Why not help your parents upgrade as well? True wireless in-ear headphones are a very modern and practical choice for your parents. They can use it every single day, whether they are going for walk or cleaning at home. Also, one of the best things about earpods is that they come in every budget.
We chose the JBL T120 TWS True Wireless In-Ear Headphones because of their high ratings and good reviews. Make your choice according to your budget and their choice!
That's all for useful gifts for parents! We hope you like our selection. Now, go and make your parents smile! Keep shopping and get the ultimate gifting experience with us.