Spoil Your Kids With Our Babyshop eGift Cards
Kids deserve the best, and Babyshop is one credible online store that helps parents purchase every necessary product, based on their requirements. Therefore, if you know someone who has a child, regardless of age, gifting him or her Babyshop gift cards is the best possible option.
Babyshop Gift Cards for Babyshower
The most interesting thing about Babyshop is that it features an extended product line, including essentials for infants, grown-up children, babies, and toddlers. Parents, visiting Babyshop, can browse through select product categories, including sleeping bags, nursery equipment, high-end gadgets, and a lot more. However, the process becomes easier if they get a redeemable eGift card from your end, precisely as a gift to welcome the new member to this world.
A Babyshop gift card is probably the most alluring digital souvenir that you can purchase for your friends, relatives, or employees. If sent across to the concerned recipients, can help them add new toys or other utilitarian products to the existing collection.
Most importantly, the eGift cards are applicable across the entire store and can be paired as Babyshop Coupon Codes or Babyshop vouchers, depending on the validity and redemption options.
Why choose Babyshop eGift Cards for parents to be?
Babyshop comes across as a one-stop solution for parents looking to make life better for their kids. Your purchased Babyshop eGift card can be an asset to them, provided they are shopping for new and improved essentials. Put an end to guesswork with regards to baby gifting options, and purchase a Babyshop gift card from Al GiftCards.
---
How to Get Babyshop Gift Cards?
Choose the Babyshop Gift Card that you want to Buy from al giftcards.

Verify the terms and conditions first.

Now Choose the amount of Babyshop Gift Voucher.

Select one of the Delivery Options then click "Buy Now".

You will be redirected to the payment/checkout page.

---
How to Redeem Babyshop Gift Card
First Find your Babyshop e Gift Card Number and pin code from the voucher.

Then Visit Official Babyshop Website

Login/Sign up at Babyshop.

Click on Babyshop Credit Tab, enter the 25-digit gift card number and 4-digit pin

Click on Apply to Redeem your gift card.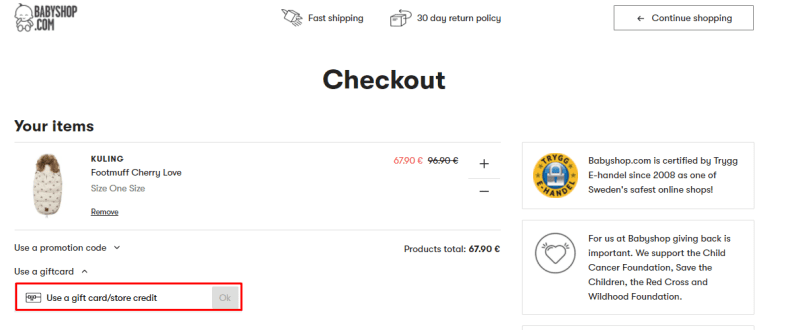 ---
Popular e-Gift Card Searches:
When will I receive the Gift Card?

How to get a Babyshop Gift Card?

What is the validity of my Babyshop e-Gift Card?

How to use the Babyshop Gift Card?

Can I use my Gift Card on multiple purchases?

My Babyshop Gift Card is lost. What can I do now?

What Payment methods are accepted by al giftcards?
For additional questions, you can leave us a message here, and we will get back to you shortly!
Happy shopping!