Witness the Exclusivity of Holistic Shopping With Our Noon UAE eGift Cards
One-stop online shopping stores are incredibly beneficial, provided you want to minimize the efforts of scrolling through diverse websites and product ranges. Noon is one of the most sought-after websites that allow individuals to browse across a wide range of collections, including electronics, beauty essentials, and even groceries with the latest noon coupon codes, discount codes, and noon coupons.
Most importantly, you can send across a Noon Gift card to a close friend, employee, or family member as a gift or a resource that would minimize the purchase burden on them. A Noon Gift card is valid across every product line that is featured on the website and can be redeemed anytime within three months.
Moreover, you can only send across the gift card code, which is readily identified once the recipient feeds the same into the system and gets the requisite discount on the concerned product. You can also consider a noon gift voucher code for individuals looking for gadgets and branded sportswear but finding it hard to match up with the soaring prices.
However, if you are confused as to how to get noon gift cards from reliable sources, Al GiftCards is one store to consider. What stands out is that Noon is one store that has a potential gift for every individual, and a Noon eGift card is a perfect gift if you are looking to avoid the hassle of visiting any physical store to get something for the loved ones. So go ahead and get a Noon gift card for your special someone.
How to Get Noon Gift Card?
Choose the Noon Gift Card that you want to Buy from al giftcards.

Verify the terms and conditions first.

Now Choose the value of the Noon Gift Voucher then click on the "Buy Noon Gift Card" Button.

You will be redirected to the official Noon website.
---
How to Redeem Noon Gift Card
First Find your Noon e Gift Card Number from the voucher.

Then Visit Official Noon Website

Login/Sign up at Noon

Click on Noon Credit Tab, enter the gift card code and click it on redeem button.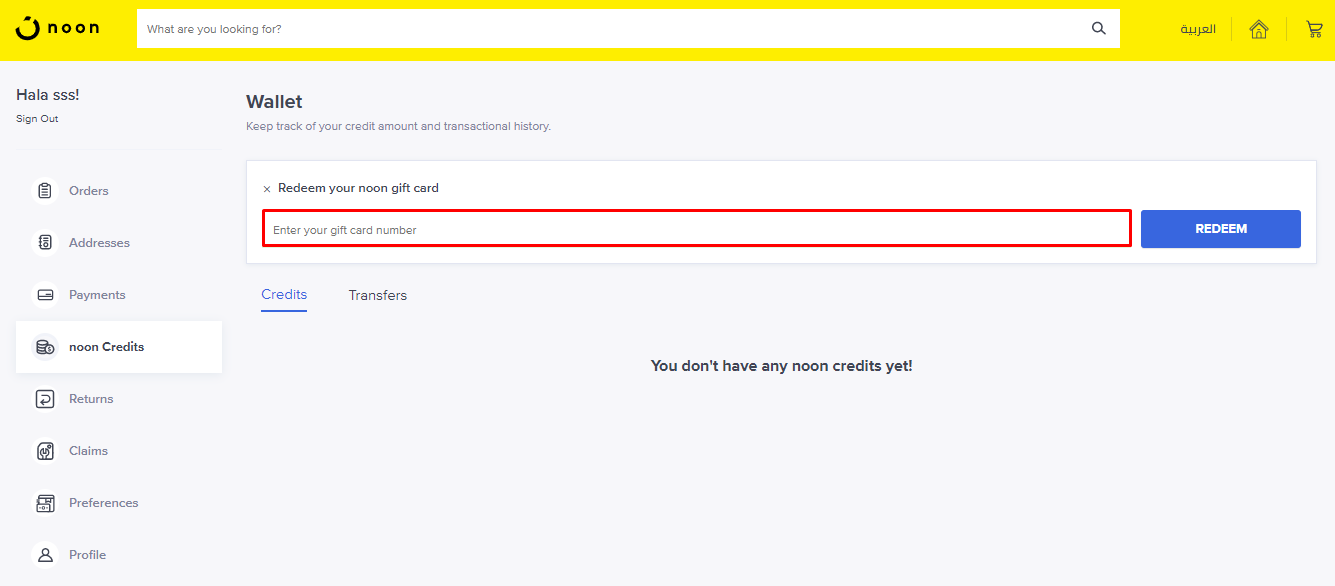 ---
How to Redeem Noon KSA Gift Card
Go to https://www.noon.com/saudi-en/gift-cards__redeem

Click on "REDEEM YOUR GIFT CARD".



Type or Paste the Gift card Serial Number and Pin in the field and click the blue "PROCEED" button.


Popular e-Gift Card Searches
When will I receive the Gift Card?

How to get a Noon Gift Card?

What is the validity of my Noon e-Gift Card?

How to use the Noon Gift Card?

Can Noon Gift Cards be redeemed for cash?

Can I use my Gift Card on multiple purchases?

What happens if my purchase value exceeds that of the gift card?

Can I return any product that I purchase through Noon Gift Cards?

My Noon Gift Card is lost. What can I do now?
For additional questions, you can leave us a message here, and we will get back to you shortly!
Happy shopping!