Witness the Exclusivity of Holistic Shopping With Our Noon UAE eGift Cards

One-stop online shopping stores are incredibly beneficial, provided you want to minimize the efforts of scrolling through diverse websites and product ranges. Noon is one of the most sought after websites that allow individuals to browse across a wide range of collections, including electronics, beauty essentials, and even groceries with latest noon coupon codes, discount codes and noon coupons.
Most importantly, you can send across a Noon Gift card to a close friend, employee, or family member as a gift or a resource that would minimize the purchase burden on them. A Noon Gift card is valid across every product line that is featured on the website and can be redeemed anytime within three months.
Moreover, you can only send across the gift card code, which is readily identified once the recipient feeds the same into the system and gets the requisite discount on the concerned product. You can also consider a noon gift voucher code for individuals looking for gadgets and branded sportswear but finding it hard to match up with the soaring prices.
However, if you are confused as to how to get noon gift cards from reliable sources, Al GiftCards is one store to consider. What stands out is that Noon is one store that has a potential gift for every individual, and a Noon eGift card is a perfect gift if you are looking to avoid the hassle of visiting any physical store to get something for the loved ones. So go ahead and get a Noon gift card for your special someone.
---
How to Get Noon Gift Card?
Choose the Noon Gift Card that you want to Buy from al giftcards.
Verify the terms and conditions first.
Now Choose the value of Noon Gift Voucher then click on "Buy Noon Gift Card" Button.
You will be redirected to the official Noon website.
---
How to Redeem Gift Card
First Find your Noon e Gift Card Number from the voucher.
Then Visit Official Noon Website
Login/Sign up at Noon
Click on Noon Credit Tab, enter the gift card code and click it on redeem button.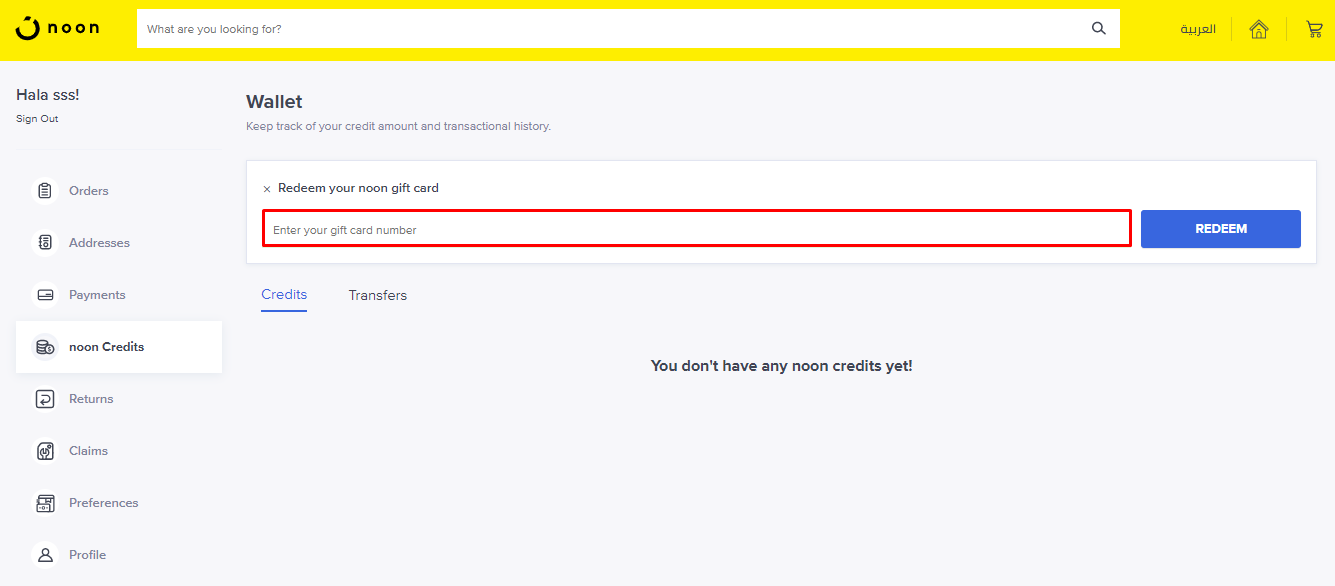 ---
Popular e-Gift Card Searches:
Centrepoint Gift Card, Splash Gift Card, Max Fashion Gift Card, iTunes Gift Card, Playstation Gift Card.
We have mentioned most of the pointers that our customers need to know regarding the gift cards.
How to get a Noon Gift Card?
To purchase authentic Noon Gift Cards, you can count on us anytime. Go through the different options to choose the voucher amount that suits you best, and send Noon Gift Voucher to your loved ones, today! Check the Gift Card details before you purchase them.
What is the validity of my Noon e-Gift Card?
When you receive the Noon Gift Card, make sure to check the date of the issue. Noon Gift Cards are valid until a year from the date of purchase or issue.
Remember, Noon Gift Cards cannot be redeemed when the validity period is over.
How to use the Noon Gift Card?
It is quite simple! All you need to do is visit the Noon website. Log in, or sign up at Noon and start shopping. Click on the Noon credit tab and enter the gift card code and apply it to redeem. Add the desired products to your shopping cart and hit checkout. That's all! Now, wasn't that easy?
Can Noon Gift Cards be redeemed for cash?
Sorry, but Noon Gift Cards cannot be exchanged or redeemed for cash. Once, you purchase or get a gift card; you need to shop at Noon using the Gift Card code to redeem the amount.
Can I use my Gift Card on multiple purchases?
It is recommended that you use your Noon Gift Card on your purchases one-time. Any balance of the amount that is left unused is lost. So, check the amount of the Gift card and purchase it at one go.
What happens if my purchase value exceeds that of the gift card?
If the total bill amount exceeds the amount of the gift card, the customer is liable to pay the excess amount.
Can I return any product that I purchase through Noon Gift Cards?
If the product you purchase with a Noon Gift Card falls under the return policy of Noon, you can return it without any hassles. Any product bought with a gift card directly falls under the Noon return and refund policy. So, don't worry!
My Noon Gift Card is lost. What can I do now?
We are sorry, but no compensation is provided for the loss of Noon Gift Cards. Any mutilated or damaged Gift Card is not accepted as well.
Hurry and send your near ones some love and Noon Gift Vouchers to make them happier.
For additional questions, you can leave us a message here, and we will get back to you shortly!
Happy shopping!