Fashion Merchandising Made Easy With Our Max eGift Cards

If you are finding it troublesome to select the perfect gift for your friend or family member, it's time to consider Max and the associated eGift cards. To start with, Max is an all-purpose fashion store with an exquisite collection of apparel, cosmetics, household essentials, footwear, and more. Therefore, instead of buying a product and gifting the same, you can always send across a valuable Max gift card.
The gift card from Max allows the recipient to make choices according to preferences, requirements, and budget. Max gift cards are highly usable entities that can be redeemed for both online and offline purchases. What needs to be understood is that Max is one of the most trusted retailers of fashion and home essentials in the UAE, connecting over 500 smaller stores and retailers!
While the online purchases are characterized by quick deliveries and redemptions, the offline visit to a regular Max store comes across as a highly rewarding experience, provided the buyers have your eGift card with them. Besides that, Max Gift card values can be preselected; once you assess the occasion's grandeur and even your financial standing.
Most importantly, the eGift cards are applicable across the entire store and can be paired as Max Fashion Coupon Codes or Max Fashion deals, depending on the validity and redemption options.
Digital gift cards from Max are highly resourceful entities if you are looking to offer newer buying opportunities to the loved ones. Most importantly, an eGift card from Max is also applicable to all the listed store products as the company retails apparel, footwear, and everything else under its own brand name.

---
How to Get Max Fashion Gift Card?
Choose the Max Fashion Gift Card that you want to Buy from al giftcards.

Verify the terms and conditions first.

Now Choose the amount of Max Fashion Gift Voucher then Select one of the Delivery Option.

You will be redirected to the Paypal.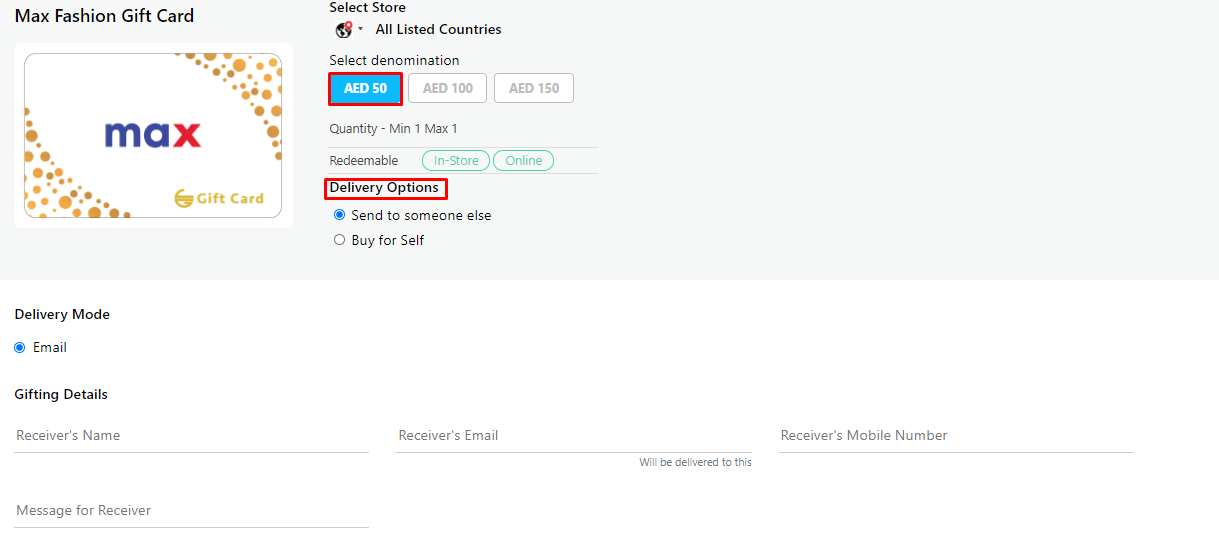 ---
How to Redeem Max Fashion Gift Card
First Find your Max Fashion e Gift Card Number and pin code from the voucher.

Then Visit Official Max Fashion Website

Login/Sign up at Max Fashion.

Click on Max Fashion Credit Tab, enter the 25-digit gift card number and 4-digit pin

Click on Apply to Redeem your gift card.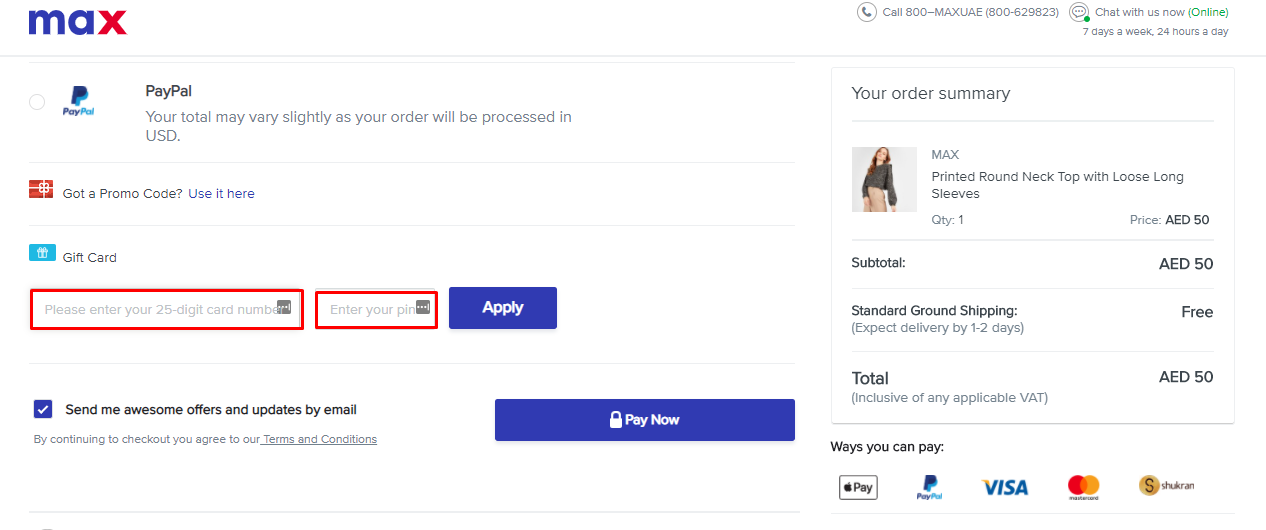 ---
Popular e-Gift Card Searches:
Noon Gift Card, Splash Gift Card, Babyshop Gift Card, iTunes Gift Card, Playstation Gift Card.
FAQs for Max Fashion Gift Card
We want our customers to shop without any worries and provide them with all the details and queries for a seamless shopping experience. Here is a list of questions we have encountered from our valuable customers, if you have the same questions, read along.
At any time, if you have other queries, please contact us, and we will reach you soon!
How to avail a Max Gift Card?
You can purchase and get hold of a Max eGift Card with us. Check out the process for buying a Gift Card from Max and follow the steps. As soon as you checkout, we make sure that the Max Gift Voucher is sent to you or your loved one in no time!
For how many days is my Max Gift Card valid?
Check the date of the issue on the Max Gift Card you receive. A Max Gift Card or Voucher is valid until a year from the date of issue. Make sure to purchase before the date of expiry.
If the date of expiration is crossed, you will no longer be able to redeem the gift card value anymore. To know more about the balance and the validity date, contact Max customer care team.
How can I use my Max Gift Voucher?
You can visit any Max retail outlets to redeem your Gift Card amount or shop from the comfort of your house. To spot the nearest retail shop, use the store locator feature on the Max website.
You can also shop from Max online portal where you need to follow these steps.
Choose the desired amount you want to purchase.

At the checkout page, you will find a Gift Card tab, where you can enter the eGift Card number.

The Gift Card amount will be shown to you.
It's that simple!
Can I encash my Gift Card and not spend it?
Sorry, but Max Gift Vouchers cannot be redeemed for cash wholly or partially.
What if my total bill exceeds the Gift Card amount?
If the total bill amount exceeds the Gift Card amount, the customer is held liable to pay the surplus amount.
What is the policy of return or exchange of products I purchase with the gift card?
All products purchased with a Max Gift Card fall under the return and exchange policy of Max Fashions.
I lost my Gift Card, what can I do now?
Sorry, but there is no compensation for the loss of gift cards. Also, note that gift cards that are damaged or mutilated are not deemed fit for redeeming.
Be it any reason or season, shop a Max Gift Card for your friends or family members. So, hurry and give your loved ones a Max Gift card today!