Fashion Merchandising Made Easy With Our Max eGift Cards

If you are finding it troublesome to select the perfect gift for your friend or family member, it's time to consider Max and the associated eGift cards. To start with, Max is an all-purpose fashion store with an exquisite collection of apparel, cosmetics, household essentials, footwear, and more. Therefore, instead of buying a product and gifting the same, you can always send across a valuable Max gift card.
The gift card from Max allows the recipient to make choices according to preferences, requirements, and budget. Max gift cards are highly usable entities that can be redeemed for both online and offline purchases. What needs to be understood is that Max is one of the most trusted retailers of fashion and home essentials in the UAE, connecting over 500 smaller stores and retailers!
While the online purchases are characterized by quick deliveries and redemptions, the offline visit to a regular Max store comes across as a highly rewarding experience, provided the buyers have your eGift card with them. Besides that, Max Gift card values can be preselected; once you assess the occasion's grandeur and even your financial standing.
Most importantly, the eGift cards are applicable across the entire store and can be paired as Max Fashion Coupon Codes or Max Fashion deals, depending on the validity and redemption options.
Digital gift cards from Max are highly resourceful entities if you are looking to offer newer buying opportunities to the loved ones. Most importantly, an eGift card from Max is also applicable to all the listed store products as the company retails apparel, footwear, and everything else under its own brand name.

---
How to Get Max Fashion Gift Card?
Choose the Max Fashion Gift Card that you want to Buy from al giftcards.

Verify the terms and conditions first.

Now Choose the amount of Max Fashion Gift Voucher then Select one of the Delivery Option.

You will be redirected to Paypal.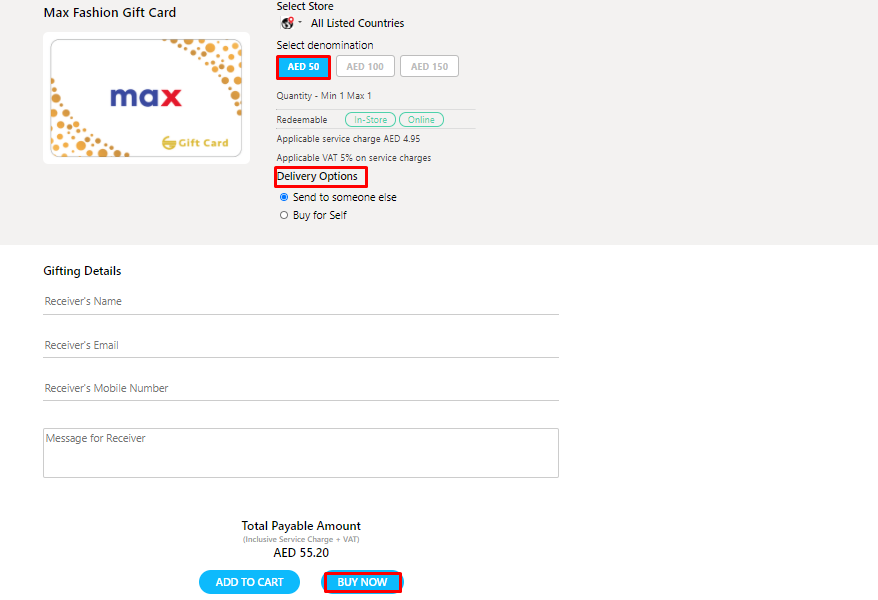 ---
How to Redeem Max Fashion e-Gift Card
First Find your Max Fashion e Gift Card Number and pin code from the voucher.

Then Visit Official Max Fashion Website

Login/Sign up at Max Fashion.

Click on Max Fashion Credit Tab, enter the 25-digit gift card number and 4-digit pin

Click on Apply to Redeem your gift card.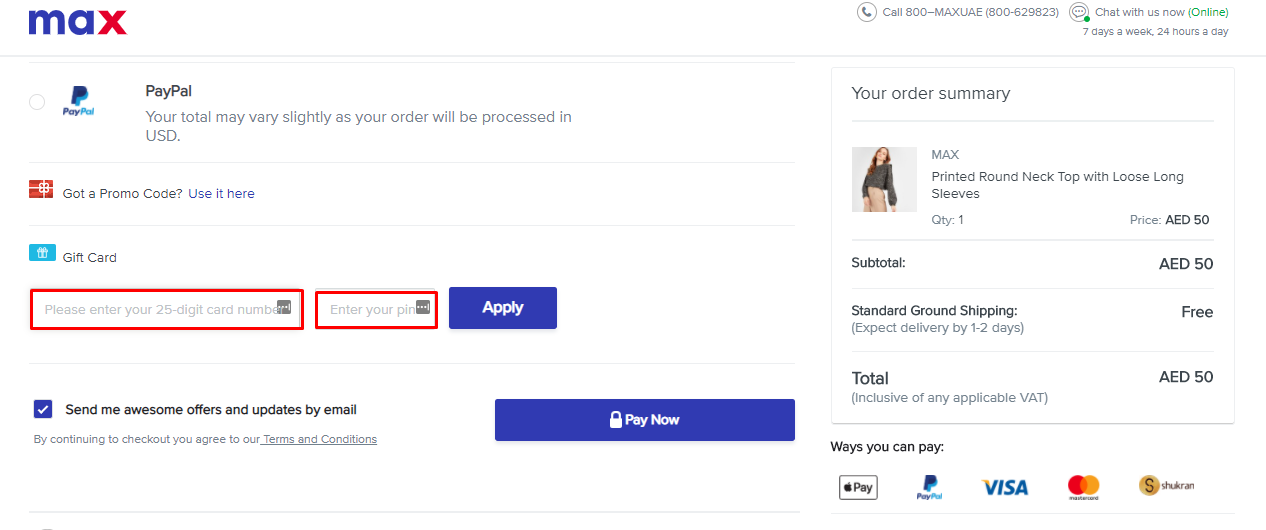 ---
Popular e-Gift Card Searches:
When will I receive the Gift Card?

How to avail a Max Gift Card?

For how many days is my Max Gift Card valid?

How can I use my Max Gift Voucher?

Can I encash my e-Gift Card and not spend it?

What if my total bill exceeds the Gift Card amount? 

What is the policy of return or exchange of products I purchase with the gift card?

I lost my Gift Card, what can I do now?
For additional questions, you can leave us a message here, and we will get back to you shortly!
Happy shopping!