Deliveroo Gift Card: Heaven for foodies
Do you want to get your hands on your favorite food from the top restaurants in UAE? Deliveroo is the best place to choose from. Finding the best food and getting it timely delivered is no longer an issue. Deliveroo UAE is your one-tap doorway to amazing cuisines and online food delivery within minutes. Offering a huge range of restaurants, food joints, and cafes to choose from, Deliveroo also takes care of the exact delicacy that you are craving.
What's more at Deliveroo UAE?
Well, Deliveroo has made it easier for all the foodies out there, to gorge on their favorite delicacy sitting at their comfort place, home. At al giftcards, we take this a step further by offering you Deliveroo Gift Cards which are easily redeemable on online food delivery. Once, your eGift Card is purchased, all they need to do is, download the Deliveroo app and place their order, it just takes seconds.
Deliveroo: Food for all occasions
Going beyond the restaurant and cuisine option, food for specific occasions or requirements can also be ordered from Deliveroo. Be it an office party or a personal get-together, this platform offers a for any event. Also, if you are planning for an occasion-oriented treat for your loved ones, al giftcards help you fulfill it with the gift cards.
Deliveroo Gift Vouchers anytime anywhere!
The way to a person's heart is through the stomach. In order to make your loved ones feel special and express how genuinely they are in your thoughts, food can be the best way to express yourself. But, selecting a perfect meal or dessert for your loved ones could be a demanding task. So, the safest option would be gifting your loved ones a Deliveroo Gift Voucher. Hence, at al giftcards, we help you to curate gift vouchers to let your friends and family experience food like never before on their special days. This can be a handy gifting solution if you are planning to surprise your loved ones with the flavor of the season.
Ease the gifting process with Deliveroo eGift Cards
With a Deliveroo gift card, your friends and family can simply redeem them while ordering online on the Deliveroo app. When you select the denomination of the gift cards which we have kept as AED 100, you can leave a heartfelt personalized note as well. You save your favorite people from standing or waiting in the restaurant by giving them a Gift card. Once, your Gift Card is purchased, your loved ones can download the Deliveroo app and place their order in a couple of minutes.
Get your Deliveroo gift card easily online
You might not be sure about using your credit card or making your bank details public while purchasing something. What now? Use a gift card instead. Buy a Deliveroo gift card and top up your account within seconds. You can also split your gift amount over multiple cards. Grab one from al giftcard and satisfy your hunger pangs anytime anywhere!
Send the gift voucher directly to a friend
While purchasing a gift card for someone If you want the gift card to get delivered directly to the recipient, you can provide the required details while placing an order and we will do the rest. The gift voucher details will be directly sent to the recipient in their respective mail.
About Deliveroo gift cards
Your gift card can be used from the app available on both iOS and Android. The gift card can also be redeemed online. To redeem your Deliveroo E-Gift Card, enter the unique code on the E-Gift Card at the checkout when you place your next order and your Deliveroo account will be credited with the amount loaded on your E-Gift Card. Once credited to a Deliveroo account E-Gift Cards are non-refundable and non-transferable. Ensure that you have your Deliveroo account before you use your card. The balance in the gift card can be used for multiple orders until the prepaid fund cannot cover your entire total. If the purchase value exceeds the value of your gift card, the differential amount can be paid through other payment methods as well
Buy yours from al giftcard
al giftcard provides you with a secure environment to buy the gift card. We have also taken care of your budget by making it available in multiple denominations.
---
How to Get Deliveroo Gift Card?
Choose the Gift Card that you want to Buy from al giftcards.

Verify the terms and conditions first.

Now Choose the amount of Deliveroo Gift Voucher then Select the Delivery Option.

You will be redirected to the checkout page.

---
How to Redeem Deliveroo Gift Card
First Find your Gift Card Code from the Deliveroo Gift voucher.

Then Visit the Official Deliveroo Website or App

Log in/Sign up at Deliveroo.

Once you have added your pick of food to the Cart.

Head to the Check out page.

Enter the unique code on the Deliveroo E-Gift Card and Press Submit.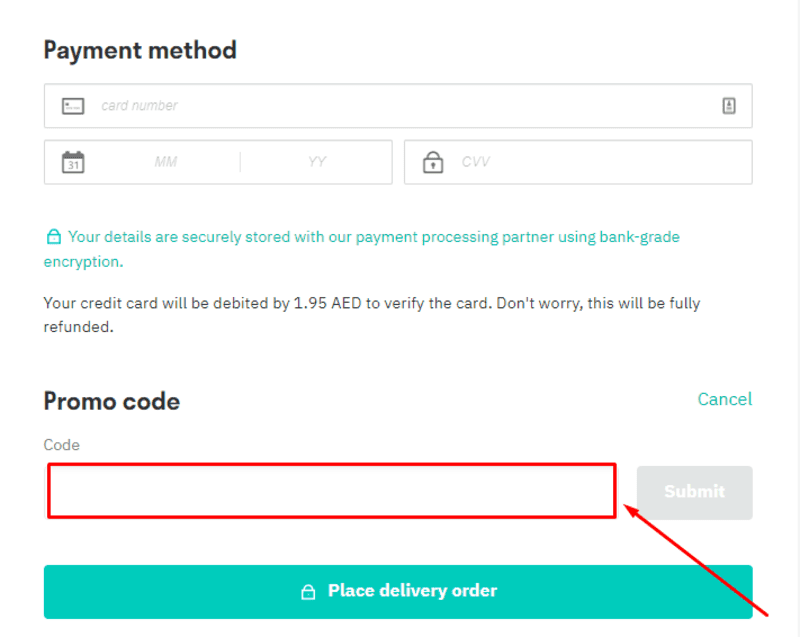 ---
Popular e-Gift Card Searches:
When will I receive the Gift Card?

How to get a Deliveroo Gift Card?

How to use a Deliveroo gift card?

Can gift cards be redeemed for cash?

What if the purchase value is more than the Deliveroo gift card balance?
For additional questions, you can leave us a message here, and we will get back to you shortly!
Happy shopping!