We all have that one particular person in our lives who is obsessed with art. The kind that has their walls filled with paintings and all sorts of masterpieces. Yes, we're talking about those who loved the quirky pieces in Joey's apartment or those who are ultra fond of Monalisa or the Last Supper in every version available.  If you have someone in the family who has a soft side for these cool merchandise, paintings, decorations, and more, here are the perfect gifts that will make them love you even more. Add more color, creativity, and splendor for the people you love. These gift ideas for art lovers will make you their absolute favorite person.
al giftcards is here to help you with your perfect gifting experience. Buying presents can be quite a hassle and risky sometimes. So al giftcards is here to help you decipher just that and get the perfect presents for your loved ones. It's their choice so you save yourself the nervousness of them not liking your gift.
Gifts for art lovers
Paintings
Paintings are some of the first things you want to consider. If you are looking for gifts for art lovers, a nice painting can never go wrong. Look out for a nice piece of artwork on canvas and it won't fail to please.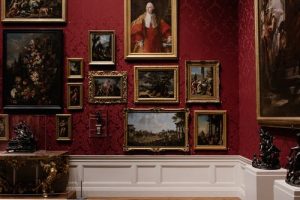 However, if you are not sure what kind of art, leave the part of choosing to the art lover. Furthermore, you have a massive collection in the market to fit the tastes of every art lover. Whether he is into aesthetic or vintage, you find it all. You have a great collection of art pieces at noon. So get your art lover a noon gift card and let him have his pick. That way everyone leaves satisfied.
Framed posters
Another great option is a nice poster. If you are not satisfied with paintings, then you can always opt for a nice poster. What's more, is that you get a greater variety. So if you can't find a good painting, a poster is something that won't disappoint you. You can look up one featuring some abstract art or even simple ones which don't have a lot going on in it. Furthermore, you can also get the favorite lines from your art lover's favorite book which will be a nice add-on to his collection.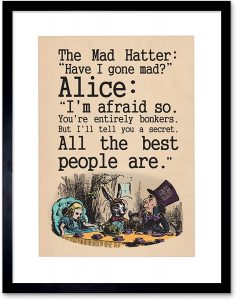 Here is the Alice In Wonderland Framed Art Print Mad Hatter Tea Party Quote Poster. Everyone loves Alice in Wonderland. So this can be a great gift for art lovers who love the imagination and fantasy behind Alice, the Mad Hatter, and more.
Get it here.
Rings and Accessories
Art lovers surely have the urge to look good and artistically divine. Get them beautiful pieces of jewelry that will make them look like a goddess. Almost every person who is fond of great art pieces and decorations will love a good set of accessories. Whether you gift a beautiful set of earrings or a nice ring, they will love it. Try your best to look for a piece that has some good detailed work and you surely won't fail to impress.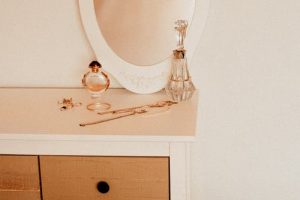 However, if you feel that you are not up for choosing and don't feel confident enough, you can always leave it up to them. Get your art lover a gift card from Splash and let them choose. Splash has a great range of beautiful accessories. Whether you want a nice pendant, bracelet, or ring,  Splash has it all. Find the best collection of detailed jewelry with stones or just beautiful cravings. This will be a great add-on and a very thoughtful gift for your art lover.
Quirky decorative statue as a gift for your art lover
Quirky statues make a great decorative piece. Since we're talking about everything an Art lover will want to have, these great pieces can't be missed. It's the time for the unconventional and abstract. The strange pieces of stone or of wood are very popular today. These heighten the overall aesthete of every room you keep it in. Everyone loves one or two of these placed neatly for people to admire. So get it now! Don't miss these great masterpieces that will help add a nice touch to your Art Lover's home.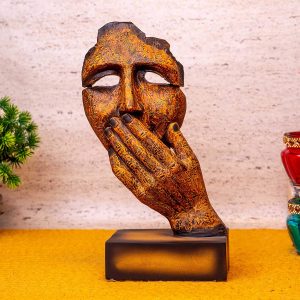 This TIED RIBBONS Human Abstract Statue Sculpture Figurine is one great piece for art lovers. The abstract piece is great for decoration. Furthermore, it is very affordable and is great for the price it is available at.
Get it now.
Also, if you don't find yourself comfortable buying one of your choice, you can opt for an Amazon gift card and let them choose!
Art encyclopedia
An encyclopedia featuring all the popular art pieces and historic achievements in the field of art will be the best gift for any art lover. Especially if the person you are buying it for has a desire to learn more and adventure, you cannot miss this out on the list of possible gifts. Let them have the chance to learn and explore from a good book that tells all the stories of the most popular paintings and painters. A greater insight to the best painters like Leonardo da Vinci and Picasso from a book at hand and not the internet is just what they need.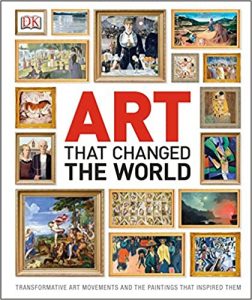 Get the book: Art That Changed the World: Transformative Art Movements and the Paintings That Inspired Them today. This is a great encyclopedia for lovers of art. Give this best gift to art lovers and let them take a virtual tour of around 2,500 paintings from the most significant artists of all time. Get it here.
Start gift shopping today and venture into so much more. We have the best gifts for the A and B personality types too. You surely won't regret it as al giftcards are here to provide you with the ultimate gifting experience. Furthermore, check out these great gifts for the artists who love to paint their way through life. Don't wait and make all the important people in your life happy.