Are you an artist or friends with one? Well, in either case, you possibly know that Inktober is here! With Halloween, fall, and art, October is bound to be just wholesome this year. Inktober is the right time for you to choose the perfects gifts for artists in your life. Luckily we are the best place for you to choose the right gifts.
Here at al giftcards we focus on providing the ultimate gifting experience. If you aren't sure what you should get for your loved ones, we will always help you out. Gift cards have been an easy, convenient, and thoughtful gift with your pick and their choice. Learn more about us and the gift card experience.
What is the Inktober challenge?
Before we jump into the list, let's learn about this amazing challenge. This challenge was created by Jake Parker, an artist himself in 2009. A month-long art challenge to improve skill and positive drawing habits. You get a prompt for each day, and you can let your imagination run wild. Create an ink drawing every day and just post it online.
If you're thinking it's already late, understand that Inktober is a challenge, not a contest. It is a way to make your skills better and sharper. Artists trying to get more out of the challenge can register themselves in The Inktober Awards which features high-value prizes for all skill levels. You don't have to send your drawings anywhere, just tag #inktober or #inktober2020.
Choose your own creative style and tools to showcase your skills. Digitally, watercolors, markers, or whatever your preferred style may be. Inktober, in its own way, becomes the giver of the most important gifts for artists: creativity and freedom.
Gifts for artists in your life
 1. Art corner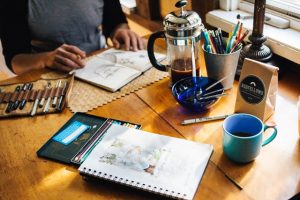 Buying a whole art studio is expensive, but a personal art corner can be achievable. A designated place only for their creativity. You can find everything you need for the art corner from Homebox. They can choose from a wide range of smart furniture, home essentials, décor items, and more according to your preference. If you can't decide, Homebox gift cards are the best way to go!
2. Funky Tshirts
Fashion statements cannot not be bold for artists. Find them the perfect match for their inner artsy spirits. You can find any number of unique clothing as gifts for artists on Amazon. You can also opt for the Amazon Giftcards, up to AED 500. Also, there are options for USD, EUR, and GBP.
Buy the Renaissance T-shirt here.
3. Art Supplies
There is no such thing as too many art supplies, you can always get a newer version or a new style of art. Help them build up their arsenal with the best art supplies. Try out Portable Watercolor Paint Set from Giorgione. 48 solid concentrated pigments with a portable metal packaging. It is perfect for watercolor lovers and you get a complimentary fountain pen and a watercolor pen.  Buy it here.
4. The Artist's Way Starter Kit
Knowing someone who just started but has incredible potential, you can gift them artist starter kits. Gifting them the right essentials to start gives them a boost of confidence. The Artist's Way Starter Kit includes Cameron's two most important Artist's Way tools-The Artist's Way and The Artist's Way Morning Pages Journal. You will find insight into building creativity through experience.
Buy it here.
5. Drawing tools
Artists have an innate ability to finding the right color and shade. Adding these four tools can help increase the precision of ten folds. The lightweight proportional divider, greyscale value finder, color wheel, and artist view catcher are here for a steal.
6.
Painting set
2 palettes, 5 knives, and 6 brushes! Yup, the dream collection for a perfect canvas painting. This is perfect for artists at every level. Spreading, scumbling, smoothing, smudging, mixing for watercolor, oil, acrylic painting, face painting, miniature, well everything! Buy it here.
7. Watercolor ink pen
A compact watercolor ink pen to create a masterpiece, anywhere, or anytime. Try out calligraphy with it as well. Fill water to 2/3rd of the total volume of the pen. The plastic holder is lightweight so it's easier to carry and use.
Buy it here.
We hope you like the gift ideas for artists in your life. Make your life colorful and inspiring every day.