Send Across Congratulatory Vibes with our Home Box eGift Cards!!!
If someone you know has a house warming party planned, selecting the right gift can keep you awake at night. Therefore, the best way to ditch the visit to a gift store is by purchasing a Home Box Gift Card and empowering individuals to purchase from a wide range of smart furniture, home essentials, décor items, and more according to their preference.
Home Box is one of the most popular stores for purchasing online furniture where buyers can browse categories related to popular brands or the entire collection on display. Home Box allows you to envision the perfect house-warming gift for someone close, which might include a fancy luxury recliner or something more utilitarian like kitchen appliances.
A Home Box eGift card is nothing less than a prized asset for individuals interested in comfortable pillows, lighting, rugs, bed linens, and more. Therefore, a digital gift card of a particular value can simplify the buying experience as the same can be applied to the entire Home Box store.

Home Box eGift Cards are applicable across the entire store and can be paired as Home Box Coupon Codes or Home Box gift vouchers, depending on the validity and redemption options.

Moreover, despite these cards offering a maximum discount on home box deals, they can also be applied to cash on delivery orders. If you gift a Home Box eGift card to a near or dear one, an additional discount code is not required, and the buyer can still get a product at almost zero cost.
Home Box offers a wide range of choices to the furniture connoisseurs, thereby allowing them to sift through home essentials, home fragrances, and whatnot. However, if you want to make their purchases even more rewarding, it's time to send across a Home Box eGift card.
---
How to Buy Home Box Gift Card?
Choose the Home Box Gift Card that you want to Buy from al giftcards.

Verify the terms and conditions first.

Now Choose the amount of Home Box Gift Voucher

Select "Send as Gift" if you wish to send it to someone else

Click "Buy Now" and you will be redirected to the checkout page.

---
How to Redeem Home Box Gift Card
First Find your Home Box e Gift Card Number and pin code from the voucher.

Then Visit Official Home Box Website

Login/Sign up at Home Box.

Click on Home Box Credit Tab, enter the 25-digit gift card number and 4-digit pin

Click on Apply to Redeem your gift card.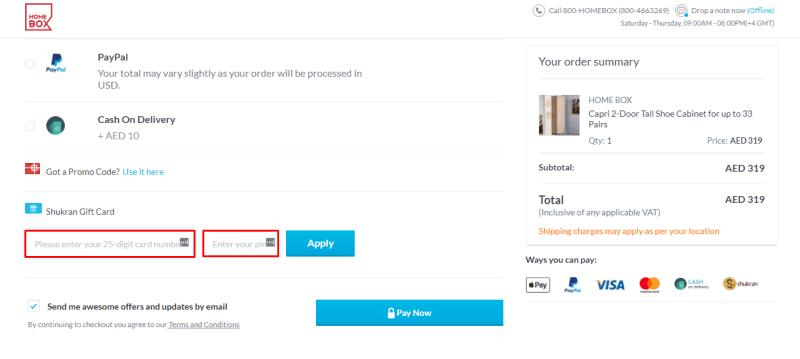 ---
Popular e-Gift Card Searches:
When will I receive the Gift Card?

How to get a Home Box Gift Card?

What is the validity of the Home Box gift card

How to activate the Home Box gift card?

How to use a Home Box gift card?

How to check the Home Box gift card balance?

Can Home Box gift cards be redeemed for cash?

What if the purchase value is more than the Home Box gift card balance?

What Payment methods are accepted by al giftcards?
For additional questions, you can leave us a message here, and we will get back to you shortly!
Happy shopping!