Are you struggling to find the perfect gift for your friend who loves cooking and spends all their free time in the kitchen? If so, we are here to help! We've compiled a list of gifts for cooks that will put a smile on their faces. From essential gadgets to cookbooks, we have something for everyone. For those with small kitchens or limited space, these gifts are sure to be winners!
Sit with us, check out our list and see if there is anything worth adding to your shopping cart. Also, why wait for the gifting season when you can shop with al giftcards? We love giving you the best gift ideas for any occasion and the solution to your every gifting dilemma: Giftcards from your favorite brands!
Gifts for cooks: Fit for a beginner or an expert!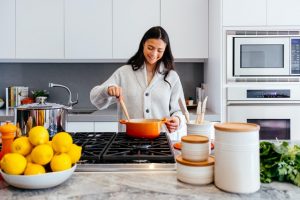 Whether your friend is a novice or expert chef, there are so many great gifts you can give them to show how much they mean to you. For the beginner cook who loves experimenting and learning new dishes, we recommend getting them a book of recipes that are geared towards their skill level as well as fun kitchen tools like measuring spoons and sugar shakers.
We got everything right here from the one-stop-shop, Amazon! Wondering if they will like what you got them? get them the Amazon gift card instead! Let's choose from the best gifts for cooks in your life.
Related Article: Fresh gift ideas for your 20-something friends
1. A cookbook that has new recipes for them to try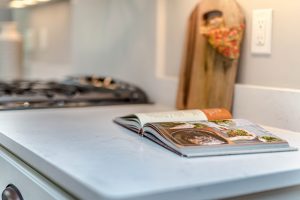 We are sure, if you have a friend who loves to cook, there might be dozens of cookbooks lying around the house with different states of being read, marked, and used! Why not add to their collection? Choose from the never-ending array of cookbooks from Amazon!
Tip: If you really want to win their heart, choose a cookbook that is specific to their favorite type of cuisine.
2. A set of fun kitchen tools
When they stay in the kitchen for the most part of the day, why not make it more fun? Browse through fun, innovative yet efficient kitchen tools to make their cooking experience a bit more joyful. After all, you get to taste test all the yummy creations!
Products: Insiya 27 pieces stainless steel kitchen toolset
Price: AED 129
3. An oven mitt so they can keep their hands safe while cooking
How about something to keep them safe from the hot temperature they love to play around? Oven mitts are the perfect gifts for cook and trust us, there can never be too many mitts in the kitchen! Next time, they bake or roast, they will always remember you when they pull something from the oven!
We chose the FDA-approved Silicone oven mitts, which are both food-safe and BPA-proof! Say goodbye to burns!
Price: AED 26.44
4. A herb garden starter kit with seeds and soil blocks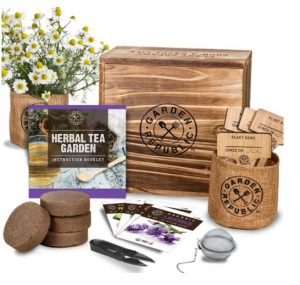 Every cook loves unadulterated and organic produce for their creations! But not everyone can have a backyard or a space for an indoor garden. So, how about a herb garden on the kitchen countertop.
The herbal tea garden starter set is everything they need for a calming cup of tea every morning. This tea garden kit comes with heirloom, non-GMO Mint / Peppermint, Chamomile, Lemon Balm, and Lavender herb seeds to start your very own herb garden. This tea kit has all the supplies you need to start your tea garden – no need for extra nursery trips!
This indoor garden kit comes with:
4 seed packets
4 burlaps grow bags with waterproof lining
4 potting soil disks
4 bamboo plant markers
Gardening shears
A lined wood box that doubles as a planter
Price: AED 386.53
5. Cooking classes at their favorite restaurant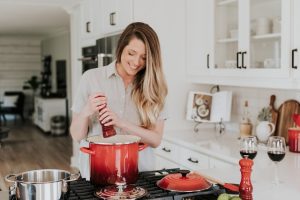 Do you know who's their favorite chef or a hint about their favorite restaurant? You can gift them the opportunity to learn more about food and cooking techniques! Check for online cooking classes from Masterchefs or an internship at the kitchen for the first-hand experience. Get a carrefour promo code and save extra on home and kitchen appliances.
6. A state of the art cutting board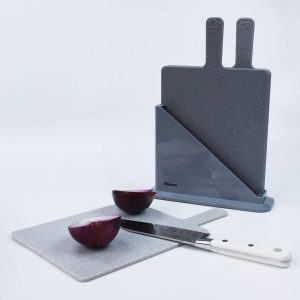 A chef's strength lies in the knife but the talent can be shown only on the board. Choose from the best state-of-the-art cutting board from Amazon.
We chose the Fissman marble-colored cutting board, with three index boards. They can use it for meat, veggies and fish, respectively. You can even get them one with their name engraved in it to show how much you care about them as a friend and chef!
Price: AED 89
If your friend wants to take things up a notch in terms of cooking skills, try surprising them with an oven mitt for safety while prepping food and some classes at their favorite restaurant. We hope you find the perfect gift for your friend that loves to cook! What are you going to get them? Let us know in the comments below.