What could be a more perfect gift than the gift of choice? Carrefour gift cards are the perfect solution for when you can't decide on the perfect gift. Carrefour is a leading retailer in the UAE with a wide variety of products, so you're sure to find something for everyone. With gift cards, your loved ones can choose whatever they want, without having to worry about whether or not you picked the right size or color. And who doesn't love to shop? Carrefour gift cards are sure to put a smile on anyone's face.
Choosing the right gift card can be a daunting task. With so many options available, it can be hard to know where to start. Whether you're looking for a holiday gift card or just a way to show your appreciation. Al giftcards have the right gift card for each occasion.
The Complete Guide to Carrefour gift cards and Everything You Should Know
Know the brand
Carrefour is one of the largest French multinational retail and wholesaling corporation headquartered in Massy, France. The eighth-largest retailer in the world. It operates over 12 000 stores around the world under 3 banners: "Carrefour", "Carrefour Market" and "Grande Surface". It's also a leading e-commerce retailer with over 12 million online customers. Most of its stores are located in Europe, the Middle East, and Africa but they also have operations in China, Brazil, Canada, and India. With a Carrefour gift card, your loved ones can choose from a wide range of products, including food, clothes, electronics, and more.
Related Article: Gift ideas for the introverts who love to stay home
What are the benefits of Carrefour gift cards?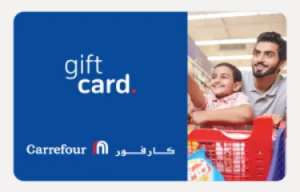 The Carrefour gift card is more than just a gift card. It is a sustainable and innovative solution that provides consumers with the freedom to choose how they want to spend their money. It contains the actual balance, an easy-to-use QR code that can be scanned by any smart device, and a Carrefour e-receipt with the purchase details. This gives you not only freedom to choose but 100% satisfaction with no regrets.
Some of our favorite benefits include:
No credit or debit cards are required for payment
Use it anywhere and anytime you want
No need to carry cash, a credit card, or a debit card in case of emergencies
There's no expiry date on your Carrefour gift card
These cards produce zero waste and are also sustainable.
Related Article: Gift your loved ones the motivation they need for 2022
How to redeem Carrefour gift cards
Gift vouchers are a great way to show someone you care and are the simplest to use! On the al giftcards website the carrefour gift card is available from AED 50 to AED 500 so you choose the amount you want to spend and load it onto the card. Once you've selected your ideal amount you can purchase the e-gift card which will be delivered to you within 24 hours. The e-gift cards are also emailed to the customers. The customer should have their Carrefour e Gift Card Barcode from the voucher. Now the final step! Simply scan the barcode on the cash counter after shopping to redeem their gift card at any Carrefour Store. To redeem it online you can add the 16-digit redemption code in the add gift card or voucher section.
How do I check my gift card balance?
If you have a gift card and want to know its remaining balance, there are a few ways to check. You can look up your balance online, call the toll-free number on the back of your card, or visit the store where you got the card. You can check it by simply entering your card's 16-digit number and security code.
How can I check if my gift card is still valid?
The gift cards at al giftcards have a validity of 12 months. This means you have a time of 1 year to use your gift card before it expires. To make matters easy you can simply remember the date the gift card was purchased. An alternate method can be to visit the online site or to call the toll-free number on the back of your card and enter your card's 16-digit number.
What is the most popular gift card?
Gift vouchers are a thoughtful and convenient way to show appreciation for someone. They are the most popular gift cards in the world. Gift cards are a great present for everyone: from kids to seniors, from your mother-in-law to your dog walker. You can find any type of card you need – from Carrefour, Amazon, noon, splash, iTunes, and more.
Related Article: Unique & perfect graduation gifts for female STEM majors
In conclusion, surprise your loved ones with a Carrefour gift card and let them buy what they love. With a wide range of options available, you're sure to find the perfect gift for everyone on your list. Order your gift cards today and enjoy free shipping plus there are no service charges for these gift vouchers.