New parents-to-be are some of the most sacrificial people. The amount of work that goes into tending for the new family member is enormous. So if you know one such pair currently undergoing the excitement of expecting a baby, you surely are aware of their struggles. They deserve your support and we are here to help you do just that. Here are the best gift ideas for parents-to-be.
Gifting for baby showers is much different from the gifts for the parents. However, it is a fact that you cannot go wrong with diapers. Nevertheless, al giftcards bring you the best gifts for parents to be. So read on and explore a wide range of gift ideas for expecting mothers and fathers.
If you're not sure what to gift, sending a gift card would be the most perfect idea! This is one gift that can never go wrong. Find gift cards from top brands that fit any and every budget type. It's your gift, yet their pick!
Gift Ideas for Parents-to-be
Postpartum care kit
Postpartum care is one of the most important stages after welcoming the baby. While it is very important to take care of the newly born human, it is just as important to look after the mother. So get a postpartum care kit for the new parent. Or what's better if you can curate a nice kit by yourself. Take a basket and stuff it with good lotions, hazel pads, nipple creams, and repair creams. This will be a very thoughtful gesture and will surely make them very happy.
Frida Mom Postpartum Recovery Essentials Kit 11piece Set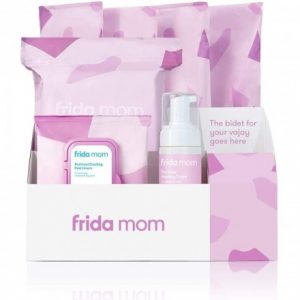 Price: AED 339.26
It's available on Mumzworld but if you are not sure which is the perfect product, get them a gift card. It's an easier and safer option. They can pick out whatever they want on their own!
Also, don't forget about the dad. Postpartum depression is very common in both parents, so make sure you remember to show him that you care. Get him a nice set of grooming essentials like shaving creams or trimmers. Here are some of the best trimmers you can refer to.
Music is the ultimate remedy to the Soul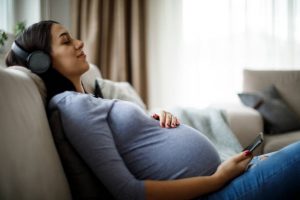 Music is considered the best remedy for any person and it is in fact the best way to chill and relax. Every person will surely love the feel of just putting on some noise-canceling headphones and getting immersed in their favorite songs and tunes. Furthermore, who doesn't use Spotify today? So if you are looking for gift ideas for parents-to-be, a Spotify gift card will be the best option to consider. Let them enjoy some ad-free and uninterrupted music as they find some time for themselves after a long day.
Loungewear for parents-to-be
Gift Ideas for parents-to-be are not very complicated. If anyone you know is on maternity or paternity leave, they surely haven't had a nice chill day out or sufficient sleep in a while. You can't help out with the sleep or the chill but you can surely help make their stay at home as comfortable as it can go. Get them some great loungewear and make their stay at home comfortable and worthwhile. You can get a great collection on Max Fashion
Maternity Textured A-line Midi Dress with Short Sleeves and Tie-Ups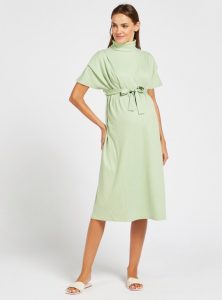 Price: AED 75
Also, if you think you can't choose, a Max Fashion Gift Card is here to your rescue.
Delivery Or Dine In Gift Card makes life easier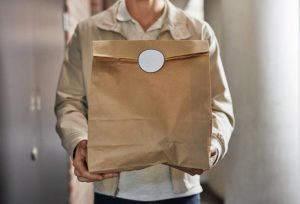 Pregnancy carvings are postpartum needs are high for the parents-to-be. Especially if they don't have much help around the house, cooking can be a major issue during as well as after pregnancy. This is why Dine-in Giftcards are one of the best gifts for parents-to-be. Give them a good supply of meals that they can enjoy. This will surely be a gift that is cherished. Get them a gift card from Deliveroo and let them avoid the hassle of cooking!
Comfortable Shoes to walk around with that baby bump
A nice set of comfortable flats is the most important thing for an expecting mother with a massive baby bump. You surely can't expect her to walk around in the same shoes with additional weight. So if you understand the discomfort, you will surely get her a nice pair of the most comfortable sneakers and share the weight with your loved one. This is the perfect gift idea for parents-to-be.
Kappa Women's Trainer Shoes with Lace-Up Closure – OMBRE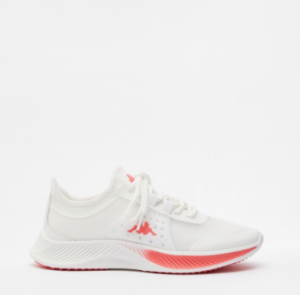 Price: AED 159
Picking gifts for parents-to-be is easy as long as you don't pick the wrong thing. To avoid just this, get the gift card from Splash and avoid picking the wrong product.
Check out for more shoes to conquer the world!
Baby-Care Essentials
Baby-care essentials are another great set of products that will be the best gift ideas for parents-to-be. You never know when which one of the two has to run out for a pack of diapers and tissues. So if you can stock their cupboards with these basic baby care essentials to suffice close to six months, that will be the best gift for them. Believe it or not, these products do not take long to finish so if you can save them from having to run out in the middle of the night, you will surely be a savior.
Little Angel Baby 252-Pieces Size Extra Large Diaper Pants – 12-17 kgs
Price: AED 249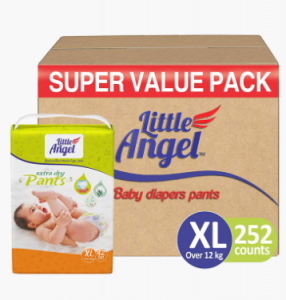 Get the Babyshop Gift card today and have the best gifting experience.
Netflix and Chill is the best gift for parents-to-be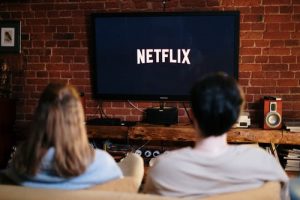 If you are planning the best gift ideas for parents-to-be, then you surely want to consider a nice collection of movies and TV shows to keep them entertained. Staying at home and resting all the time can get very tedious and it is a known fact that pregnant women can't possibly find the energy to go for long walks. So make a way for them to chill at home. Get them a Netflix gift card and access to all the favorite movies and TV shows that they will surely love.
Clothes for the expecting parents to make them feel loved
Last but not least are some great clothes to keep the shopaholic alive. Any shopaholic will always appreciate a good set of clothing to keep the fashion alive. Even if they can only enjoy it post-maternity, they will still love to have an addition to their already extensive collection. Why clothes? It's best to keep the expecting parents in a good state of mind during and after childbirth to avoid postpartum complications like depression and anxiety. So make them feel loved and cared for with the things that they love and appreciate the most. Check out Namshi for some great styles.
Embellished Sleeves Button Down Dress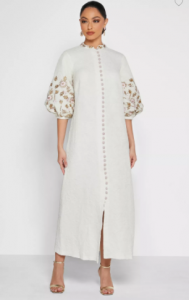 Price: AED 700
Swarovski Theo Earth Cuff Links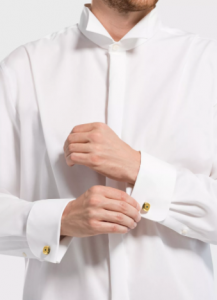 Price: AED 263
Check out the Namshi Gift Card.
All of this and you are completely prepared for the perfect gifting experience. Celebrate the welcoming of a new person with their parents to the fullest! Take the extra mile for your loved ones and be a great friend or a family member for them.