Eid-al-Adha or the "festival of sacrifice" is the most celebrated festival in the Muslim calendar. The festival remembers Prophet Ibrahim's willingness to sacrifice his son when God asked him to. Gifting during Eid-al-Adha entails a part of the sacrifice, and Eidi, which is the monetary gift that elders give to children, is a part of the festival.
Eid-al-Adha is also translated as a "festival of slaughter," and comes at the end of the annual Hajj pilgrimage. Traditionally, animals like sheep, goats, or cows are slaughtered, often with a group of neighbors or members of an extended family. The meat is then distributed among family, friends, and the needy in the community.
A brief history of  Eid Al Adha
Eid Al Adha is the commemoration of the Islamic prophet Hazrat Ibrahim's true devotion and dedication to Allah. The occasion is meant to honor the holy sacrifice of his son that Ibrahim was more than willing to make for Allah.
The history of the day started when Ibrahim started having recurring dreams of him laying his son, Ismael's life to please Allah. Ismael, who was also a true devotee of Allah willfully agreed to be sacrificed to comply with the wishes of Allah.
On their way, the Devil or Shaytan tried to persuade them against taking such a decision. But Ibrahim decided against the Devil's wishes and chased him with stones. This is considered a significant act and serves as the reason why there are certain pillars in Mecca where people still throw pebbles during Hajj. This practice is carried out in the memory of Ibrahim.
Allah was greatly pleased when he saw their devotion towards him. He honored them both. He sent Gibril Alaisalam, his messenger from Heaven with a lamb to be slaughtered in place of Ismael.
Eid Al Adha hereby commemorates Prophet Ibrahim's limitless trust and devotion towards Allah. So devoted was he that he was willing to sacrifice his own son to fulfill Allah's desire.
How is Eid Al Adha celebrated?
Traditionally during Eid Al Adha, a lamb is slaughtered for the feast. The meat is then divided into three parts, one is given to the family, the second is distributed among the neighbors and relatives and the third is distributed among the poor.
Delicacies are made out of the meat acquired and are enjoyed by everyone. Eid Al Adha does not only memorialize the great sacrifice that has been recorded in the scriptures but also acts as the thread of tradition that binds the family together in an ever-lasting bond.
Significance of Eid Al Adha
Apart from the willingness to sacrifice, Eid Al Adha celebrates Ismael and Ibrahim's love for Allah.  The sacrifice is meant as a gesture that means one is willing to give up on anything for Allah. It is the sacrifice of what one loves the most for God.
In memory of the sheep sent by Allah, Muslims all over the globe sacrifice a sheep or a goat in the spirit of sacrifice. It is obligatory for the meat to be distributed among the family, relatives, and the poor.
In this way, the festival spreads the message of brotherhood and humanity among the masses.
It is often believed that though the meat and the blood do not reach Allah, the devotion of his people do.
When is Eid Al Adha this year?
Eid Al Adha is observed on the tenth day of Dhu al-Hijah, the twelfth month of the Islamic calendar. This year Eid Al Adha starts on the 30th of July and ends on the 2nd of August.
It is important for you to celebrate such an auspicious occasion on a pleasant note with your family.  al giftcards bring you the 5 best gift ideas to make this Eid more enjoyable for your family.
The best gifts for Eid Al-Adha
Treats
Treats are always enjoyed by everyone no matter the occasion. You can get your family a box of treats that everyone can enjoy together. You can even make a box of treats at home. Pack in jars of dry fruits, sweatmeats, oatmeal, and coconut cookies in colorful wrapping papers, and your hamper is ready to be gifted. If you are too busy with the decorations, then you could even buy such hampers from your nearest convenience store or from noon.
Our pick is the Jansal Valley's Dried Cherries.
AED 30.25
Quaran and Tasbih
On this special occasion as you celebrate Ibrahim's devotion to Allah, strengthen the grounds of your family's devotion to Him. You can do so by gifting your members a personalized set of Quran and Tasbih. You could even have Quaran reading sessions with your family as you dedicate your devotion to Allah.
Here's a beautiful purple Quran with flower embroidery.
AED 16.00
Lawn decorations
When it comes to relatives, lawn decorations are the most ideal gifts that can be presented. Lawn decorations can be of great help for your relatives, especially when they plan to have an Eid feast in their home. You could gift them to your relatives who have a green thumb and are extremely fond of plants.
Yatai's leaf bunch plant for Indoor home decor can be a good pick.
AED 30
Purses
It must be a tiring job to prepare several delicacies for the celebration. Surprise the women in your life by gifting beautiful hand-made purses. You can even customize these purses by having someone embroider their names on the purses. This will add more emotions to your gift.
This beautiful Parfois's multi-purpose purse is our pick. From transparent ones to pastel ones, this definitely serves as a beautiful Eid gift.
AED: 75
Use Code: BWF
Scented candles
Scented candles can be a refreshing gift when it comes to relatives or family friends. Candles symbolize the holy illumination of the spirit of truth. When you gift your kins scented candles, it means that you wish peace and satisfaction in their life.
We are living for the Prickly Pear's crystal-infused vanilla and ylang-ylang scented candle.
AED: 75
Giftcards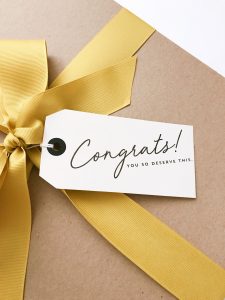 When it comes to picking presents for your family members, gift cards play a very important role. Gift cards are the most convenient way of gifting. Your recipient gets to choose from a variety of gifts instead of you brainstorming the whole time about what you should gift him/her. This Eid Al Adha, disappoint no one by letting them choose their gifts themselves.
Give a look at these top reasons why gift cards are the best presents
Make this Eid a special one for you and your loved ones by gifting them presents of their choice. Show your appreciation for their work on this occasion. Highlight your love and care for them through gifts.
Get in touch at [email protected]