Get entertained the best through Crunchyroll gift cards
Generation y and z are seen to be more inclined toward watching anime series and manga. If you are a hardcore fan of anime and manga and want to watch it on an on-demand streaming platform, choose Crunchyroll. Be amongst the 100 million registered users globally or the four million paid subscribers. Currently owned by AT&T, Crunchyroll is steamed in 200 countries worldwide. It was launched in 2006 and throughout these years it boasts of an increased customer base and fans. With Crunchyroll gift cards, buy subscriptions at lucrative discounts as we have curated special discounts for a customer as valuable as you are.
Sit back home and munch up on some Anime and Manga
With the current world scenario where we are hit by the pandemic, it is best to sit at home and treat ourselves to some online entertainment. Moreover, these amine and manga have become so popular, that you will not enjoy conversations with your peers about anime if you do not watch them. Japanese animation was never on a roll like it is now. All work and no play will make Jack a dull boy. So how about breaking the boredom with your friends at the comforts of your house. Invite a close bunch of friends, munch on popcorn and sip on beverages, and watch anime and manga, both classic and current series with Crunchyroll. The best part is that you can enjoy a free subscription also, provided you are comfortable with ads and low-resolution streaming. Go for the paid one using Crunchyroll gift cards from our site and enjoy low subscription rates that you will love.
Buy Crunchyroll gift cards for yourself or your loved ones
You can buy three types of membership or subscriptions using our Crunchyroll gift cards. Either go or a 1-month subscription, 6 months subscription, or 12 months subscription. We give you two options to choose from: to deliver the gift cards to somebody or to buy them for yourself. When you gift somebody else, all you need to do is enter the receiver's name, email address, mobile number, and a personalized message for them. Gifts are sure to bring a smile to your loved ones, what better than gifting something that is entertaining to them that they would cherish for sure.
Let us look at the compatible devices for Crunchyroll
Crunchyroll is available on the following platforms i.e., Android phones and tablets, iOS phones and tablets, amazon fire tv streaming sticks, Roku set top boxes, Sony play station 4 game console, Microsoft Xbox One game console, android tv smart TVs, windows 10 app and also on browser i.e., www.crunchyroll.com.
Go ahead and grab the Crunchyroll gift cards and spend your time at home getting entertained by anime and manga and Japanese animation at seamless streaming at lucrative discounts. If you cannot wait for the next season of your anime show, you can read them from Crunchyroll's library of manga comics in Japanese and English as well.
How to Get Crunchyroll Go Gift Card?
Choose the Gift Card that you want to Buy from al giftcards.

Verify the terms and conditions first.

Now Choose the amount of Crunchyroll Go Gift Voucher

Buy for yourself or Select the "Send as a Gift" option

Click "Buy Now" and you will be redirected to the checkout page.

---
How to Redeem Crunchyroll Go Gift Card?
Go to the Official Crunchyroll website

Sign up/Login into your account

Redeem the Crunchyroll Gift Card subscription code at the Crunchyroll redeem page

Click the "Enter" button and you are good to go! Enjoy watching your favorite Anime!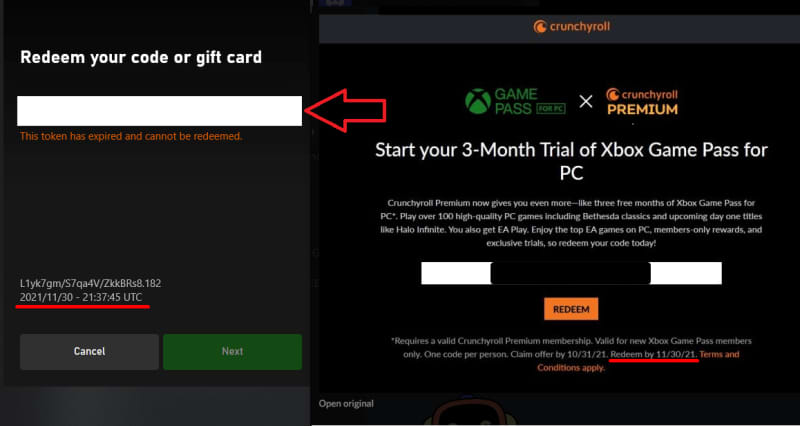 ---
Popular e-Gift Card Searches:
When will I receive the Gift Card?

How to get a Crunchyroll Gift Card?

What is the validity of my Crunchyroll e-Gift Card?

How to use the Crunchyroll Gift Card?

Can I use my Gift Card on multiple purchases?

My Gift Card is lost. What can I do now?
For additional questions, you can leave us a message here, and we will get back to you shortly!
Happy shopping!
This gift card code may only be redeemed by users with a Crunchyroll account.
To redeem or use the gift card, you must first log in or create a Crunchyroll account.
This code cannot be redeemed for cash, refunded, or returned, except as required by law.
The Buyer must be at least 13 years old and a resident of one of the countries where Crunchyroll is authorized to operate.
All payments for these vouchers are final and not refundable and we do not allow exchanges on digital orders.
Value from this voucher code cannot be used: with Family profiles; to purchase other voucher codes or gift cards
The value associated with this voucher code does not expire, and no inactivity fees or service fees apply.
Offer not valid in combination with any other offer and cannot be exchanged for cash
Wrongful use of this gift code may constitute fraud.
In certain cases, we may limit or decline to honor the gift code value if you are unable to present valid proof of your identity upon our request.
Issuer is not responsible for lost or stolen voucher codes, or unauthorized use.
For full Terms and Conditions visit https://www.crunchyroll.com/gift_terms