Have a comfortable stay and experience with Airbnb Gift Cards
Airbnb e Gift Cards are now available for purchase in al giftcards and are currently valid only in the United States. These digital gift cards can be sent across to anyone through email and can be redeemed online. The gift cards expire within six months so be mindful of the card terms and conditions and use them before the expiration dates. Surprise your family, friends or close ones with this gift card and upscale their vacation.
Airbnb, short for AirBedandBreakfast.com is an online company for short-term home-stays and the experiences that come along with it. Founded as an idea in San Francisco, United States by two housemates, the website provides affordable living quarters and food to those who are unable to book a hotel or want a more wholesome adventure while visiting a new place or region. With the core idea of connection and belonging, the company has grown from two to over four million hosts all over the world.
People choose Airbnb as a new way to travel. They build a deeper connection with the communities and people who live there. The hosts at Airbnb try their best to provide an authentic experience as they welcome the guests to their homes. In the process, they learn more and at the same time get the feeling of being at home. Get a relaxing getaway stay, apartment rentals and holiday homes at Airbnb at any place according to your preference and budget. Check on "today's deals" and the additional offers and discounts.
Give the gift of travel with Airbnb gift cards
Gift your loved one's Airbnb Gift Cards prior to any vacations or travel plans. They can use this digital gift card as a form of payment for any stay or experience available in Airbnb in a particular region. There are many options of where you would like to stay with many price options. Mansions, houseboats, treehouses, camps, bed and breakfasts, lakefronts, beach sides, historical homes or tiny homes, you name it, there are many other options at Airbnb. Ensure your friends or family have a thrilling adventure as they visit undiscovered parts of the world with these Airbnb Gift Vouchers.
Who sells Airbnb gift cards?
The most reliable place to buy a gift card is online. Buy an Airbnb Gift Cards online from al giftcards, the most trusted and convenient place to purchase all kinds of gift vouchers. Digital gift cards bought online, unlike a regular business card or physical gift cards, do not have a chance of getting lost, stolen or damaged. Also, these Airbnb e Gift Cards work like home delivery gift cards which can be sent in an instant to the recipient via email, thus speeding up the gifting process.
Choose the delivery date and the gift card amount from the available denominations that are best for you. Also, al giftcards also give the option of adding a personal message along with the gift card to make it more personal and special. The Airbnb Gift Vouchers can only be redeemed for online bookings. The cards expire after six months so use them before expiration dates. Check 'today's deals' on the website for added sales and discounts on your stay. The gift card gives the recipient the liberty to spend it on any travel trips, thereby making it a well thought and useful present.
---
How to Get Airbnb Gift Card?
Choose the Gift Card that you want to buy from al giftcards.

Verify the terms and conditions first.

Now choose the amount of Airbnb Gift Vouchers then select one of the Delivery Options.

You will be redirected to the payment method.

---
How to Redeem Airbnb Gift Card?
Visit the official Airbnb Website.

Sign up or log in.

Follow the on-screen prompts.

Credit will be automatically applied when you'll book.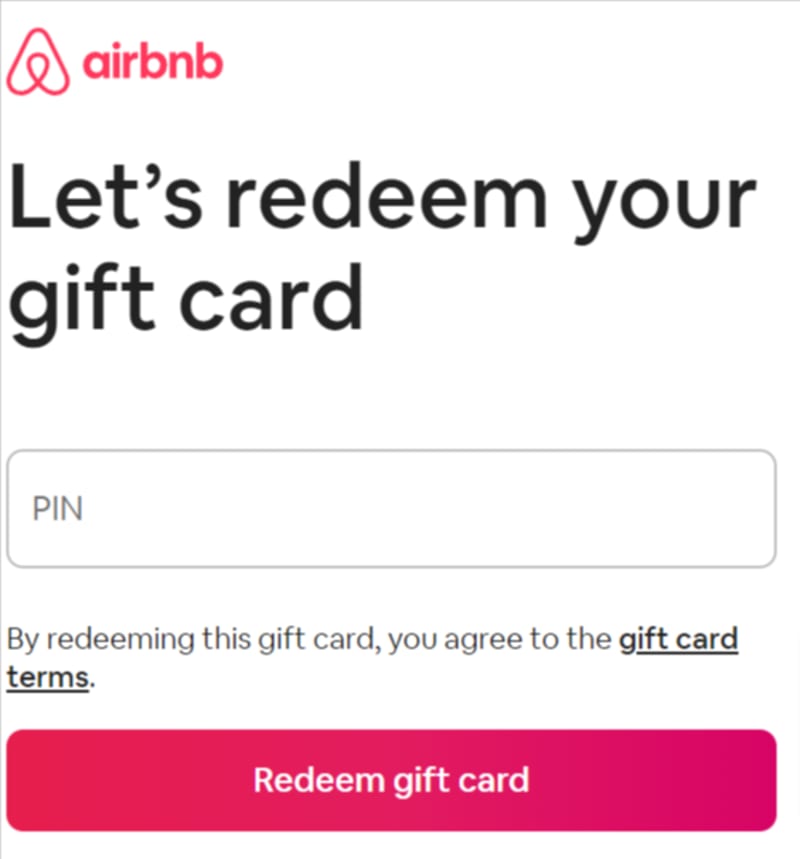 ---
Checking your Airbnb Gift card balance
Visit the official Airbnb Website.

Sign up or log in to Airbnb

Add your gift card details to your account.

On redeeming the gift voucher and adding the gift card to the account, you can view the remaining Airbnb Gift Cards balances or amounts.

For more Airbnb gift card FAQs visit the Airbnb website.
---
Popular e-Gift Card Searches:
When will I receive the Gift Card?

Where Can I redeem my gift card?

Can Airbnb Gift Cards be redeemed for cash?

Can I recharge my Airbnb Gift Card?

Can I redeem the Airbnb gift card outside USA?
For additional questions, you can leave us a message here, and we will get back to you shortly!
Happy shopping!