Explore Diverse Gifting Possibilities with our Centrepoint eGift Cards!!!

There isn't a perfect birthday or anniversary gift as individuals have varying preferences when it comes to shopping online. While several e-commerce stores are dealing in the widest possible range of fashion accessories, cosmetics, household essentials, and more, the best way to approach gift selections is by sending over valuable Centrepoint gift cards; thereby allowing friends and acquaintances to make purchases on their own.
If you want to easily avoid the hassle of buying gifts and bringing them to parties, it is necessary to consider something on the lines of the Centrepoint gift card. These digital gift cards are extremely useful and redeemable across diverse online and offline stores with exciting deals and Centrepoint Coupon Codes.
Be it Lifestyle selling cosmetics and other essentials or the much-anticipated and highly popular Splash fashion store featuring branded clothes for men, women, and teenagers, the Centrepoint gift vouchers can be used across a wide range of platforms. The best thing about these virtual goodies is that you can select the Centrepoint gift card value, depending on the budget. Moreover, these cards can be sent across via emails and come with a year-long validity.
Gift cards are extremely desirable online solutions that can be used for building lasting personal and professional ties. Moreover, once you buy a Centrepoint gift voucher and gift the same to someone close, he or she gets access to an insanely wide range of brands and products, including footwear, makeup essentials, perfumes, wallets, handbags, gifts for toddlers, and whatnot.
---
How to Get Centrepoint Gift Card?
Choose the Centrepoint Gift Card that you want to Buy from al giftcards.
Verify the terms and conditions first.
Now Choose the amount of Centrepoint Gift Voucher then click on "Buy Centrepoint Gift Card" Button.
You will be redirected to the official Centrepoint website.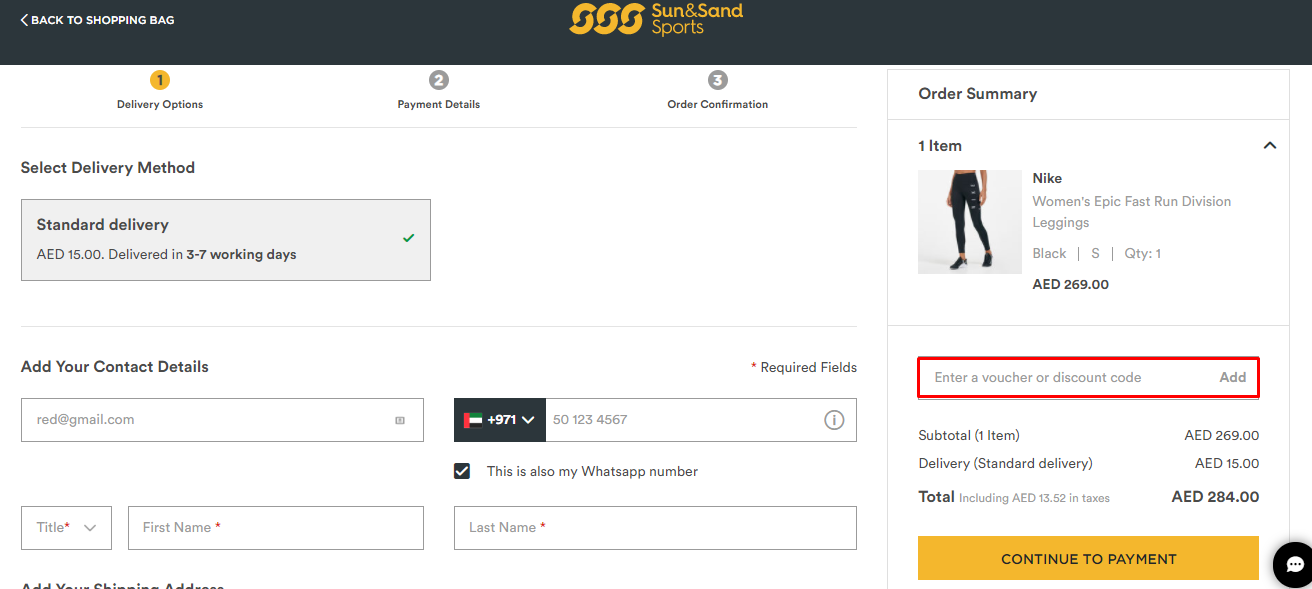 ---
How to Redeem Centrepoint Gift Card
First Find your Centrepoint e Gift Card Number from the voucher.
Then Visit Official Centrepoint Website
Login/Sign up at Centrepoint
Click on Centrepoint Credit Tab, enter the gift card code and click it on redeem button.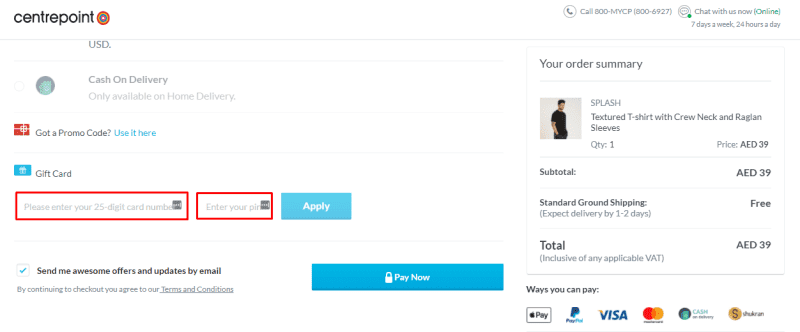 ---
Popular e-Gift Card Searches:
Noon Gift Card, Splash Gift Card, Max Fashion Gift Card, iTunes Gift Card, Playstation Gift Card.
1. How to get a Centrepoint gift card?
You can order a Centrepoint gift card online from our site and have it delivered to your doorstep or your loved ones. To buy a gift card, you can visit our website and choose the Centrepoint voucher card that suits you or the recipient. Check the gift card details before you purchase it. Once done, add the select number of cards you wish to buy. You can also split your gift amount over multiple cards. Add the gift card to your basket at checkout, and you're done!
2. What is the validity of the Centrepoint gift card?
Your Centrepoint gift card is valid for a period of one year or 12 months from the date of the issue. You can use the card to purchase your favorite products at any of their online or offline stores within the given validity period.
3. How to activate the Centrepoint gift card?
Sometimes you can buy gift cards at self-checkout, which are automatically activated once your payment is processed and your transaction is complete. If your gift card is not activated, visit the activation link listed on the back of your card or check the sticker on the front of your card. You can usually activate your gift card online or make a phone call to the merchant store if you are unable to use your card.
4. How to use a Centrepoint gift card?
You can use your CenterPoint Gift card to make payments online, on the Centrepoint app, or in any of their physical stores. Choose the product you like & proceed to checkout. Apply your 25- digit gift card number and 4- digit pin at the end of the cart or basket page to check how much money you can use from your gift card. Click on the checkout page to complete your shopping.
5. How to check Centrepoint gift card balance?
To check your Centrepoint gift card balance, you need the card number and the PIN or security code on the back of the card. Most retail stores and restaurants will allow you to make a balance enquiry online, by calling the toll-free number given on the gift card, or by visiting them in person.
6. Can Centrepoint gift cards be redeemed for cash?
No. A Centrepoint gift card cannot be exchanged for cash either in full or in part. It can only be used to buy products equal to the Centrepoint gift card Value at any of their stores.
7. What if the purchase value is more than the Centrepoint gift card balance?
Your gift card can be redeemed for part value in case the cart value is more than the value of the gift card. In such cases, the customer who redeems the gift card will have to pay the balance exceeding the card value or differential value in cash, credit card, or debit card.
For additional questions, you can leave us a message here, and we will get back to you shortly!
Happy shopping!