Gamers, get ready for the Mobile Legends Gift Cards!
Yes, you heard us, right? The game that rules the hearts of millions of gamers is now available in a small card. From unlimited gaming options to creating your own characters, get ready to be a part of the classic mobile game. Mobile Legends Bang Bang, is one of the most used and played games as it can easily be played anytime on your mobile. The game has multiple features that keep players in a loop while forming a team that helps you to play against the opposing team in a 10-minute battle challenge. So, give your gamer friends a Mobile Legends eGift Card with us. Your favourite Mobile Legends Gift cards are now available at al giftcards.
Why choose Mobile Legends eGift Cards for Loved Ones?
When you opt for a Mobile Legends Bang Bang eGift Card for your friends, they can use it the way they want to! Starting from creating avatars, building a team and planning a strategy and rules of survival, to win at the battleground against the opponent team, the eGift Card makes your friend's virtual game world more exciting. The eGift Cards contain skin trials, avatars, certificates, and so much more! If you have a friend who is a fan of Mobile Legends, then help to upgrade and customize their favourite battle hero with our Mobile Legends eGift Cards.
Access the World of Gaming with Mobile Legends Gift Cards
With the Mobile Legend's Bang Bang Gift Vouchers and Cards, your friends or you can access innumerable benefits. Change the skin or avatar, buy diamonds to upgrade your battle hero, and more. Once you send the Mobile Legends Gift Cards to your friends, they can redeem the gift card value using their gaming account. So, give your friends the perfect gift card that every gamer is looking for these days! Get ready players for a legendary time with our Mobile Legend's eGift Cards.
The Era of Digital Gifting is Here!
With the advent of modern technology and e-commerce taking the industry by storm, a new-age shopping experience is explored by buyers. From buying essentials to eGift Cards, the era of digital gifting is preferred by most and for so many reasons. With the art of eGift cards and digital gifting, a shopper is never confused with the choice or selection of gifts for his/her friends. Similarly, our curated Mobile Legends eGift Cards are easy to buy for your friends or yourself. You can also go through the Gift Card amount, to choose the denomination that suits your requirements best. Leave a personalized heartfelt note for your special ones, and we will deliver it straight to their inbox.
---
How to Get Mobile Legends Gift Card?
Choose the Target Gift Card that you want to buy from al giftcards.

Verify the terms and conditions first.

Now choose the value of the Mobile Legends Gift Voucher

Buy for yourself or Select the "Send as a Gift" option.

Click "Buy Now", and you will be redirected to the Checkout page.

Alternatively, click "Add to Cart", Select the quantity, and click "Checkout"

---
How to Redeem Mobile Legends Gift Card?
First Find your e Gift Card Redemption Code from the voucher.

Then Visit Mobile Legends Code Exchange page.

Enter the Redemption Code

A verification code will be sent to your in-game mailbox (valid for 30 mins

Click on Apply to Redeem your gift card.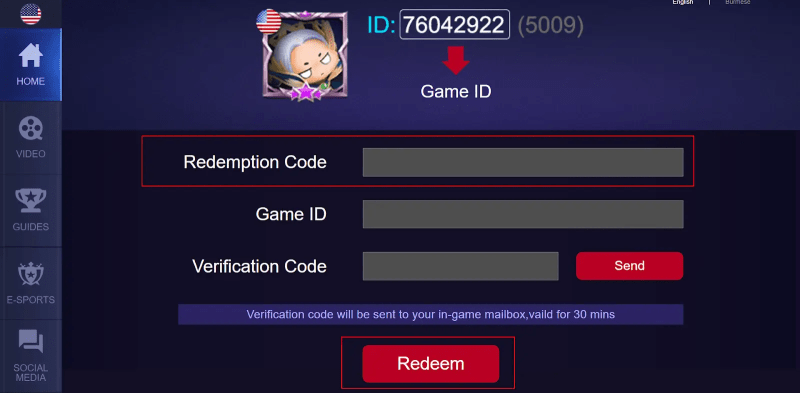 OR
Go to https://mdirect.me/

Select Mobile Legends Top Up.

Select the top-up or denomination value.

Enter your Email Address, Account, and zone ID.

Click on "Validate Player ID".

Then enter the Gift Card Code along with other details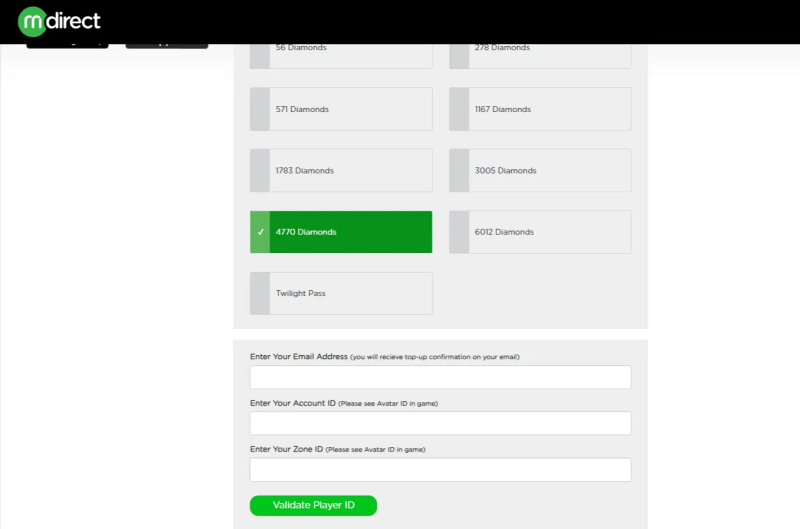 ---
Popular e-Gift Card Searches:
When will I receive the Gift Card?

How to get a Mobile Legends Gift Card?

What is the validity of my Mobile Legends e-Gift Card?

How to use the Mobile Legends Gift Card?

My Gift Card is lost. What can I do now?

Can I use my Gift Card on multiple purchases?
For additional questions, you can leave us a message here, and we will get back to you shortly!
Happy shopping!
Mobile Legend Customer Support:
Tap the CS Icon beside your Avatar In-Game.

Choose the Option that's provided regarding the problem at hand.

Fill up the forms with info as much as you can to speed up the Problem-solving process