Decorate Your Home like Never Before with The Home Depot Gift Card
Be it an occasion of congratulating a friend, or someone for their wedding, The Home Depot Gift Cards are the best way to show you care. The home depot allows a range of home management tools and home improvement equipment. It is the largest home improvement retailer in the world today.
Every house becomes a home when they reflect the thoughts and ideas of the people living in them. And when you give your friends, colleagues, father or relatives these great ideas, that shows how well you know them! So this festive season, make the best of your giving experience through The Home Depot egift card.
Start the Festive Season with something that compliments your childhood home
Running out of ideas, for what to give your parents? Buy The Home Depot gift cards for your parents. You know your childhood home like you know the back of your palm. You know what can make your home look better while making your parents' life easier. To make it simple, give them The Home Depot egift card, so that they can choose a pair of recliners for themselves or pick something else of their choice from the Home Depot online store.
Be a good boss, Show compassion towards your employees
With increased work hours, Work From Home can be a little too tough for your employees. But it is only due to their collective efforts that your company has reached its height of success. With The Home Depot Gift Cards online, show them how you appreciate them and their efforts. With the bonus to their salaries, offer them a personalized gift card that will make them feel special and central to your organization. Give them the gift to choose something for their entire family!
So don't just give away money or unthoughtful products to your loved ones, this year! Share the joy of gift-giving, get them personalized gift cards for their home improvement. Give them the chance to choose from a wide array of equipment that compliments not just their homes, but their lives too!
---
How to Get The Home Depot Gift Card?
Choose the The Home Depot Gift Card that you want to Buy from al giftcards.

Verify the terms and conditions first.

Now Choose the amount of The Home Depot Gift Voucher then Select one of the Delivery Option.

You will be redirected to the Paypal.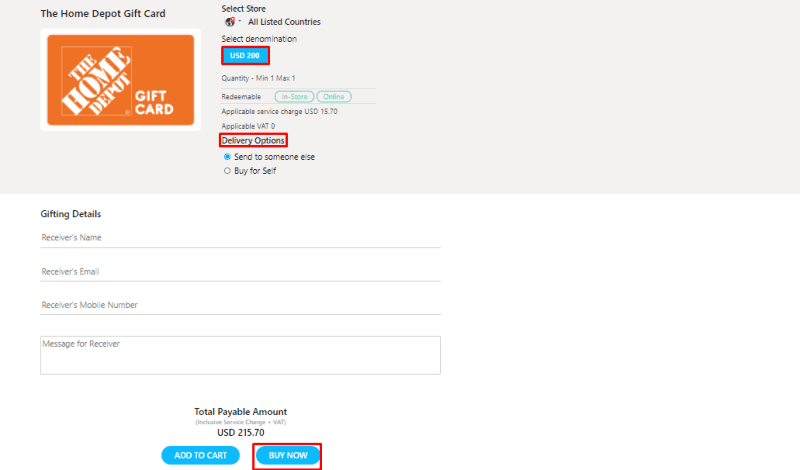 ---
How to Redeem The Home Depot Gift Card
First Find your The Home Depot e Gift Card Number and pin code from the voucher.

Then Visit Official The Home Depot Website

Login/Sign up at The Home Depot.

Click on The Home Depot Credit Tab, enter the 25-digit gift card number.

Click on Apply to Redeem your gift card.

---
Popular e-Gift Card Searches:
When will I receive the Gift Card?

Can I redeem my The Home Depot gift card for cash?

My The Home Depot Gift Card is lost. What can I do now?

How to get a The Home Depot Gift Card?
For additional questions, you can leave us a message here, and we will get back to you shortly!
Happy shopping!