Up Your Style Game with 6th Street Gift Cards
6th Street is a popular fashion online retailer that sells a range of branded fashion and beauty products. From Vero Moda to Tommy Hilfiger, Charles & Keith to Calvin Klein you can find products of all the popular brands at their store. Over the years, 6th Street has emerged as the ultimate fashion hub that sells the trendiest selection of clothes, accessories, shoes, bags, and more at incredible prices. If you have fashion-conscious people in your circle, you should gift them a 6th Street gift card to express gratitude for their endless support.
Buy What You Love with 6th Street eGift Cards
Wouldn't it be amazing if someone gives you a money-loaded digital or physical gift card and asks you to purchase whatever you like within the gift card value? Well, it can be done with eGift cards. If you ever run out of gift ideas, you can always count on eGift vouchers. When it comes to fashion, gauging people's preferences can be really challenging. Instead of wasting much hours trying to figure out what other's want, simply give them the freedom to choose.
You just have to purchase the 6th Street gift voucher and give it to your loved ones. This 6th Street digital card will give them access to millions of fashion and beauty products. They can explore, choose, and buy what they like without paying for it. They can pick something from the Polo, Ralph Lauren clothing collection or buy chic accessories of popular brands. However, it should be noted that the purchase should be within the 6th Street gift card value.
Why Buy 6th Street Gift Card?
In an era of online gifting, nothing can be better than a 6th Street gift voucher. Whether you're planning to give the best birthday gift or a Christmas present, our 6th Street eGift card can fit in all occasions. Not only does gifting a 6th Street gift card saves your time, it also ensures that the recipient is happy with the gift. Using 6th Street digital cards is easy, and you get the option to choose a gift voucher of your preferred denomination.
If you want to give your acquaintances the best online fashion shopping experience, make sure you gift them a 6th Street gift card. You can purchase it from al giftcards in a secure environment. If you want to get it delivered straight to the recipient's mailbox, make sure you provide the required contact details and choose "send to someone else" in the delivery option.
---
How to Get 6th Street Gift Card?
Choose the 6th Street Gift Card that you want to Buy from al giftcards.

Verify the terms and conditions first.

Now Choose the amount of 6th Street Gift Voucher then Select one of the Delivery Option.

You will be redirected to the Paypal.
---
How to Redeem 6th Street Gift Card
First Find your 6th Street e Gift Card Number and pin code from the voucher.

Then Visit Official 6th Street Website

Login/Sign up at 6th Street.

Click on 6th Street Credit Tab, enter the 25-digit gift card number.

Click on Apply to Redeem your gift card.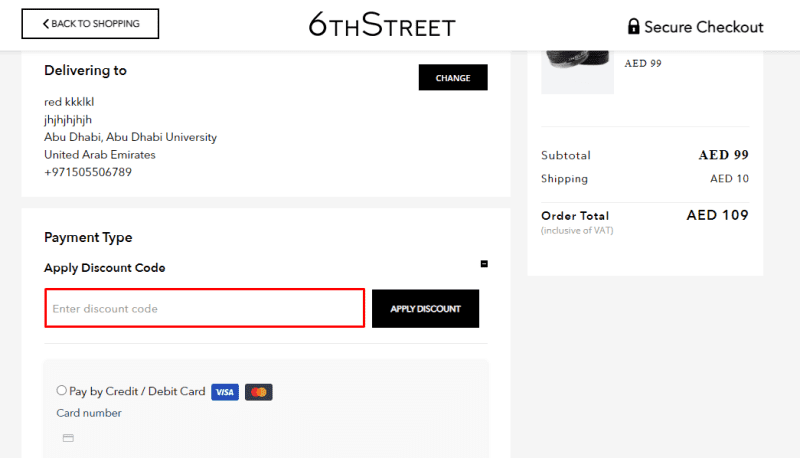 ---
Popular e-Gift Card Searches:
Noon Gift Card, Home Box Gift Card, Babyshop Gift Card, Amazon Gift Card, Centrepoint Gift Card.
When will I receive the Gift Card?

How to get a 6th Street Gift Card?

What is the validity of a 6th Street gift card?

How to activate a 6th Street gift card?

How to use a 6th Street gift card?

How to check the 6th Street gift card balance?

Can 6th Street gift cards be redeemed for cash?

What if the purchase value is more than the 6th Street gift card balance?
For additional questions, you can leave us a message here, and we will get back to you shortly!
Happy shopping!