Embrace being a 'Musafir' with Musafir Gift Cards
Musafir, as the name suggests, is for all those wanderlust and travelers, who love out-of-the-box experience while traveling. Visit Musafir.com and start planning your next weekend getaway. Musafir's travel guide helps you to pick up the best experiences and not miss out on local experiences. With our Musafir Gift Cards, you can now shower some love on your friends while they plan a trip. Musafir Abu Dhabi, UAE provides you with the best travel packages as well as, online booking experience on flights and hotels.
Musafir Keeps Traveling Easy Peasy
Right from tourist visa application to flight booking or arranging your hotel stay, Musafir.com is the UAE's first premium experience travel website that takes care of all your travel needs. We often fret over what to give our loved ones to pamper them more. Why not give them the gift of travel as a personalized gift? Gifting an experience is the perfect gift anyone can receive.
While you look for hotel bookings or other traveling options, click on Musafir.com and use our Musafir Gift cards to surprise your friends. A travel gift voucher is not just unique but also a thoughtful gesture on your part.
Make Musafir your Travel Companion
Musafir.com egift cards are easily available on our website and help you to travel without any hassles. With Musafir's several properties around the world, you can give your friends a much-needed break or getaway. Select the properties from popular brands and hotels depending upon your requirement. When browsing or looking for presents, or gift vouchers, try Musafir egift cards and unlock exclusive travel experiences.
Why opt for a Musafir Gift Voucher?
With so many online shopping options, it is difficult to settle for the best present for your loved ones at times. When it comes to picking wedding gifts, or birthday gifts, why not surprise your friends and family with Musafircom flights and hotel packages. You can simply pick the Musafir.com egift vouchers to keep your surprise one-of-a-kind. At any time, when you are late to fetch a gift or send one, don't worry, as we have the perfect option for you. Go through the super easy steps to purchase an e-gift card online, and we will send it to your loved ones within a few seconds.
---
How to Get Musafir Gift Card?
Choose the Musafir Gift Card that you want to Buy from al giftcards.

Verify the terms and conditions first.

Now Choose the amount of Musafir Gift Voucher then Select one of the Delivery Option.

You will be redirected to the Paypal.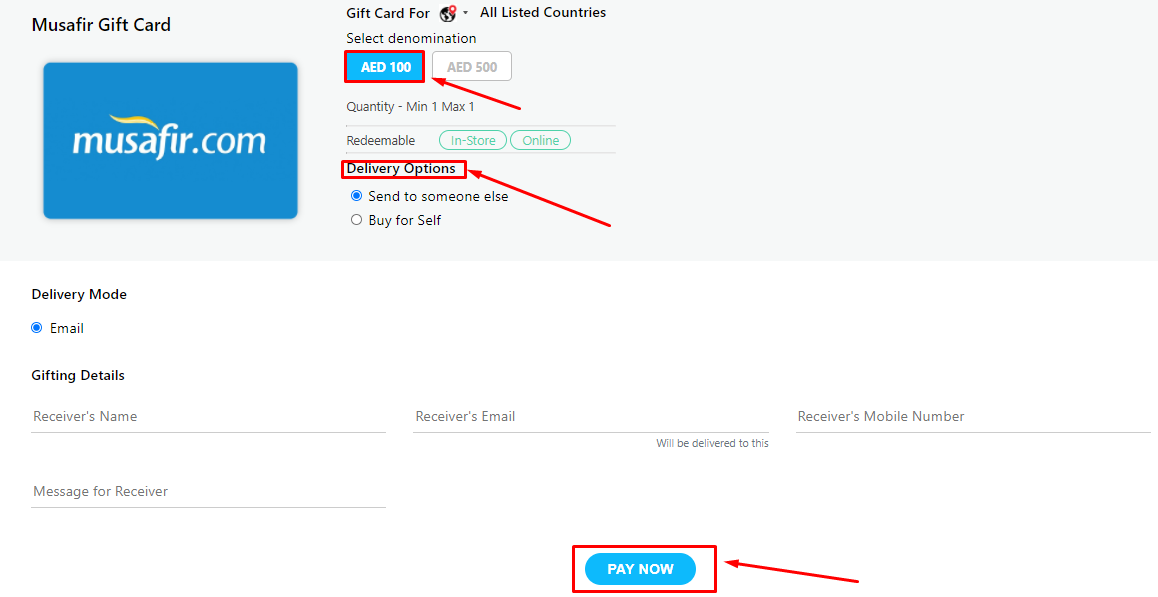 ---
How to Redeem Musafir Gift Card
First Find your Musafir e Gift Card Number and pin code from the voucher.

Then Visit Official Musafir Website

Login/Sign up at Musafir.

Click on Musafir Credit Tab, enter the 25-digit gift card number.

Click on Apply to Redeem your gift card.
---
Popular e-Gift Card Searches:
When will I receive the Gift Card?

Where can I use my eGift Card?

When does the eGift Card expire?

Can I reload my Musafir eGift Card after I've spent the full value?

What if I lose my Musafir eGift Card?
For additional questions, you can leave us a message here, and we will get back to you shortly!
Happy shopping!