Glam up with Sephora Gift Cards
Launched in the Middle East in 2007, Sephora has solidified as a leader in the global beauty industry, offering a wide range of luxury haircare, skincare, makeup, and fragrances for both genders. Sephora's unwavering commitment to customer delight has cultivated a beauty community worldwide. At Sephora, customers can explore an extensive assortment of prestigious beauty products and merchandise cherished by countless individuals around the globe.
The Sephora collection and in-house products showcase renowned beauty brands such as Huda Beauty, Rare Beauty, Fenty, Nars, Dior, Chanel, and MAC. With a Sephora gift card, shoppers can immediately access a wide-ranging catalog encompassing over 3,000 esteemed cosmetics brands, personal care essentials, and beauty products. If you want to pamper your loved ones with top-notch beauty items, there's no need to search further than a Sephora Gift Card. So, why delay in offering your friends anything else? Sephora eGift Cards are available right here!
Take advantage of the classic brands and in-house products at Sephora
The Sephora store is a beauty fanatic's haven. With its proficient expertise, innovative mindset, and seamless online shopping platform, Sephora invites beauty enthusiasts to explore over 25,000 products from 400+ brands. Get easy access to classic labels such as Dolce and Gabbana, Chanel, Huda Beauty, Jo Malone, Sunday Riley, and more. The web store also has an array of products from their own house, which are excellent too. Choose your pick today from body and hair care to fragrance and skincare. Avoid waiting in line, safeguard your personal information, and conveniently purchase your beloved beauty products with a Sephora Gift Card, all from the coziness of your home. The gift card is redeemable at Sephora stores, online, Sephora app or at Sephora inside JCPenney stores.
Are you a part of the new digital gifting trend?
Digital gifting has become the latest trend we embrace. With convenient online access to a wide range of products, it offers user-friendliness and time-saving benefits. Taking this concept to a new level, al giftcards streamline the digital gifting process, allowing you to save even more time. With our customized gift cards, you can select the denomination and leave a heartfelt message for your special ones.
We take your special occasions seriously and deliver the eGift Cards once you complete the process. So, gift a Sephora eGift Card to open a world of premium and luxurious beauty products for your friends and family. The gift card can be redeemed for merchandise sold at Sephora locations or online shops.
Why choose the Sephora gift card?
Sephora gift cards offer the perfect chance to give a gift that opens up a world of possibilities. Whether you need a last-minute present or want to show a thoughtful gesture, the Sephora gift card provides flexibility and convenience for any occasion. With over 25 categories and 22,000+ brands of high-end beauty products, your recipients will have the freedom to explore and make their desired purchases. By giving a Sephora gift card, you're granting the gift of choice, allowing the recipient to select the perfect present for themselves. Let your gifts do the talking and spread the cheer of the occasion with every recipient, as every gift should!
Why al giftcards for Sephora gift cards?
At al giftcards, we recognize the significance of providing diverse gift cards. That's why we have collaborated with renowned brands such as Sephora to offer the finest choices for your gifting requirements. Sephora is widely acclaimed for its premium beauty products and exceptional customer service, earning shoppers' trust worldwide.
When you opt for al giftcards for your Sephora gift cards, you present a thoughtful and personalized gift and save money. Whether buying a gift card for yourself or a loved one, al giftcards guarantee an optimized shopping experience.
Our user-friendly website allows you to effortlessly explore a wide selection of gift cards and select the one that best fits your needs. Within just a few clicks, you can purchase a Sephora gift card and have it conveniently delivered directly to your loved one's inbox. Say goodbye to concerns about shipping or delivery times, and enjoy a hassle-free gifting experience.
---
How to Get Sephora eGift Card?
Choose the Sephora Gift Card that you want to Buy from al giftcards.

Verify the terms and conditions first.

Now Choose the amount of Sephora Gift Voucher.

Check the "Send as Gift" box if you wish to send it to a loved one.

Click "Buy Now", and you will be redirected to the Checkout page.

Alternatively, click "Add to Cart", Select the quantity, and click "Checkout"

---
How to Redeem Sephora Gift Card
Online:
First Find your Sephora e Gift Card Number and pin code from the voucher.

Then Visit Official Sephora Website

Login/Sign up at Sephora.

Select your items and add them to the cart

Click the "Checkout" button and Fill in the Shipping Information.

Enter your Sephora gift card number and pin in the Payments section.

In-store:
To redeem in-store either print this page or present mobile device to cashier.

To print, please view your eGift Card from a computer that is connected to a printer.
---
Sephora cashier instructions
Scan the items for sale

Touch Total

Touch the GIFT CARD/STORE CREDIT button

Scan the gift card from the printout or manually key in the 16-digit number directly
---
How to Check Sephora Gift Card Balance?
Sign in to your Sephora Account

Go to the Gifts Page from the navigation bar.

Scroll Down to the end of the Page

Enter the Sephora Gift Card Number and Pin.

Click the "Check" button.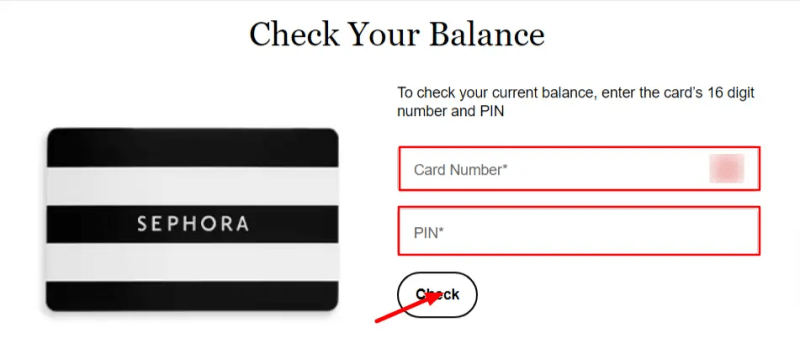 ---
Popular e-Gift Card Searches:
When will I receive the Gift Card?

Can I use my Sephora gift card to purchase items online?

How can I check the remaining balance on my gift card?

Can I reload or add more value to my gift card?

Can I return or exchange items purchased with a Sephora gift card?

Can I use a Sephora gift card at Sephora stores located in different countries?

How to get a Sephora Gift Card?

I lost my Sephora Gift Card! What can I do now?
For additional questions, you can leave us a message here, and we will get back to you shortly!
Happy shopping!
Card has no value until activated.
Redeemable only for merchandise sold at Sephora store locations in Canada and the U.S., on Sephora.ca and on Sephora.com, U.S. Sephora App, or at Sephora inside JCPenney stores.
Unused amounts can apply to future purchases.
Not refundable or redeemable for cash except as required by law.
Card value will not be replaced if card is lost, stolen, altered, destroyed, or used without authorization.
Card does not expire.
Merchandise purchased with card is subject to Sephora return policy.
Card is issued by Sephora Beauty Canada, Inc., and which is the sole legal obligor to the cardholder.
Complete terms and conditions (including arbitration agreement) are posted at www.sephora.com/giftcards
For store locations, orders, or card balance inquiries, please visit www.sephora.ca orwww.sephora.com or call1-888-860-7897
To protect yourself against gift card scams and fraud, please visit: www.sephora.ca/giftcardscams or www.sephora.com/giftcardscams.
For additional questions, you can leave us a message here, and we will get back to you shortly!
Happy shopping!