Likee Gift Card
Nurture the delight of connecting and sharing through the Likee Gift Card—an entrance to boundless creativity, connection, and entertainment. Likee, the innovative platform, offers exciting features catering to diverse interests. With a Likee Gift Card, recipients can explore captivating content, connect with like-minded individuals, and unleash their imagination. Likee has a space for all, whether they're aspiring creators, avid viewers, or seeking fresh connections. They can craft videos, tackle unique challenges, and engage with a global community. So, share the joy of connecting, sharing, and exploring—introduce them to Likee today!
About Likee
Likee or Like Video is a free original short video-sharing application that provides users with a dynamic self-expression platform. Users can effortlessly upload their video creations, embellishing them with stickers, filters, captivating video effects and live. Through engagement, users can create a community and enjoy live content by hosting their own live streams or watching the content of their favorite artists and content creators. Also, virtual gifts can be bought to show appreciation. You can delve into valuable content like movie insights, culinary adventures, life hacks, and more.
What is Likee Diamond?
Likee Diamonds in an in-app currency used for buying gifts on the Likee platform. Creators receive these gifts to enhance their accounts and access exclusive features. Beyond that, Likee Diamonds can be spent on items like emotes, stickers, and filters from the Likee store. They're an excellent means to support your favourite creators and express gratitude for their efforts. If you want to amplify your Likee experience, Likee Diamonds are a perfect choice.
Benefits of using a Likee Gift Card:
Convenient: Enjoy the ease of redeeming a Likee gift card without sharing any payment details.

Secure: Purchasing Likee Diamonds through gift cards ensures a safe and risk-free transaction.

Flexible: Use Likee Diamonds to elevate your account, shop the Likee store, or gift creators with presents.

Giftable: Share the Likee experience with loved ones—gift cards make great presents for Likee enthusiasts.
What Makes al giftcards the best place to buy Likee Gift Cards?
al giftcards offer diverse Gift Cards, including Likee Gift Cards catering to various preferences and requirements. Moreover, al giftcards is recognized for its commitment to authenticity and reliability. Our user-friendly interface makes browsing, selecting, and purchasing Likee Gift Cards a breeze. The secure payment process safeguards sensitive information, guaranteeing a safe transaction. Plus, our dedicated support team is readily available to provide prompt solutions. Whether for personal use or gifting, al giftcards ensure a seamless and trustworthy buying experience, making it the ultimate choice for buying Likee Gift Cards.
---
How to Get Likee Gift Card?
Choose the Likee Gift Card that you want to Buy from al giftcards.

Verify the terms and conditions first.

Now Choose the value of the Likee Gift Card,

Buy for yourself or Select the "Send as a Gift" option.

Click "Buy Now", and you will be redirected to the Checkout page.

Alternatively, click "Add to Cart", Select the quantity, and click "Checkout"


---
How to Redeem Likee Gift Card?
Go to the official Likee Payment Page

Enter your Likee ID

Select your region

Select Higift as your payment method

Enter your gift card code and click submit

Your Likee Diamonds will be credited to your account shortly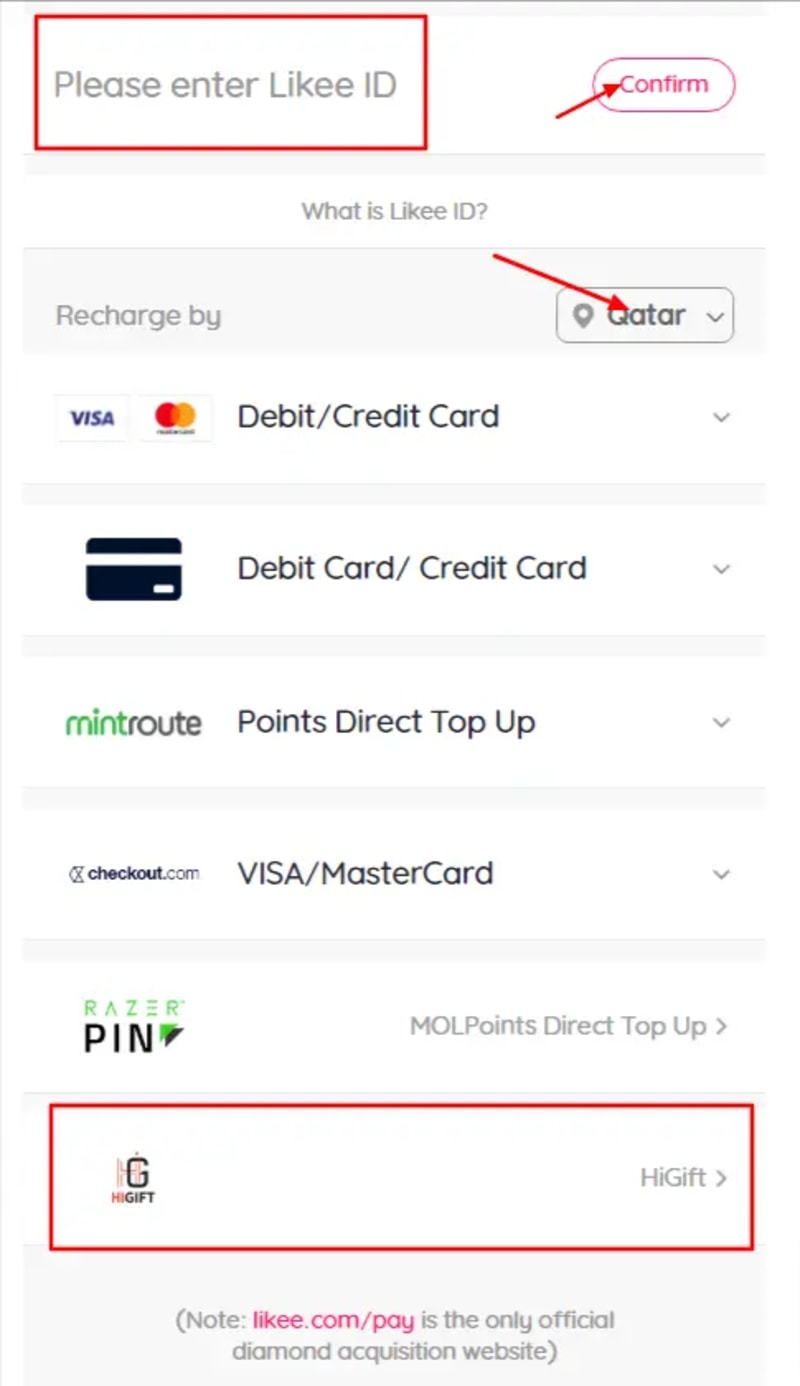 ---
How to redeem Likee Gift Card on Likee App?
Login to your Likee app

Click on "More-Wallet" at the top left corner

Select your region

Select Higift as your payment method

Enter your gift card code and click submit

Your Likee Diamonds will be credited to your account shortly
---
How to find my Likee ID?
Enter Likee app

Go to the "Me" page

Your Likee ID will be displayed beside your profile picture
---
Popular e-Gift Card Searches:
When will I receive the Gift Card?

My Likee Gift Card is lost. What can I do now?

In which regions Likee Gift Cards are Redeemable?
For additional questions, you can leave us a message here, and we will get back to you shortly!
Happy shopping!
Likee gift card is redeemable in United Arab Emirates, Saudi Arabia, Bahrain, Kuwait, Amman, Qatar, Turkey, Egypt, Iraq, Lebanon, United States, Canada, India, Algeria, Morocco, South Africa, Nigeria, United Kingdom, Germany, Italy, France, Spain.