Swarovski Gift Card
Swarovski, a renowned and prestigious jewelry brand, has been synonymous with luxury and craftsmanship since its inception in 1895. Founded by Daniel Swarovski, a visionary entrepreneur with a passion for crystal cutting, the company has become a global leader with a global reach in the jewelry and accessory industry.
The Swarovski gift card is a perfect choice for those seeking a thoughtful, luxurious, and stylish present for their loved ones. With a Swarovski gift card, recipients have the opportunity to explore and choose from a wide range of exquisite jewelry, accessories, and home decor items that reflect the Swarovski designs renowned craftsmanship and timeless elegance. Whether they desire a dazzling necklace, a pair of elegant earrings, any sparkling crystal products, or decorative items, the gift card opens up a world of possibilities.
The convenience of the Swarovski gift card extends beyond their own boutiques experience and can be redeemed in online shops. It can also be used for online purchases, allowing recipients to browse and select their desired Swarovski products from the comfort of their own homes.
Moreover, the digital gift card can be personalized to add an extra touch of thoughtfulness. Whether it's for a birthday, anniversary, graduation, or any other special occasion, the card can be accompanied by a heartfelt message, making it a truly meaningful and memorable gift.
Get your Swarovski gift card from al giftcards, a go-to digital platform for 100+ brands. We ensure instant email delivery.
---
How to Get Swarovski Gift Card?
Choose the Swarovski Gift Card that you want to Buy from al giftcards.

Verify the terms and conditions first.

Now Choose the value of the Swarovski Gift Card, then click on the "Buy Now" Button.

You will be redirected to the checkout page.

Alternatively, click "Add to Cart", Select the quantity, and click "Checkout"

---
How to Redeem Swarovski Gift Cards?
Log in or Register to the Official Swarovski Website

Add your chosen products to the Shopping Bag.

Click on the Gift Certificate/Card or voucher link and enter your code (for Gift Card holders, also enter your PIN).

The amount on your Gift Certificate/Card will automatically be deducted from the total of your order.

Check out to complete the Purchase.
The remaining amount will stay on your card for further use.

If your order exceeds the amount of the Gift Card, the remaining balance must be paid by credit card.

Only one Gift Certificate/Card or voucher may be used per order.
Note:
Swarovski Gift Cards can only be redeemed online and only if your country offers online shopping on Swarovski.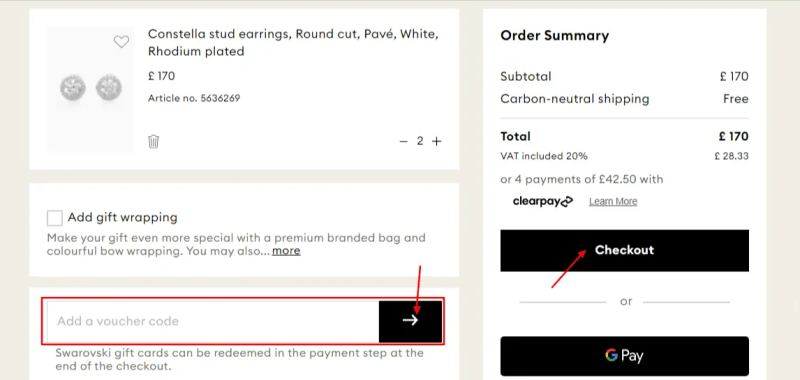 ---
Popular e-Gift Card Searches:
When will I receive the Gift Card?

How can I purchase a Swarovski gift card?

How to use the Swarovski gift card online?

Is it available in other countries?
For additional questions, you can leave us a message here, and we will get back to you shortly!
Happy shopping!
The Gift Card can only be redeemed online.

This Gift Card expires after 10 years.

This Gift Card is excluded from a redemption guarantee, is non-replaceable, non-refundable, non-reloadable and cannot be redeemed for cash or applied to any credit card balances.

Swarovski will not refund or replace, and will not be liable for, any lost or stolen Gift Cards.

Swarovski makes no warranties, express or implied, with respect to this Gift Card and disclaims any warranty to the fullest extent available.

For the complete general Terms and Conditions and our data policy, please view https://www.swarovski.com.

Swarovski reserves the right to add, delete or modify the General Terms and Conditions at any time.

The use of this Gift Card constitutes your acceptance of our Terms and Conditions.
For additional questions, you can leave us a message here, and we will get back to you shortly!