Kobo Gift Cards
Discover the joy of reading with Kobo gift cards. Give book lovers the chance to dive into a vast library of over 6 million eBooks and audiobooks. Kobo eGifts unlock a world of literary delight, perfect for any eBook or audiobook in the Kobo store. Recipients can enjoy reading on the go across devices. You can easily get Kobo gift cards from al giftcards, an authorized reseller, ensuring reliable codes and a smooth experience. Your contentment is our top concern when you choose us for your Kobo gift card needs.
What's Kobo?
Kobo, also known as Rakuten Kobo, is an online bookstore offering eBooks, audiobooks, e-readers, and tablets. With over 5 million titles, the Kobo Store provides various eBooks and audiobooks. You can use Kobo gift cards for purchases in the store.
What's a Kobo gift card?
A Kobo gift card acts like an online credit card, allowing you to swiftly and conveniently add funds to your Kobo account. al giftcards provide Kobo gift cards in 10, 25, and 50 CAD denominations.
Kobo Gift Card for Boundless Literary Exploration
Your Kobo Gift Card enables you to add credit to your Kobo account, facilitating purchases within the expansive online Kobo Store. Kobo caters to diverse reading preferences with over 5 million titles spanning various genres such as literature, thrillers, and biographies. Whether you're an avid reader or new to the world of eBooks and audiobooks, Kobo offers something for everyone. Ready to embark on your next literary journey? Redeem a Kobo gift card from al giftcards to access your chosen content directly.
Earn Kobo Super Points
When holding a Kobo VIP Membership and residing in Canada, the United States, the United Kingdom, Australia, New Zealand, or Italy, you automatically accumulate Kobo Super Points with every purchase of eBooks and audiobooks.
For pre-ordered books, your Kobo Super Points are allocated once your payment is successfully processed, typically on the book's release date. If you're subscribed to an audiobook plan, the initial payment is handled after your 14-day free trial period.
However, the following items are exceptions and do not contribute to earning Super Points:
Kobo eReaders and accompanying accessories

Kobo VIP Memberships

Kobo Gift Cards or Kobo eGift Cards
---
How to Get Kobo Gift Card?
Choose the Kobo Gift Card that you want to Buy from al giftcards.

Verify the terms and conditions first.

Now Choose the value of the Kobo Gift Card,

Buy for yourself or Select the "Send as a Gift" option.

Click "Buy Now", and you will be redirected to the Checkout page.

Alternatively, click "Add to Cart", Select the quantity, and click "Checkout"

---
How to Redeem Kobo Gift Card?
Sign up/in to the official Rakuten Kobo website.

Click on the "Gift Cards" option on the top right bar of the screen.

Now Click on the "Redeem Kobo Card" button.

Enter the Kobo Gift Card Pin and click on Submit.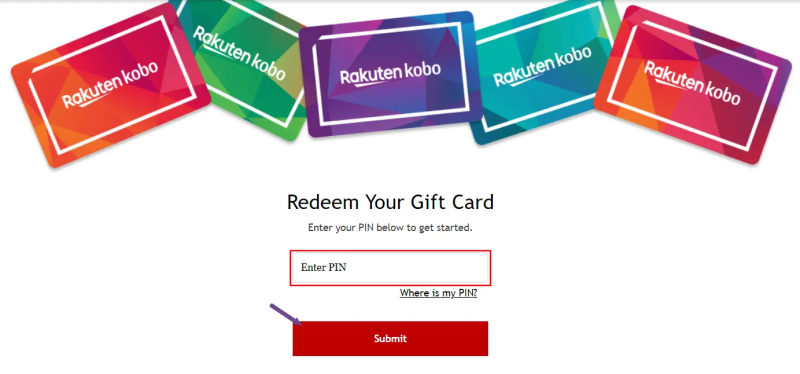 Note:
This Rakuten Kobo eGift Card can only be redeemed online via their Canadian website, available at kobo.com/ca. It can be redeemed for selected products sold on kobo.com/ca using a Kobo account, but this may exclude subscriptions and other products.
---
Popular e-Gift Card Searches:
When will I receive the Gift Card?

My Kobo Gift Card is lost. What can I do now?

In which regions Kobo Gift Cards are Redeemable?
For additional questions, you can leave us a message here, and we will get back to you shortly!
Happy shopping!