HelloFresh Gift Card
HelloFresh gift cards are the perfect way to share the fun of cooking with friends and family. Whether it's a special occasion or a thoughtful gesture, these gift cards allow recipients to explore a world of culinary possibilities. By giving a HelloFresh gift card, you're offering the recipient the chance to discover new flavours, improve their cooking skills, save time on meal planning and grocery shopping, and select their ideal culinary experience. Purchase now to receive an instant delivery, all facilitated by al giftcards.
Save home cooking with HelloFresh
HelloFresh is one of the leading meal-kit companies in the world dedicated to saving home cooking. While others may simply deliver food, HelloFresh offers an experience transcending the dining table, reintroducing the joy of cooking into people's lives. They handle everything from shopping and planning to step-by-step delivery of recipes and fresh ingredients, leaving you free to relish every aspect of culinary creation.
Plan delicious and healthy meals that are seasonal, sustainably sourced, flavorful, and satisfying. With just a few easy-to-master steps, even amateur cooks can zest, chop, and sauté restaurant quality meals, thanks to recipes tailored for 30-minute preparations.
Discover recipes designed for calorie-conscious, carb-smart diets and quick and effortless meal solutions. Their options span from classics to vegetarian and plant-based choices. By sourcing and delivering precisely the required ingredients, HelloFresh ensures everything inside the box finds its way onto your final plate.
Unwrap the Joy of Cooking with a HelloFresh Gift Card
A HelloFresh Gift Card is a thoughtful present for various reasons. It allows recipients to explore new recipes, try farm fresh produce, and enjoy cooking without the stress of meal planning. It's perfect for busy individuals, families, or anyone looking to enhance their culinary skills. Plus, it promotes healthy eating habits, eliminates the need for frequent grocery trips, and brings restaurant quality meals to the dinner tables. So, give the gift of convenience, deliciousness, and culinary adventure with a HelloFresh Gift Card.
Make cooking quick and carefree
Discover an array of culinary delights with HelloFresh's extensive recipe selection. With over 50 weekly menu and market options, including low-calorie, kid-friendly, and vegetarian dishes prepared by skilled chefs, you'll be spoiled for choice. Experience the convenience of their user-friendly meal cards and pre measured ingredients, allowing you to whip up meals in under 30 minutes. Tailor your plan by adjusting preferences and delivery days or even adding extra meals. Beyond personal benefits, HelloFresh is committed to sustainability as the first carbon-neutral meal-kit provider, minimising food waste through perfectly portioned ingredients. Eat delicious meals and embark on a flavorful journey while positively impacting both your plate and the planet.
Why choose a HelloFresh Gift Card?
The gift card offers access to a wide range of recipes, catering to different tastes and dietary preferences. The provided recipes can help recipients improve their cooking skills and culinary knowledge.

Eliminates meal planning and grocery shopping needs and enjoy stress-free dinners, saving the recipient time and effort.

It's an excellent gift for individuals or families who want to try new dishes and cooking techniques. Recipients can choose the meals they wish to receive, making it suitable for their schedule and preferences.

It's a thoughtful present for birthdays, holidays, housewarmings, or any other special occasion.

HelloFresh prioritises delivering high-quality fresh ingredients to ensure delicious home cooked meals. And since ingredients are pre-portioned, it helps minimise food waste.

Why Shop HelloFresh Gift Cards at al giftcards?
Al giftcards provides a secure platform to purchase and deliver HelloFresh Gift Cards, making sharing the joy of delicious and convenient meals easy. With a range of denomination options, you can choose the perfect value to suit any occasion. Moreover, al giftcards offer a diverse selection, featuring gift cards for various categories, allowing you to find the ideal gift beyond meal kits. Whether for special occasions, fashion, beauty, entertainment, or gaming, al giftcards is a one-stop shop for all your needs.
---
How to Get HelloFresh Gift Cards?
Choose the HelloFresh Gift Card that you want to Buy from al giftcards.

Verify the terms and conditions first.

Now Choose the value of the Hello Fresh Gift Card,

Buy for yourself or Select the "Send as a Gift" option.

Click "Buy Now", and you will be redirected to the Checkout page.

Alternatively, click "Add to Cart", Select the quantity, and click "Checkout"

---
How to Redeem HelloFresh Gift Cards?
Sign up/in to the official HelloFresh website.

Choose your meal plan and click Select this plan

You'll be redirected to the checkout page

Enter your address details and click on the "Next step" button

Click on "Do you have a promo code?" on the payment page

Enter the Hello Fresh gift card code in the box and click "Apply"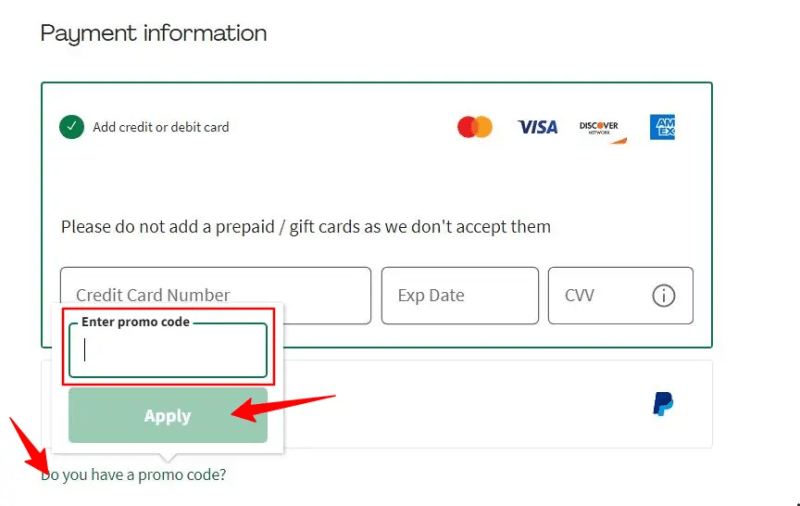 ---
Popular e-Gift Card Searches:
When will I receive the Gift Card?

My HelloFresh Gift Card is lost. What can I do now?

In which regions HelloFresh Gift Cards are Redeemable?
For additional questions, you can leave us a message here, and we will get back to you shortly!
Happy shopping!