The most demanded gift- Apple store gift card
Apple is one of the most demanded and most relied company when it comes to buying electronics especially the computers and phones. It is one of the famous companies across the globe and known for its good quality high-tech electronic items Apple Store gift card was once difficult to purchase but now it is very easy to get access to these gift cards for your personal use and also to gift your loved ones.
Get access to high tech electronics through Apple store gift card
One of the basic or primary reasons for investing in an Apple store gift card is the number of choices it provides and the freedom and versatility it gives to recipients. Use it to shop the App Store, Apple TV, Apple Music, iTunes, Apple Arcade etc. When received, this card may be redeemed against the purchase of any product that comes under the value of the Apple store gift card. Multiple products from the latest gadgets-this card allow you access to a wide variety of products across various categories. Depending on what you need, your apple store gift voucher can be used at checkout to ensure a quick and efficient transaction.
Apple store gift card -A versatile gift
Apple Store gift cards are very versatile dates which are suitable to present a person of any age. May it be a teenager or a high-tech professional Apple Store gift cards are the best gift they could receive because technology is used without any age barriers By people of all categories and occupations. If you are looking for a hassle-free gift without visiting any physical store in Abu Dhabi and UAE then visit our website, al gift cards and purchase the apple store gift card for your loved ones. Also it is available in multiple denominations to provide a range of e gift cards for your ease.
Why Apple store gift cards?
The Apple store gift cards are one of the few digital gifts that cover a wide range of electronic products which are used across the globe. Gifting an Apple store gift cards means gifting the freedom to purchase what one wants. Moreover, it is easy to use and redeem. If you've decided to gift something amazing to your family members or friends, regardless of their age and profession, it has to be the Apple store gift cards, an extremely versatile gift.
---
How to Get Apple Store Gift Card?
Choose the Apple Store Gift Card that you want to Buy from al giftcards.

Verify the terms and conditions first.

Now Choose the amount of Apple Store Gift Voucher then Select one of the Delivery Option.

You will be redirected to the Paypal.

---
How to Redeem Apple Store Gift Card
First Find your Apple Store e Gift Card Number and pin code from the voucher.

Then Visit Official Apple Store Website

Login/Sign up at Apple Store.

Click on Apple Store Credit Tab, enter the 25-digit gift card number and 4-digit pin

Click on Apply to Redeem your gift card.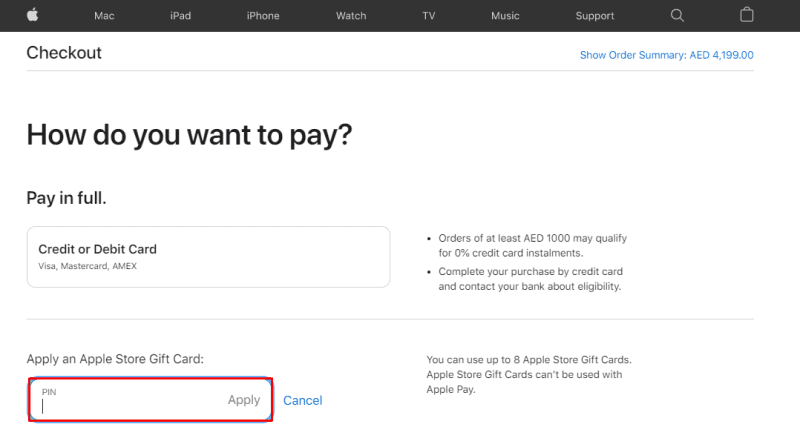 ---
Popular e-Gift Card Searches:
When will I receive the Gift Card?

How to get an Apple Store Gift Card?

How to use an Apple Store gift card?

Can Apple Store gift cards be redeemed for cash?

What if the purchase value is more than the Apple Store gift card balance?
For additional questions, you can leave us a message here, and we will get back to you shortly!
Happy shopping!
Apple Gift Cards are solely for purchase services from the Apple Store, the Apple Store app, apple.com, the App Store, iTunes, Apple Music, Apple TV, Apple Books, and other Apple properties.

These gift cards cannot be used to buy hardware.

Valid only on purchases from the Region Specific Apple Account

Use requires an active Apple account & prior acceptance of license & usage terms.
Brand Partner Contact: https://www.apple.com