Get Access to the Best Entertainment Hub with STARZPLAY Gift Card
STARZPLAY is a leading entertainment platform that lets you stream various titles in different genres, like thriller, comedy, romance, drama, and more in HD quality. With thousands of blockbuster movies, TV shows, documentaries, regional TV series, and more- STARZPLAY is all set to bid adieu to your boredom. Being a popular and in-demand streaming platform, it also offers STARZPLAY gift voucher or STARZPLAY eGift cards for the entertainment buffs.
STARZPLAY Gift Card: An All-in-One Entertainment Access Pass
Leveraging the power of advanced technology, STARZPLAY provides a premium content viewing experience on its platform. Once you log in to your STARZPLAY account, you can explore thousands of content formats in full HD and 4k content that are directly sourced from leading entertainment studios, like-Disney, Paramount, Warner Bros, 20th Century Fox, and many more. Besides Hollywood movies and TV series, you can also dive into Bollywood and Arabic content on the same platform.
For people in the MENA region, STARZPLAY has exclusively come up with a feature that lets viewers enjoy one-click Arabic subtitling, along with Arabic and French audio options. If your loved ones enjoy spending their evening watching movies and TV original series, you can gift them a STARZPLAY voucher.
A Gift for Every Occasion, Relation, & Emotion
al giftcards understand your challenge of coming up with unique gift ideas for your loved ones. If you have gifted beautiful flowers as wedding gifts to your acquaintances, you wouldn't want to repeat the same option for the same recipient on different occasions. The same applies to your loved ones. If you're looking for a memorable gift option that can stand out from the rest, choose STARZPLAY gift cards. This entertainment digital gift card makes the best birthday gifts and more that can be given to anyone on any occasion. Whether you want to solely express your gratitude to someone or celebrate an achievement, you can always consider gifting "access to pure entertainment" via STARZPLAY eCards.
Why STARZPLAY eGift Card?
If watching movies online from any device interests your near and dear ones, then no gift can be better than the gift of entertainment. You can buy STARZPLAY eGift cards from al giftcards and get it delivered instantly to the recipient. The STARZPLAY gift card will let the recipient enjoy an ad-free streaming experience of their favorite Hollywood movies, kid's movies, TV shows, and more on their device. You can choose the gift card of your preferred denomination and let your loved ones binge-watch their favorite shows.
You can buy the STARZPLAY gift card of your preferred denomination and send it across by choosing the "send to someone else" option in delivery options. Once you fill the required details and complete the purchase, al giftcards will instantly deliver the purchased card details on your shared email id.
---
How to Get STARZPLAY Gift Card?
Choose the STARZPLAY Gift Card that you want to Buy from al giftcards.

Verify the terms and conditions first.

Now Choose the amount of STARZPLAY Gift Voucher then Select one of the Delivery Option.

You will be redirected to Paypal.

---
How to Redeem STARZPLAY Gift Card
First Find your STARZPLAY e Gift Card Number and pin code from the voucher.

Log in/Sign up to the Official STARZPLAY Website

Click on STARZPLAY Credit Tab, and enter the STARZPLAY Gift Card number.

Click on Apply to Redeem your gift card.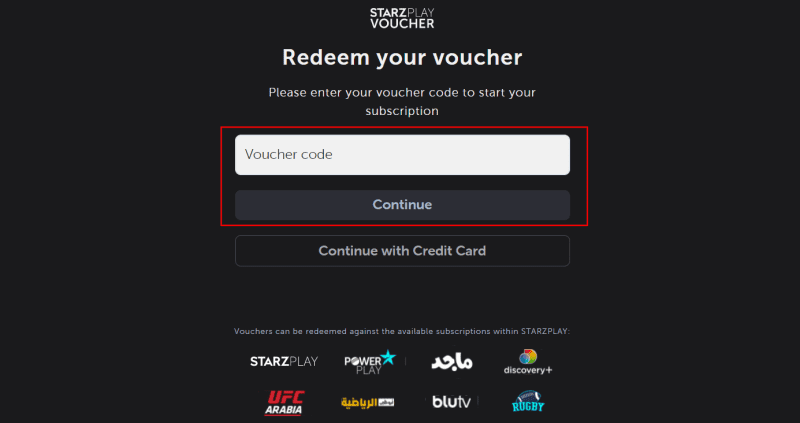 ---
Popular e-Gift Card Searches:
When will I receive the Gift Card?

Where can I use my eGift Card?

When does the eGift Card expire?

Can I reload my eGift Card after I've spent the full value?

How to use a STARZPLAY Gift Card?

What Payment methods are accepted by al giftcards?
For additional questions, you can leave us a message here, and we will get back to you shortly!
Happy shopping!