Neuticles of PUBG Mobile UC Gift Card
PLAYERUNKNOWN'S BATTLEGROUNDS (PUBG) is a multiplayer survival shooter that has been formally developed/published by Bluehole. PUBG is now being produced by PUBG Corp, a subsidiary of Bluehole, in collaboration with Brendan Greene (PLAYERUNKNOWN) as Creative Director, PUBG is Greene's first stand-alone game. If the excitement of the game keeps you looped, PUBG Mobile UC eGift cards should be your first pick. Grab the cool PUBG Mobile UC Gift Card and get ready to face the unforeseen.
Perks with the PUBG Mobile UC eGift cards
Buying a Gift on the Battlegrounds Gift is a perfect way to give money with a recommendation to use it on the Battlegrounds. This incorporates the thoughtfulness of giving a gift card or gift voucher with the ease and flexibility of giving money.
The beneficiary redeems online and accepts gifted funds in a manner that is efficient for them as a payment for a gift card that we ship to them excluding extra expense.
Give the appropriate edge to your gaming experience by PUBG Mobile UC eGift cards
Although the game is free to play, players are required to purchase some premium gaming content/elements, such as ward textures, spell caster icons, rune pages, and much more. When you send a PUBG Mobile UC eGift cards digital gift card to your loved one the user will have the right to use the card in the way he likes. It ensures that the gift is loved by the recipient. Another primary reason to select a gift card over a tangible gift option is to ensure that you get a gift within your budget that is guaranteed to get appreciation. You can purchase PUBG Mobile UC eGift cards of your desired value and let the recipient do the rest.
Best Egift card options at Al gift cards
Choose your PUBG Smartphone UC e Gift card as a birthday gift or graduation gift from before some special day for your friend and get instant delivery. We provide safe payment options for each purchase. Choose the gift cards of your chosen denomination and deliver the PUBG Mobile UC eGift card directly to the user's address. This online gift choice will take away the stress of selecting the right gifts from your friends in a single swipe.
---
How to Get PUBG Mobile UC Gift Card?
Choose the PUBG Mobile UC Gift Card that you want to Buy from al giftcards.

Verify the terms and conditions first.

Now Choose the amount of PUBG Mobile UC Gift Voucher

Buy for yourself or Select the "Send as a Gift" option.

Click "Buy Now", and you will be redirected to the Checkout page.

Alternatively, click "Add to Cart", Select the quantity, and click "Checkout"

---
How to Redeem PUBG Mobile UC Gift Card
First Find your PUBG Mobile UC e Gift Card Number and pin code from the voucher.

Then Visit the Official Midasbuy Website

Log in or register to your Midasbuy account to view redemption rewards

Click on Redeem and enter the gift card pin code under Redeem Gifts.

Click the OK button to Redeem your gift card.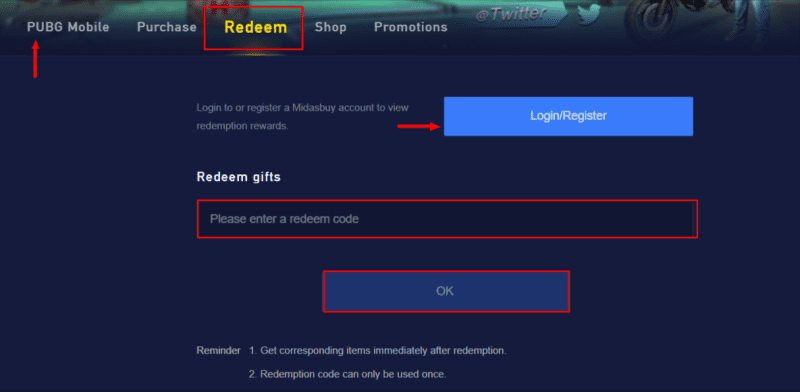 ---
Popular e-Gift Card Searches:
When will I receive the Gift Card?

How to get a PUBG Mobile UC Gift Card?

How to use a PUBG Mobile UC gift card?

Can PUBG Mobile UC gift cards be redeemed for cash?

Can the credit on PUBG Mobile UC be used partially for multiple purchases?
For additional questions, you can leave us a message here, and we will get back to you shortly!
Happy shopping!
By accessing or using any Licensed Items, you agree to be bound by the EULA between you and PROXIMA BETA PTE.LIMITED.
You must only use the Licensed Items:
You must comply with the EULA in your use of the Licensed Items and only use the Licensed Items as permitted by applicable laws and regulations, wherever you are when you use them.
If you are under the age of 13, you must not open an account and must not use any Licensed Items.
If you are between the ages of 13 and 18, your parent or guardian must agree to the EULA (both for themselves and on your behalf) before you can use Your Account or any Licensed Items.
If you are a parent or guardian, you accept responsibility for the use of Your Account and the Licensed Items, including any payments, fees, and charges relating to the Licensed Items.
Reminder:
Get corresponding items immediately after redemption.
The redemption code can only be used once.
If you have any questions about, or if you wish to send any notices in relation to, the EULA, please contact [email protected]