Redefine Online Gifting with Walmart Gift Cards
Walmart is such a name that needs no introduction. With over a million products, the brand covers all the popular product categories that a consumer usually needs. Electronics, clothes, fashion accessories, garden essentials, toys, books, and sports products are some of the items that you can find at any online or physical Walmart store. If you're picking up something for your loved ones, but are unsure whether they will like your selected products, give them a Walmart gift card.
The Walmart eGift card available at al giftcards is easy to use and can be instantly redeemed post-purchase. You can give it to your loved ones and let them choose what they want to buy. It removes the guesswork and ensures that you are investing on the right gift. You can buy a Walmart gift card of your preferred value and get it delivered instantly to the recipient via email post the purchase.
Get Access to Millions of Products
One of the basic or primary reasons to invest in a Walmart digital card is the number of options it provides and the liberty and flexibility it offers to the recipients. Once received, this card can be redeemed against the purchase of any product that falls within the gift card value. From fashion to gadgets to fitness to home products- this card gives you access to millions of products across different categories. Depending on what you need, the card can be used at checkout to ensure a smooth and successful transaction.
As Walmart stocks all the best products from industry-known brands, like- Maybelline, SONY, Calvin Klein, Panasonic, Hugo Boss, Gucci, and the like, the recipient can easily purchase these branded products without paying for it. At al giftcards, we have digital cards of various denominations, so be sure to buy the one that fits your budget and gives maximum buying power to your loved ones.
Walmart Gift Cards for Everyone & Every Occasion
Coming up with fresh and resourceful gift ideas on various occasions throughout the year is not as easy as it sounds. No one wants to repeat and gift the same items over and over again to their acquaintances, and this is where gift cards come into the picture. Be it your parents or spouse, colleagues or neighbors, you can gift them a Walmart digital card without any hesitation.
The best part of our Walmart gift cards is that you can give it to anyone on any occasion. It serves as the best present for birthdays, Christmas, New Year, housewarming parties, graduation ceremonies, anniversaries, or any other event.
Why Walmart Gift Cards?
The Walmart gift card is one of the few digital gifts that cover a wide range of products from various reputable brands across the globe. Gifting a Walmart card means gifting the freedom to purchase what one wants. Moreover, it is easy to use and redeem. If you've decided to gift something amazing to your family members or friends, it has to be the Walmart gift card.
---
How to Get Walmart Gift Card?
Choose the Walmart Gift Card that you want to Buy from al giftcards.

Verify the terms and conditions first.

Now Choose the amount of Walmart Gift Voucher

Buy for yourself or Select the "Send as a Gift" option.

Click "Buy Now", and you will be redirected to the Checkout page.

Alternatively, click "Add to Cart", Select the quantity, and click "Checkout"

---
How to Redeem Walmart Gift Card
First Find your Walmart e Gift Card Number and pin code from the voucher.

Then Visit Official Walmart Website

Login/Sign up at Walmart.

Click on Walmart Credit Tab, enter the 25-digit gift card number.

Click on Apply to Redeem your gift card.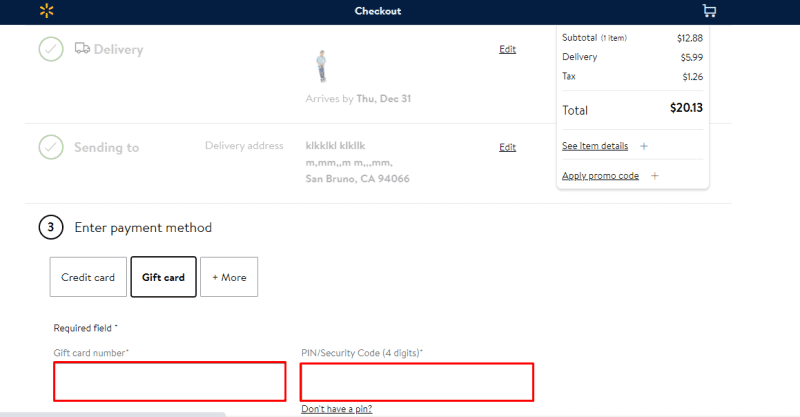 ---
Popular e-Gift Card Searches:
When will I receive the Gift Card?

Where can I use my eGift Card?

When does the eGift Card expire?

Can I reload my eGift Card after I've spent the full value?

What if I lose my eGift Card?

How to use a Walmart Gift Card?
For additional questions, you can leave us a message here, and we will get back to you shortly!
Happy shopping!
Terms, including the amendatory arbitration provision, apply to the use of this card.
See full terms, which may change without notice, at http://Walmart.com/giftcardterms.
Use this card at any Walmart store or Sam's Club in the U.S. or Puerto Rico, or on-line at http://Wal-Mart.com,Samsclub.com, or at any location listed at http://Walmart.com/giftcardterms.
Card balance is a liability of Wal-Mart Stores Arkansas, LLC.
No cash redemption unless required by law.
No replacement for lost/stolen cards.
Walmart may refuse to accept this card and take action, including balance forfeiture, for fraud, abuse or violations of terms.
Never give card numbers to someone you don't know.
To report fraud or to check balance, call 1-888-537-5503.
For more information on how to protect yourself from fraud, visit https://corporate.walmart.com/privacy-security/fraud-alerts/
Brand Partner Contact: www.walmart.com