Dominos Gift Cards- every pizza lover's delight
You can now gift your loved ones Dominos gift cards from al giftcards. Treat your friends and family to amazing food and side dishes from this reputed pizza place.
Dominos Pizza is not an unfamiliar name when it comes to pizzas. It is the largest pizza chain in the United States spanning over 18,000 locations worldwide. Since its formation, 62 years ago Dominos has been known to be efficient in their delivery system. They offer a guarantee to customers that they will get their pizza delivered within 30 minutes from placing the order, failing to do it will give them the pizza for free. The company continues to honour this delivery practice but is subject to certain terms and conditions in different countries.
The menu at Dominos varies from region to region. At present the menu in the United States has a variety of American-Italian main dishes. With their primary focus being producing good quality pizzas with a variety of pizza toppings and crust styles, they also have a menu of entrees and side dishes too. The entrees include pastas, sandwiches, bread bowls with chicken and vegetarian sides, desserts and beverages.
Use your Dominos gift vouchers in a store or online while placing an order and use it as an alternative to cash. This gift card is an efficient way of treating something to a nice meal. The receiver can use the gift card to purchase what they like, whenever they want until the gift card validity persists.
Share happiness with Dominos gift cards
Spread happiness and let your loved ones enjoy the goodness of pizza with Dominos e gift cards. There's nothing like receiving a food gift card and being able to spend it on whatever you like. As of now, this gift card can be redeemed anytime within the expiration date at all Dominos Pizza outlets or online anywhere in the United States. Check your gift card balance from the official Dominos website for any balance inquiry. They can use this gift voucher to order any pizza, beverage, dessert or food item from the menu or customise their order according to their taste. You can customise your pizza right from the thickness of the pizza crust to the type of sauce, cheese and toppings. Or you can try specially crafted pizzas like Spinach & Feta, MeatZZa, Philly Cheese Steak and Honolulu Hawaiian. Browse through the extended menu at Dominos and devour any delicacies you prefer.
Get your Dominos pizza gift cards from al giftcards
Want to make someone's day extra special by gifting them Dominos gift cards as birthday gift cards, anniversary gift cards, festive occasion gift cards or Thank you gift cards? Purchase your gift card online at a great price from al giftcards and send it to anyone instantly through email. Sending virtual gift cards online saves a lot of time, convenience and well it's plastic free!
It is easy to send a gift card. Choose the value of the gift voucher from the available denominations of USD 10, USD 20 and USD 50. Send it as a gift by providing the recipient's details and you even have the option of adding in a message to make it more personalised. This gift card is valid for six months and can be redeemed by the user in any Dominos participating restaurants or can be used to order food online.
---
How to Get Domino's Gift Card?
Choose the Domino's Gift Card Denomination you want to Buy from al giftcards.

Verify the terms and conditions first.

Now Choose the amount of Domino's Gift Voucher then Select one of the Delivery Options.

You will be redirected to the payment method.

---
How to Redeem Domino's Gift Card?
Go to Domino's official Website.

Select the food you want and put it in your cart

Click and go to the checkout page.

Enter the Gift card details and credit will be applied to your order.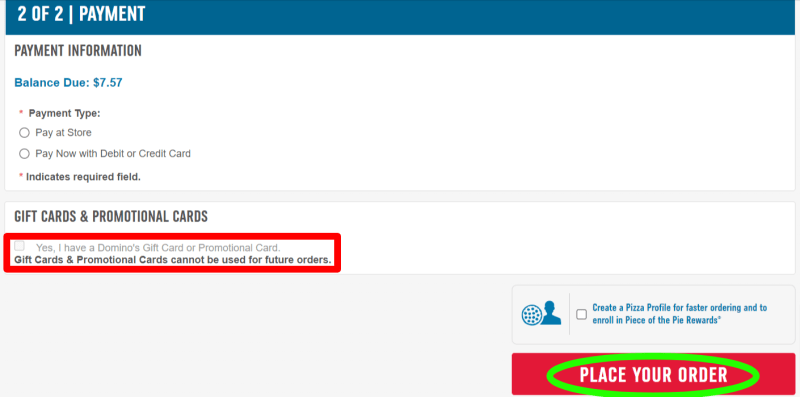 Telephone Purchase: Simply provide your gift card number and PIN as a form of payment.

In-Store Purchase: Simply take your gift card with you to any Domino's® store.
---
Popular e-Gift Card Searches:
When will I receive the Gift Card?

Can I redeem my Gift Card for cash?

Where can I redeem my Gift Card?
For additional questions, you can leave us a message here, and we will get back to you shortly!
Happy shopping!