Boost Your Online Gamer Self with Valorant Gift Card
Video games have especially gained popularity since the expansion of the internet. When it comes to awe-inspiring games and aesthetic visuals, there aren't many games that can compete with Valorant. Valorant is a widely popular online video game that has been lauded and loved by millions of gaming enthusiasts. This fascinating game is created by the famous Riot Games and it has gained huge fandom since its launch in 2020. This game is a real challenge for gamers who love to explore mysterious avenues and tasks in a game.
If you are a fan of the Valorant game, you can save a lot on your Valorant subscription by using a Valorant gift card via Riot Access. Check out all the exclusive Valorant gift cards available at al giftcards and enjoy the fun of playing Valorant without paying the full price. You can share this fun with your friends and peers as well. Gift them the new Valorant e-gift cards so that they can take part in this fantastic game!
All about Valorant Gift Cards
Valorant has created a huge sensation among youngsters because of its unique appeal and aesthetic visuals. Designed and published by Riot Games, Valorant is currently one of the biggest multi-player video games in the world. Instead of going down the same old path in search of treasures, the quest in Valorant makes you meet with adrenaline-rushing challenges at every step of the way. Design your own team, choose high-functioning agents, build your armory and set out on the greatest battle of your life as a valorant! And the greatest part about Valorant is that you can let your friends take part in the fun along with you by gifting them the Valorant gift voucher.
The Valorant gift card is easily available on al giftcards and you can send the code directly to your friends anytime. Let your buddies enjoy the thrill of this game by subscribing to Valorant's full package at a lesser cost with the Riot Points Valorant gift card.
Things That Make Valorant Unique
Valorant is not just another video game about war and win, rather it is about putting your best skills to the test virtually. Here, you will get to prove your tactical thinking abilities at a global competitive stage through the 13 rounds. Each of these rounds brings unimaginable powerplays and sharp battles in front of you. And, you would need to bring your A-game rather than your guns and bullets to conquer your enemies. This game entirely depends on which agents you choose and how lethal their skills are. Traverse through the spectacular scenarios and be ready to defend your guards with a sharp and alert mind!
Pick the Best Valorant Gift Cards from al giftcards
Want to binge-play some good rounds of Valorant with your friends? Here's your jackpot to the ultimate access to Valorant. Choose the Valorant gift card available on al giftcards and give your buddies the chance to play this mind-bending video game for free. Our e-gift vouchers for Valorant can be called the perfect gift for anyone who plays Valorant and loves such a video game. All you need to do is to pick your preferred denominations and send the code immediately to the recipient. We also offer you the benefit of self-buying our gift vouchers. You can use your credit card and debit cards to pay for your purchased voucher.
Using Valorant Gift Cards
Log into the Valorant game account with your credentials or create a new account, if you already do not have one. You can start using the advantages of our curated gift vouchers for Valorant from the first time only. Make sure you check out the service and product description beforehand to confirm if the code will be valid there at the moment or not.
With the help of the newest Valorant e-gift vouchers, you can explore new avenues of this game. The gift card code can be encashed in-game currency that can be used to purchase weapons, skins and to unlock new agents. You can also recharge your select prepaid cards and game cards with this voucher. Most e-gift cards will be valid for 6 months on Valorant. So, hurry up and start your Valorant journey now with the chosen gift codes from al giftcards.
---
How to Get Valorant Gift Card?
Choose the Valorant Gift Card that you want to buy from al giftcards.

Verify the terms and conditions first.

Now choose the value of the Valorant Gift Voucher then click on the "Buy Valorant Gift Card" button.

You will be redirected to the checkout page.

---
How to redeem Valorant Gift Card Code?
Log in to your Valorant game account.

Click on the "Store" button which can find in-game.

Click on the "Purchase RP".

Select the "Prepaid Cards" option and enter the digital code.

Select "Submit" to complete the redemption.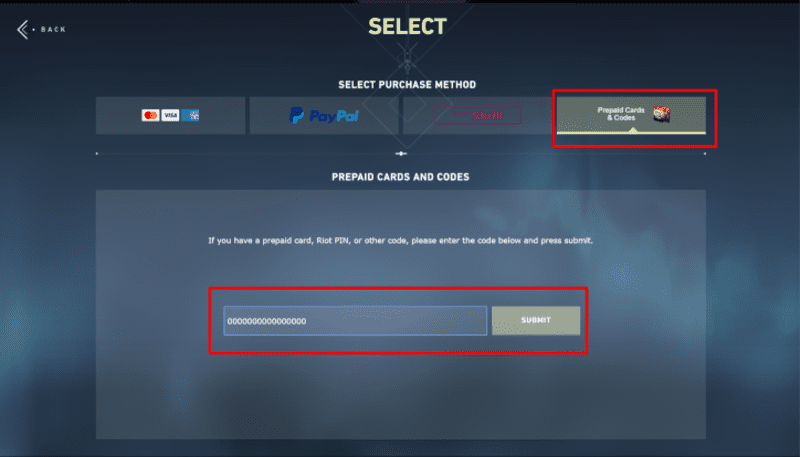 ---
Popular e-Gift Card Searches:
When will I receive the Gift Card?

w to get a Valorant Gift Card?

What is the validity of my Valorant e-Gift Card?

How to use the Valorant Gift Card?

My Gift Card is lost. What can I do now?
For additional questions, you can leave us a message here, and we will get back to you shortly!
Happy shopping!
This product CAN be activated ONLY on the Middle East and North Africa Servers.