Enjoy Holiday at its Best with Tajawal Gift Cards
Tajawal makes travel bookings easy in the Middle East by providing the cheapest flights and affordable hotel and holiday packages! Flight or hotel bookings have never been more straightforward than it is with Tajawal. They present the Middle East's perfect online travel portal where you can find cheap flights, hotels, and holiday options at the world's top destinations in a minute. Share the opportunity of traveling in style with your friends and peers by giving them the latest Tajawal e-gift cards.
Flight and Hotel Bookings with Tajawal
At Tajawal, you can find the best business class and economy class airline tickets for domestic and international flights. They offer competitive prices and special fares for almost 450 airlines all over the world, including Jet Airways, Etihad Airways, Oman Air, Gulf Air Flights, Air Arabia, Philippine Airlines, etc. Not only that, but your travel plans will also find perfect harmony with their curated holiday packages. Get the option to book hotels from 1.5 million executive hotels in the top destinations worldwide. And all of these can be readily availed using Tajawal e-gift cards.
Tajawal Gift Cards: A Unique Gift Option
If you are tired of picking out the perfect gift for your loved ones, think outside the box for once, and choose the Tajawal travel gift card from al giftcards to give them a unique touch of love! You can get verified Tajawal gift vouchers at our website throughout the year. Our easy interface and secure payment process help you buy the Tajawal gift cards in just a few taps of your finger.
Why Tajawal Gift Cards?
Booking flight tickets or making hotel bookings are a piece of cake at the Tajawal website, as well as their state-of-the-art mobile app. When you gift someone the Tajawal travel gift card, they can explore the best travel booking process in the UAE for themselves, without spending a dime of their own! They can use the Tajawal gift card to book flights or hotels whenever they want. People in the United Arab Emirates, Saudi Arabia, or Abu Dhabi can access the fantastic facilities offered by Tajawal when they use Tajawal e-gift cards.
How to Use Tajawal Gift Cards?
If you want your loved ones to enjoy the services from Tajawal, check out the exclusive Tajawal gift cards from al giftcards. We have multiple denominations to suit your budgets. You can select your preferred option and pay via your desired payment method, such as credit card, Mashreq debit card, PayPal, etc. Put your recipient's email address at the time of buying, and we will send this gift card to their inbox directly after you purchase it.

Grab our exclusive Tajawal gift vouchers today and let your family and friends explore the one of a kind travel experience!
---
How to Get Tajawal Gift Card?
Choose the Tajawal Gift Card that you want to Buy from al giftcards.

Verify the terms and conditions first.

Now Choose the amount of Tajawal Gift Voucher then Select one of the Delivery Option.

You will be redirected to the Paypal.
---
How to Redeem Tajawal Gift Card?
First Find your Tajawal eGift Card Number and pin code from the voucher.

Then Visit Official Tajawal Website

Log in/Sign up at Tajawal.

Click on Tajawal Credit Tab, enter the 25-digit gift card number.

Click on Apply to Redeem your gift card.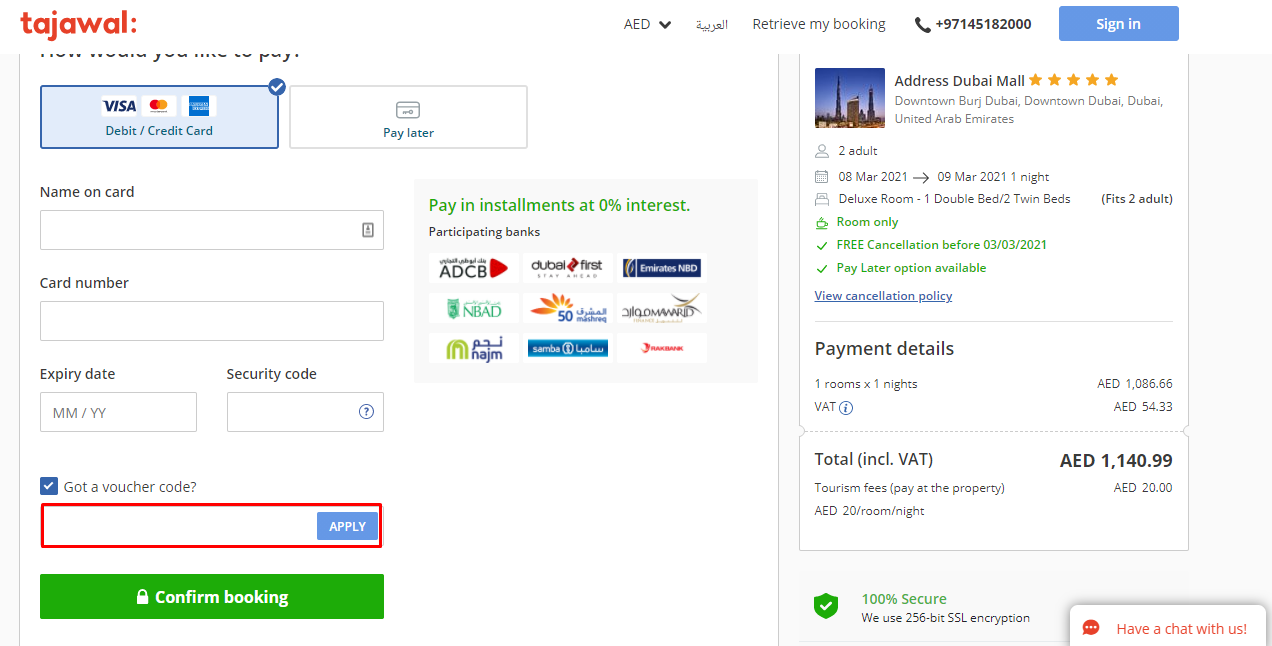 ---
Popular e-Gift Card Searches:
When will I receive the Gift Card?

How to get a Tajawal Gift Card?

My Tajawal Gift Card is lost. What can I do now?

How to use the Tajawal Gift Card?
For additional questions, you can leave us a message here, and we will get back to you shortly!
Happy shopping!