Google Play Gift Cards – Perfect Gift for Any Occasion
The ultimate app store has all your favorite music, movies, Android apps and games, TV shows, magazines, and books in a single place. With more than a million apps and other useful downloadable items, it is a name known to all Android users. If you or your near ones love the apps, games, and other items on the Play Store, then give the gift of a Google Play eGift voucher, which is a treat for all age groups and has all Android apps and games. Use your account for unlimited fun and perks.
Using the Google Play gift card code, you can enjoy premium downloads within the value at no cost. The best part of a digital gift card is that it can be given on any occasion and given to any Android phone user. So, give a Google Gift Card to your friends to open a world of possibilities and more.
Google Play Gift Card for Every Android User
If you want to treat yourself or your loved ones to the latest and most useful premium Android apps, you can buy Google Play Gift voucher online. This Voucher allows the recipient to explore, select, and download premium content, software, games, and more that are exclusive to the store. Buy the gift card of your preferred denomination, provide the required details, and let us deliver the digital Gift Card instantly. You can use your Google account for access to the Play Store and start treating yourself to the applications.
Let Your Loved Ones Choose
No matter how much you know your acquaintances, gauging their ever-changing requirements is not an easy task. Instead of wasting several hours trying to come up with a useful gift item, give them the freedom to purchase what they want. If your loved ones are Android users, no gift can be better than a digital Google Play Gift Card. They can use the eGift Card to buy what they need from the play store without paying for it through the Google account. However, the purchase should be within the gift voucher amount. So, why not give the gift of utility and uninterrupted fun of Android apps and games?
Why buy a Google Play Gift Card?
In the confusion of selecting a gift, buy an eGift voucher that removes the uncertainty of whether the recipient will like the gift or not, as you are given the freedom to purchase what one wants. When you buy Google Play Gift Card, the recipient can choose his/her choice of activity from the Play Store. Plus, using or redeeming a Google Play eGift card is easy, and one can manage the spending on games and entertainment according to their own preference. Redeem the eGift Card on the Play store account itself.
At al giftcards, we provide a secure environment for all our buyers. Follow the mentioned steps to buy an eGift card for yourself or your loved ones. If you leave a personalized message when you purchase a Google Play gift card according to your budget and let us deliver it instantly to the provided email id, we help you to surprise your special ones on their special days. You can buy the eGift cards for either yourself or someone else without any hassle and enjoys unlimited entertainment. So, give the gift of unlimited entertainment, Android apps, and games to your loved ones today!
---
How to Buy Google Play Gift Card?
Choose the Gift Card that you want to Buy from al giftcards.

Verify the terms and conditions first.

Now Choose the amount of Google Play Gift Voucher then Select one of the Delivery Options.

You will be redirected to the Payment page.

---
How to Redeem Google Play Gift Card
First Find your e Gift Card Number and pin code from the voucher.

Then Visit Official Google Play Website

Log in/Sign up.

Click on Credit Tab, and enter the Google Gift Card number.

Click on Apply to Redeem your gift card.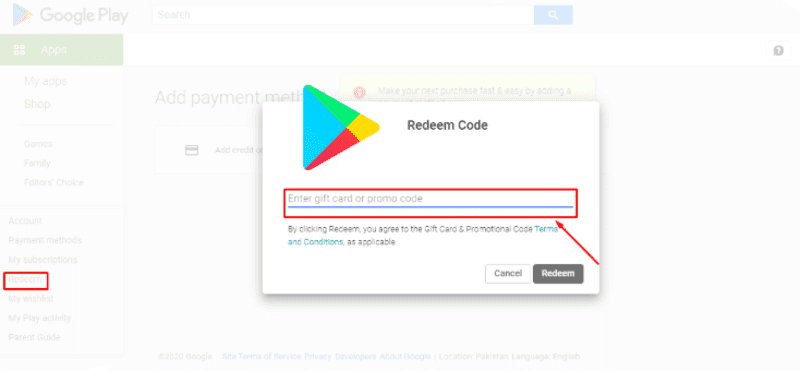 ---
Popular e-Gift Card Searches:
When will I receive the Gift Card?

How to redeem Google Play Gift Card?

What can I buy with google play balance?

How long is Google Play Gift Card balance valid for?

Are Google Play Gift Cards rechargeable?
For additional questions, you can leave us a message here, and we will get back to you shortly!
Happy shopping!