Carrefour Gift Card: A Gift of Care & Love
Carrefour is among the largest and well-known hypermarket chains in the world. Having more than 100,000 products across a range of product categories, Carrefour always tries to provide unbeatable value with every purchase. From home appliances to fresh food, baby products to fashion items- Carrefour has it all. Besides having quality products on offer, Carrefour also has gift cards for every occasion.
The Carrefour gift cards can be used as a thoughtful gifting item as it allows the recipient to buy what s/he wants from over a million products. However, it should be noted that the Carrefour hypermarket or Carrefour UAE gift card can be used to make purchases within the gift card value. Any purchase above the digital card value will require additional payment at checkout.
Carrefour eGift Card Covers All Your Needs
What makes Carrefour gift voucher a perfect gift is the freedom it gives to choose from over a million useful products. This beautiful gift card can be used to purchase anything available on the Carrefour store, including electronics & appliances, fresh food, cleaning & household, baby products, health & fitness, home & garden, pet supplies, and much more.
The Carrefour market store has been catering to millions of shoppers since its inception and keeps adding new quality products on its shelves to meet the ever-changing demands. If you were finding it challenging to come up with incredible surprises for homemakers, you got to consider the Carrefour digital gift card.
Access Everyday Products of Your Favorite Brands
Whether buying something for the festive delight or a normal day, people mostly prefer buying products from their favorite brands. It is why Carrefour has brought together the best products of reputable brands, namely- LUX, Samsung, Canon, Dettol, Philips, Tommy Hilfiger, Lenovo, Casio, Prestige, and the likes. Having a Carrefour UAE gift card will give you access to all these branded products.
The Carrefour gift prepaid cards are the only digital cards that are ideal to be gifted on any occasion. Owing to the vast range of products, you can give the Carrefour eGift card to anyone, be it your close family members, friends, or colleagues.
Why Carrefour Gift Card?
If you want to extend personalized online gifting experience to your loved ones, then nothing can be better than the Carrefour gift card. By giving a Carrefour eGift card, you are giving the freedom to choose and purchase to the recipient. As the recipient can use the Carrefour gift card code to purchase what they need without having to pay for it, they are sure to remember you for this gracious, loving gift.
If you have made your mind to gift a Carrefour digital card to your loved ones, browse and select a gift card of your preferred denomination, and make the purchase. al giftcards provide a seamless and secure environment for your purchase; and gives you an option to get the eGift card delivered instantly to the recipient via email.
---
How to Get Carrefour Gift Card?
Choose the Carrefour Gift Card that you want to Buy from al giftcards.

Verify the terms and conditions first.

Now Choose the amount of Carrefour Gift Voucher then Select one of the Delivery Option.

You will be redirected to the Paypal.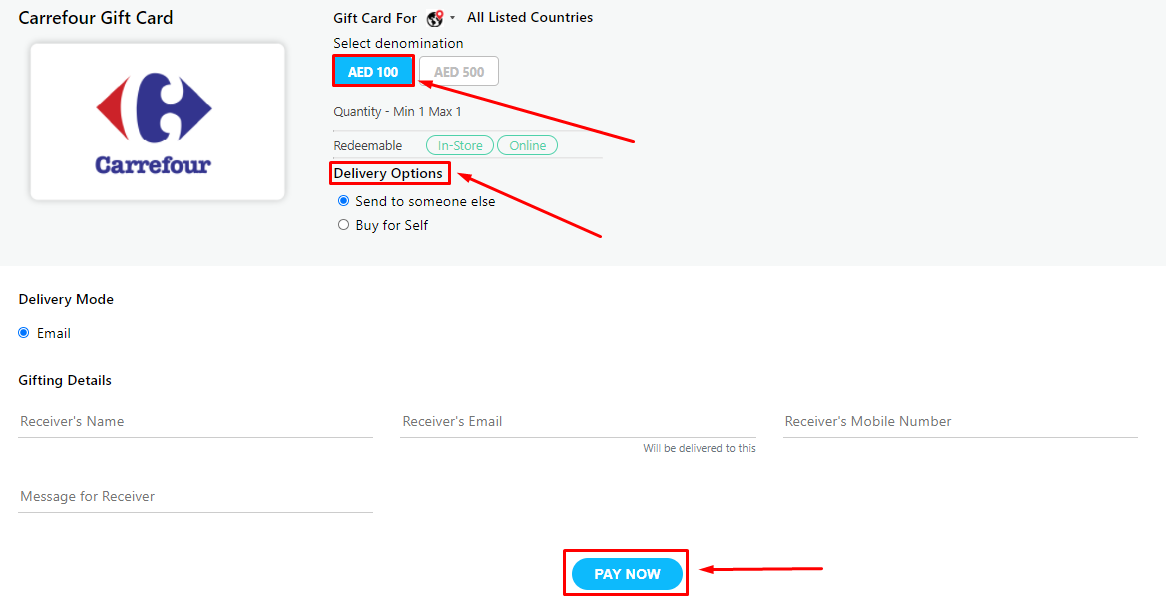 ---
How to Redeem Carrefour Gift Card
First Find your Carrefour e Gift Card Number and pin code from the voucher.

Then Visit Official Carrefour Website

Login/Sign up at Carrefour.

Click on Carrefour Credit Tab, enter the 25-digit gift card number.

Click on Apply to Redeem your gift card.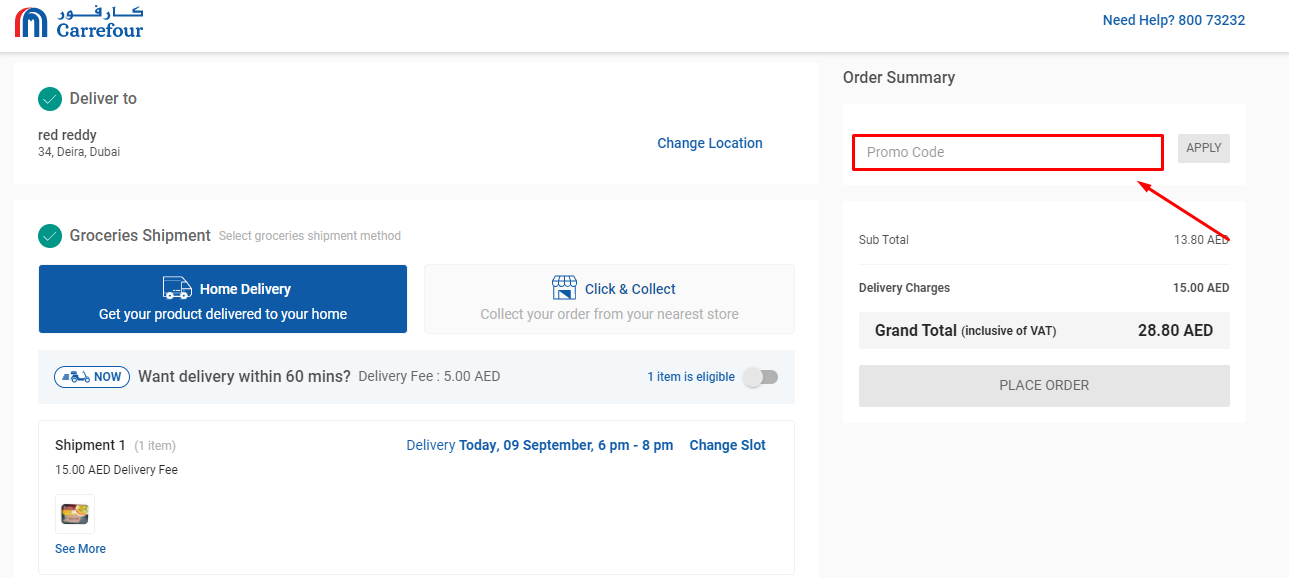 ---
Popular e-Gift Card Searches:
When will I receive the Gift Card?

How to get a Carrefour Gift Card?

How to activate the Carrefour gift card?

How to use a Carrefour gift card?

How to check the Carrefour gift card balance?

Can Carrefour gift cards be redeemed for cash?
For additional questions, you can leave us a message here, and we will get back to you shortly!
Happy shopping!