Unlimited Chatting With Yalla Live Gift Cards
Yalla Live is an application that connects users and groups to voice chat without having to worry about anything. Yalla also takes communicating a higher notch with innumerable games that you can play with your friends in the room you create and party with your favourite song as well. The best part about Yalla Live is it's absolutely free of charge. Connect to people across the globe and choose live chat rooms to participate in a fun conversation. Play chat games, or indulge in private or public conversations without having to worry about money. Send your friends some virtual gifts and support them when they need them the most. Yalla Live has more features when you upgrade to the Patrician, Knight, or Baron.
So, start chatting and play fun games together, get to know more people and find friends along the way. With the Yalla Live Gift Card, you can upgrade to unlock higher features.
Party, Call & Do Karaoke With Yalla Live Gift Vouchers
Does your friend live across the nation? Distance seems smaller when you can chat with them non-stop. Thus, the Yalla Live voice chat application offers you the perfect way to communicate, dance, have your own party, and do karaoke on Friday nights. If you give your friend a Yalla Live eGift Card, they can upgrade to get premium features like monthly golds, purchase store items, get hold of a premium badge, avail animated stickers, eye-catching entrance effects, and so much more with the Baron, Knight and Patrician memberships. Yalla Live has recently upgraded the application and added more features like an optimized room theme store, magic cards, performance improvements and more. So, give your friend a Yalla Live eGift Card and let them unlock a unique and fun experience.
Digital Gifts Are The New Presents
Digital Gifts are the new way we express love or wish someone special on their D days. Giving someone an eGift Card helps them to shop for the necessities and luxury items that they prefer the most. At al giftcards, we collect the best offers that you can get on Yalla Live Gift Vouchers where you can also leave a heartfelt note for your friend. Choose the denomination that suits you the best and send it to your friend. With the digital gifting option, giving presents has become instantaneous, and simple.
---
How to Get Yalla Live Gift Card?
Choose the Yalla Live Gift Card from al giftcards.

Verify the terms and conditions first.

Now choose the value of the Yalla Live Gift Voucher then click on the "Buy Now" or "Add to Cart" button.

You will be redirected to the checkout page.

---
How to Redeem Yalla Live Gift Card?
Go to Yalla Live pay section.

Enter the Yalla ID of the account you want to recharge.

Choose the recharge amount that matches your gift card value.

Enter your 12-digit PIN in the box shown.

Click 'Redeem.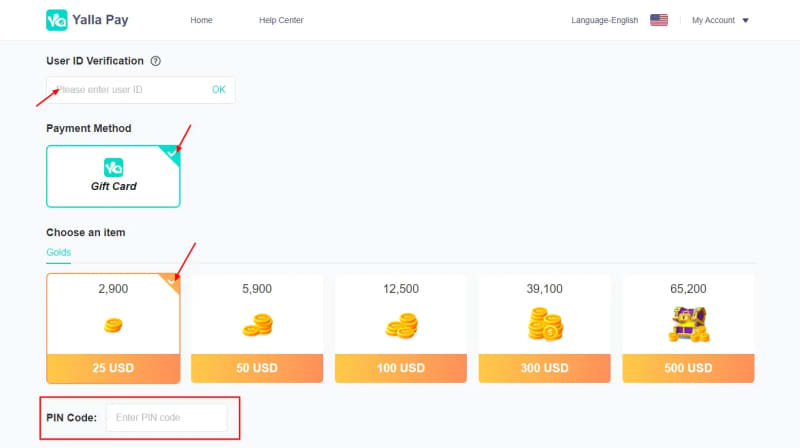 ---
Popular e-Gift Card Searches:
When will I receive the Gift Card?

How to get a Yalla Live Gift Card?

What is the validity of my Babyshop e-Gift Card?

How to Redeem Yalla Live Code?
For additional questions, you can leave us a message here, and we will get back to you shortly!
Happy shopping!
Follow the link here to access Yalla Live region-specific Terms and Conditions.