Stay connected through Skype gift cards
In this digital world where people and business need to be connected digitally, there are a number of options that help you stay connected so that your connections and businesses are uninterrupted. Today's world has seen a many digital mediums where people can connect like zoom, WhatsApp, slack, google hangout etc. But before all of these came into use, the world has seen the launch of Skype in 2003 by Niklas Zennstrom and Janus Friis. Today we have a 100 million skype users per month who use it for staying in touch with friends, family and loved ones and for businesses. Skype for business was specially curated to add a formal feature to Skype. Everyday about 40 million users skype each other to get the conversation going and the businesses running. Buy skype gift cards to enjoy Skype premium at huge discounts.
More reasons to buy Skype gift cards from us
Skype is the perfect choice if you want to have video calls, conference calls that supports 50 participants simultaneously, instant messaging and chats, file transfer, debit-based calls to landline and mobile especially when you use Skype premium which is a paid version. Through Skype premium you can call a person on his or her landline without him or her being online. So, you need not waste time in waiting for the other person to be online if you have something important to discuss and thereby you can save a lot of time and efforts as well. Also, you get 24*7 able customer support when you subscribe to Skype premium. Through our website you have the option to buy Skype gift cards for yourself or gift it to others. While gifting it to your loved ones make sure that you fill the receiver's name, email address, mobile number. We want you to add that little personal touch so you can also include a personalized message for your loved ones in the designated section on our website.
Skype: A haven for teachers and students
Not only businesses but Skype is also used by students and teachers alike. Because of the ease to connect with millions of users across the world and to exchange knowledge and ideas through a very user-friendly medium teachers use skype to share knowledge and give education in a very interactive manner. Did you know the "skype a scientist" feature of skype helped 14,312 classrooms to get connected with over 7000 scientists across the world?
Versatility across languages and platforms
Skype is versatile with respect to its compatibility across platforms like Linux, Android, Windows, iOS, HoloLens, Xbox one etc. It is also available in 108 languages making it the first choice for users so that they can stay connected with each other without any language barrier. You also have the choice to either download the Skype app or access it through a browser i.e. www.skype.com.
Go ahead and make the best use of the Skype gift cards and save well on your subscription whether it is for yourself or your loved one.
What can you do with your Skype Card?
Call phones
Got a lot to talk about? Use your credit to get a subscription.
Send texts (SMS)
Text friends directly from Skype. It's quick, simple, and great value for texting abroad.
Skype Number
Sign up for a Skype Number and get the convenience of a local number that people can call, wherever you are.
---
How to Get Skype Gift Card?
Choose the Skype Gift Card that you want to Buy from al giftcards.

Verify the terms and conditions first.

Now Choose the amount of Skype Gift Voucher then Select one of the Delivery Option.

You will be redirected to the Paypal.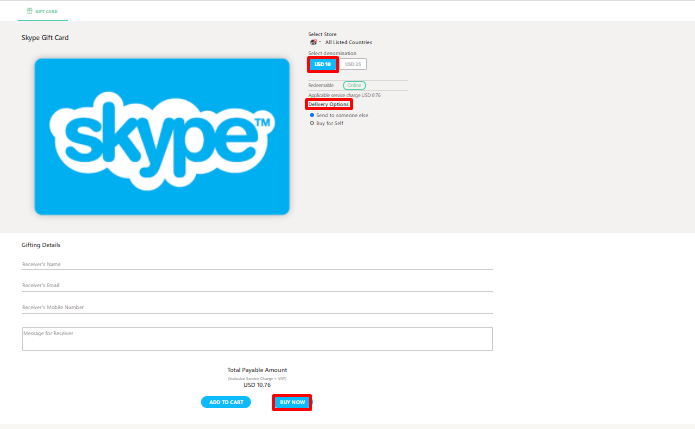 ---
How to Redeem Skype Gift Card?
First Find your Skype e Gift Card Number and pin code from the voucher.

Then Visit Official Skype Website

Login/Sign up at Skype.

Click on Skype Credit Tab, enter the 25-digit gift card number.

Click on Apply to Redeem your gift card.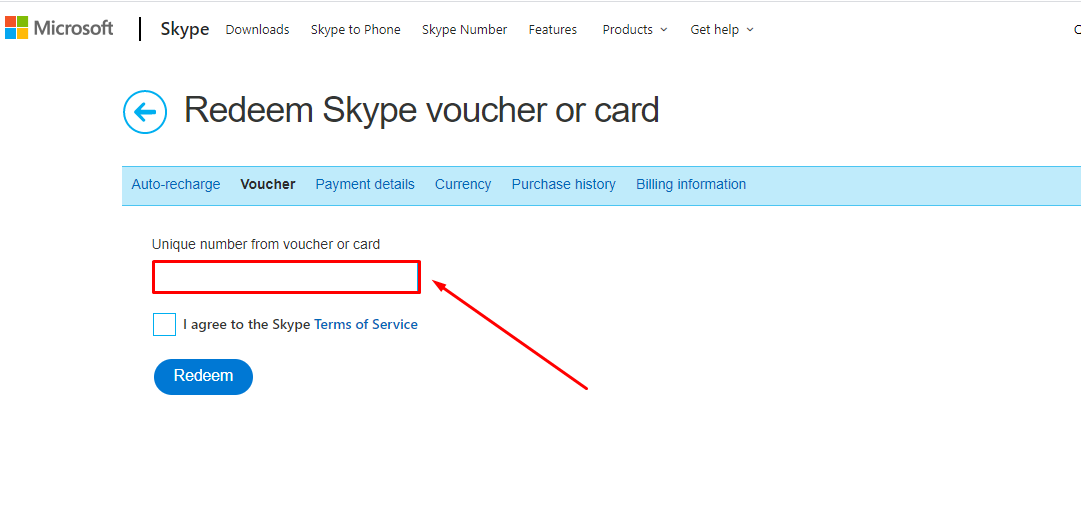 ---
Popular e-Gift Card Searches:
When will I receive the Gift Card?

How to get a Skype Gift Card?

My Skype Gift Card is lost. What can I do now?

How to use the Skype Gift Card?
For additional questions, you can leave us a message here, and we will get back to you shortly!
Happy shopping!