Celebrate Beauty with a Nykaa Gift Card
Nykaa is a leading omnichannel beauty destination that offers over 300,000 well-curated beauty products of leading brands. It acts as the bridge between branded beauty products and women who are always in need of top-notch beauty, skincare, haircare, body care products, and more. Besides offering a vast product range, the brand also has an exclusive gift card range for customers.
If you're confused about what exactly to choose for the leading lady of your life, simply give her a Nykaa gift card. At al giftcards, we let shoppers purchase Nykaa gift cards in a secure environment. You can also get the gift voucher delivered instantly to the recipient by choosing "send to someone else" as the delivery option.
Explore, Select, and Buy Premium Beauty Products
Selecting the most relevant beauty products to match the need of your loved ones is a daunting task. To ease things, al giftcards lets you purchase Nykaa eGift card for your special ones, using which the recipient can explore, select, and buy the beauty products one needs. Nykaa is one of the largest marketplaces that offers everything from makeup to personal care products, beauty or styling appliances to wellness products, and much more.
All the products available at Nykaa are sourced directly from leading beauty brands, like- Maybelline, M.A.C, Huda Beauty, The Body Shop, Lakme, Estee Lauder, Neutrogena, CLINIQUE, and the likes. So you can easily rest assured that the gift card recipient will get access to nothing but the best beauty products online.
Now You Know What Every Women Wants!
This beauty gift card puts an end to the challenge of finding unique gifts for the lovely ladies. Whether it is Christmas, Birthday, New Year, or any celebratory occasion, you can always share love and happiness in the form of Nykaa digital cards. With these cards, the recipient can choose from over a million beauty products from a single store. Cleansers, face brush, shampoo, epilators, scrubs, face masks, sunscreens, fragrance, and lipsticks are a few beauty products that can be purchased with the gift card.
Besides the beauty and makeup products, Nykaa has also launched an exclusive product range for mothers and babies covering all the essentials. So if you know someone who is soon to become a mother, you can consider gifting her a Nykaa eGift card on her baby shower.
Why Nykaa Gift Card?
A Nykaa gift card is probably the best gift you can give to a woman. This card covers all the beauty and skincare needs of a lady. From personal grooming needs to makeup requirements- everything is covered in this gift voucher. Another benefit of gifting a Nykaa gift voucher to your loved ones is the flexibility and freedom it provides. Using the Nykaa digital card, the recipient can purchase whatever she wants, and whenever she wants within the validity period.
---
How to Get Nykaa Gift Card?
Choose the Nykaa Gift Card that you want to Buy from al giftcards.

Verify the terms and conditions first.

Now Choose the amount of Nykaa Gift Voucher then Select one of the Delivery Option.

You will be redirected to the Paypal.
---
How to Redeem Nykaa Gift Card
First Find your Nykaa e Gift Card Number and pin code from the voucher.

Then Visit Official Nykaa Website

Login/Sign up at Nykaa.

Click on Nykaa Credit Tab, enter the 25-digit gift card number and 4-digit pin

Click on Apply to Redeem your gift card.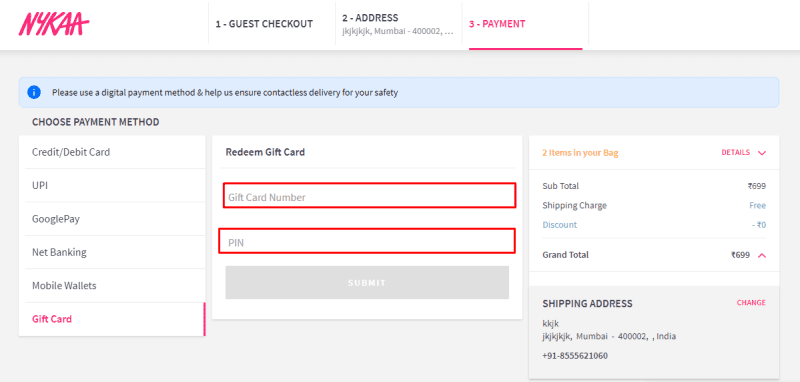 ---
Popular e-Gift Card Searches:
When will I receive the Gift Card?

How to get a Nykaa Gift Card?

How to use a Nykaa gift card?

Can Nykaa gift cards be redeemed for cash?

What if the purchase value is more than the Nykaa gift card balance?
For additional questions, you can leave us a message here, and we will get back to you shortly!
Happy shopping!