Buy Nintendo e-gift cards in multiple denominations at al giftcards
Are you still searching for the best means to increase your Nintendo eshop gift cards account's money easily? It's safe to say buying Nintendo eshop cards online is one of the fastest, best, and most cost-effective ways to achieve your Nintendo game goals! It's not even supposed to be a question as to whether it's worth it or not because, with any Nintendo eShop card purchase, you get more than your money's worth. Only check the value of the card key on al Giftcards and compare it to the price you pay – the difference is most often in your favour!

The Nintendo eshop gift cards are the best way of savings
That's right, man! Like every other Nintendo code, the Nintendo eshop gift cards do not have a predetermined price, which means that you can always buy it cheaper than the value that Nintendo eShop provides. You're going to gain more than you paid for this way! Not to mention all the conveniences Nintendo coupons offer – you will be relieved of the need to enter your credit card information on the Nintendo eShop system. No more cumbersome processes to stop you in your tracks, as all the funds in your account will be set aside for immediate, effortless use!

Nintendo eshop gift cards excellent gift to Nintendo gamers
One of the great things about eshop gift cards is that it has no expiry date of the gift card digital code. Not only can you buy it now, for its present price, and save it later, but you can also keep it until a special event comes, say a birthday or a Christmas. The lack of time constraints makes the Nintendoeshop gift card an outstanding gift for Nintendo players. It's a gift that will always be welcomed as it extends the selection of users on the Nintendo eShop and allows the recipient the right to select the Nintendo eshop and anything they want from the range of products.

Enjoy whatever console you prefer with Nintendo!
This classic and indie game can be a gift of fun for Nintendo Switch owners. Any player who owns Nintendo Wii U, Nintendo 3DS or Nintendo 3DS XL devices can use the funds included in this Nintendo voucher for all their gaming needs. So if you happen to be a proud owner of one of these gaming systems, or if you know anyone who is, there's just no need to delay any longer! The deal insight is a big bang for your buck. Get your Nintendo eshop gift card on al giftcards and head over to the Nintendo eShop to discover the possibilities!
---
How to Get Nintendo Gift Card?
Choose the Nintendo Gift Card that you want to Buy from al giftcards.

Verify the terms and conditions first.

Now Choose the amount of Nintendo Gift Voucher then Select one of the Delivery Option.

You will be redirected to the Paypal.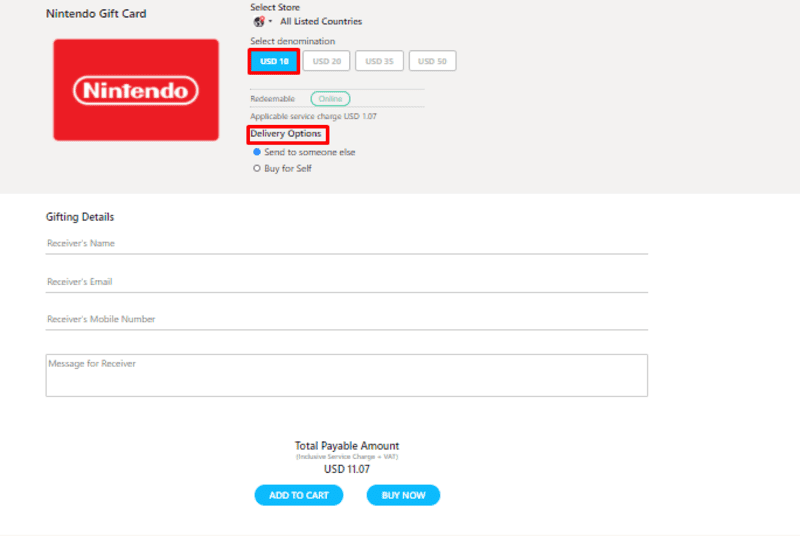 ---
How to Redeem Nintendo Gift Card
First Find your Nintendo e Gift Card Number and pin code from the voucher.

Then Visit Official Nintendo Website

Login/Sign up at Nintendo.

Click on Nintendo Credit Tab, enter the 25-digit gift card number and 4-digit pin

Click on Apply to Redeem your gift card.
---
Popular e-Gift Card Searches:
When will I receive the Gift Card?

How to get a Nintendo Gift Card?

How to use a Nintendo gift card?

Can Nintendo gift cards be redeemed for cash?

What if the purchase value is more than the Nintendo gift card balance?
For additional questions, you can leave us a message here, and we will get back to you shortly!
Happy shopping!