Give your friends the experience of luxury eating with Nando's Gift Cards
The story of Nando's begins with the world-famous spice peri-peri. Nando's UAE brings you a plethora of lip-smacking dishes that are one-of-a-kind. With the change of era, giving gifts to your loved ones have also changed. We, at al giftcards, take your personal gifting experience a step higher with Nando's eGift Cards that ensure your friends and family a hearty as well as sumptuous meal options. Nando's does not stop here. They take it a step higher with grocery essentials as well with world-class ingredients being delivered straight at your doorstep.
Choose the best Nando's Gift Voucher suiting your special one's taste buds and give them an exquisite lunch or dining experience at home!
Nando's eGift Cards for foodies
When it's your foodie friend's birthday, what can be better than a Nando's Gift Card for them? With easy order and eating options, Nando's food menu is filled with a peri-fic range of delicious delicacies. You can browse through the breakfast menu, or peri-peri chicken, casa deals, sharing platters or keep it simple with burgers and pitas. Nando's takes care of your food habits with healthy and meat platters as well. So, why wait for a reason when you can treat your friends and family to a lovely meal option any day with Nando's Gift Vouchers.
Let your gifting be peri-fic with Nando's Gift Vouchers
Nando's Gift Vouchers are a perfect delight to everyone you know. Not only does the wide range of cuisines, or exquisite sauces excite people but also with fast delivery, it keeps the waiting time minimum. Choose and pick the denominations among AED 50, AED 100, and AED 500 to fit your friend's requirements. At al giftcards we not only aid in delivering the Nando's Gift Vouchers but also let you leave a message of appreciation or love for your special ones.
So, let your friends select their choice of meal or platter from Nando's restaurant with our egift cards on special occasions. Your friends can also order from the grocery section when they are in the mood to cook some world-class cuisines.
Why choose Nando's Gift Cards?
Nando's eGift Cards are for every foodie who loves food and has a spicy appetite. With the special and exclusive sauces and dips that Nando's curates for foodies, it is hard to pass on the food basket to someone else. Every eater has different moods and hence various food habits. With Nando's exquisite range of delicacies, from healthy dining to sumptuous junk foods are delicious with their special ingredients. Be it salads or main course meals, a quick snack bite or a hearty lunch, Nando's caters to every foodie's requirement.
So, why not give your friends or family something that can be their hunger saviour or a key to delicious palatable dishes from the heart of African peri peri region? Lastly, the groceries that are collected globally are available with just a tap at the online store.
---
How to Get Nando's Gift Card?
Choose the Nando's Gift Card that you want to Buy from al giftcards.

Verify the terms and conditions first.

Now Choose the amount of Nando's Gift Voucher then Select one of the Delivery Option.

You will be redirected to the Paypal.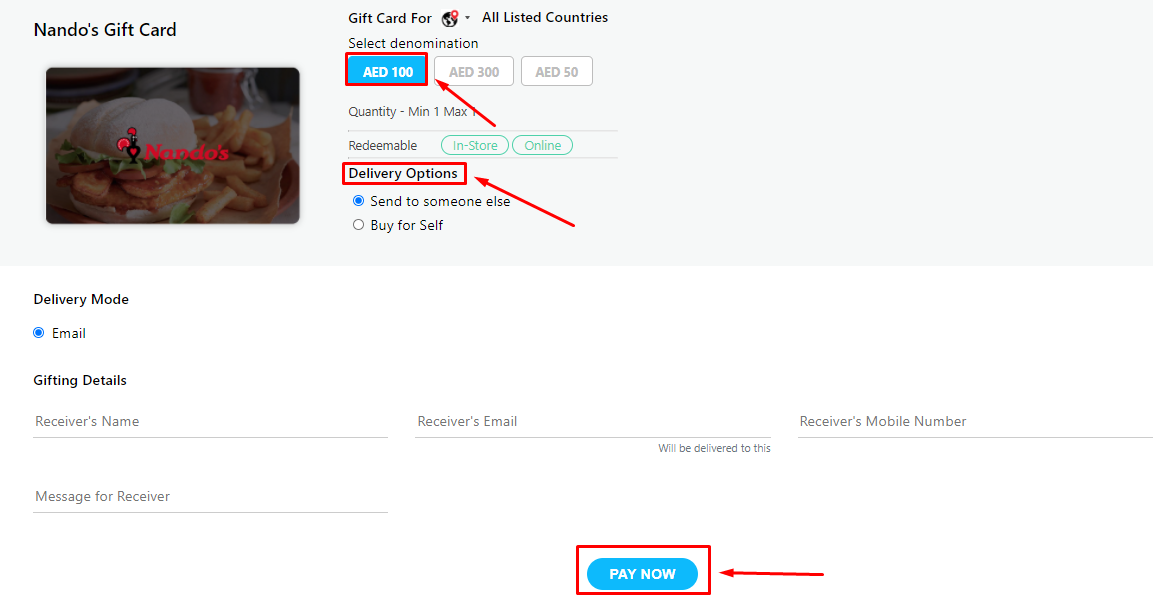 ---
How to Redeem Nando's Gift Card
First Find your Nando's e Gift Card Number and pin code from the voucher.

Then Visit Official Nando's Website

Login/Sign up at Nando's.

Click on Nando's Credit Tab, enter the 25-digit gift card number.

Click on Apply to Redeem your gift card.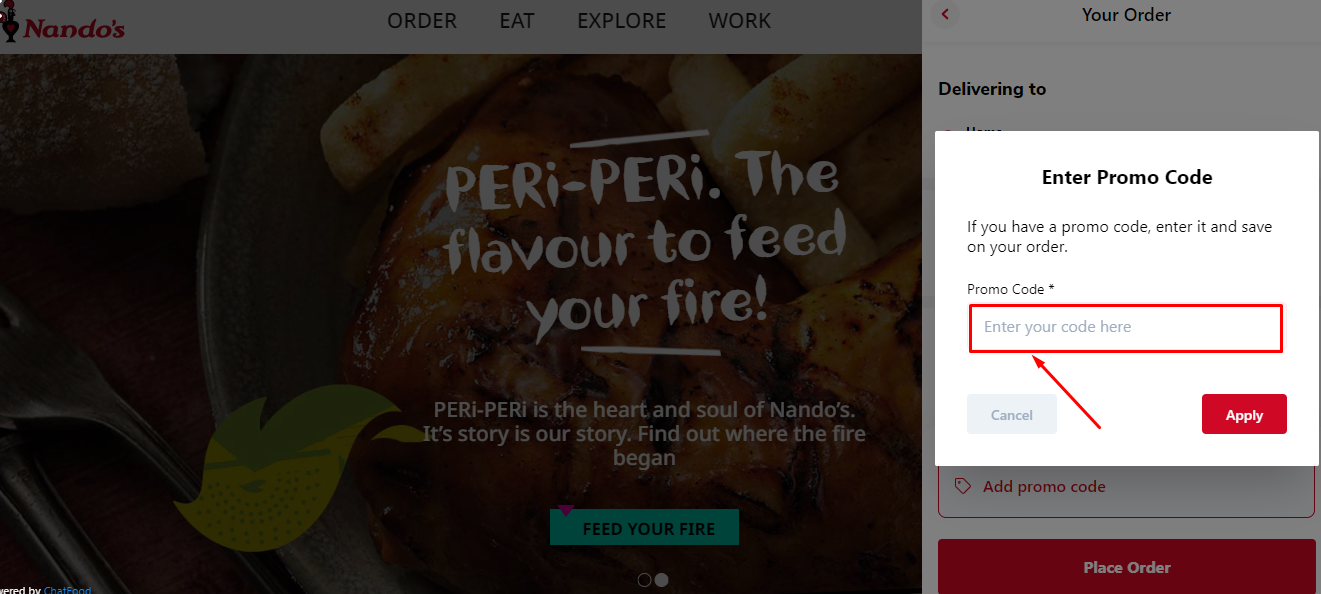 ---
Popular e-Gift Card Searches:
When will I receive the Gift Card?

How to get a Nando's Gift Card?

What is the validity of my Nando's e-Gift Card?

How to use the Nando's Gift Card?

Can I use my Gift Card on multiple purchases?
For additional questions, you can leave us a message here, and we will get back to you shortly!
Happy shopping!