Reinvigorate Your Grooming Traits With Our Lifestyle eGift Cards

People interested in bathing, makeup, and other grooming essentials must head over to Lifestyle to satiate the shopaholic inside. Despite the happiness of making purchases using deals and coupon codes, nothing beats the excitement and pleasure of redeeming a Lifestyle gift card.
Moreover, Lifestyle isn't just a store but a conglomerate of more than 200 functional online platforms, featuring an extensive range of fashion accessories, home décor, furnishing, towels, and more. Therefore, this is a one-stop solution for enthusiastic buyers, and your Lifestyle gift voucher can put an instant smile on their faces.
The most exciting thing is that you get an extra 10% credit when you buy the 100 AED Lifestyle Gift Card. It is instantly redeemable and valid for 12 months from the date of purchase. Once you purchase a Lifestyle gift voucher and send across the same to your near and dear ones, he or she can apply the same to almost endless products that come within the card value.
As the eGift card applies to all the store-wide purchases, it comes across as the perfect gift for an individual who is looking to celebrate a promotion, new house, a new job, or anything big.
Most importantly, the eGift cards are applicable across the entire store and can be paired as Lifestyle Coupon Codes or Lifestyle vouchers, depending on the validity and redemption options.
Lifestyle is best known for the brands it shelters and the effortless product deliveries. It is one of the most popular online retailers in the UAE, and once you gift a Lifestyle eGift card to someone you care about, it becomes easier for the person to make purchases, with seamless comfort.
---
How to Get Lifestyle Gift Card?
Choose the Lifestyle Gift Card that you want to Buy from al giftcards.

Verify the terms and conditions first.

Now Choose the amount of Lifestyle Gift Voucher.

Select one of the Delivery Option then click on "Buy Now" button.

You will be redirected to payment/checkout page.

---
How to Redeem Lifestyle Gift Card
First Find your Lifestyle e Gift Card Number and pin code from the voucher.

Then Visit Official Lifestyle Website

Login/Sign up at Lifestyle.

On the Checkout page, you will see a field "Have a Gift Card? Use it here".

Click on "Use it here" and enter the 25-digit gift card number and 4-digit pin.

Click on Apply to Redeem your gift card and Click on "Pay Now" button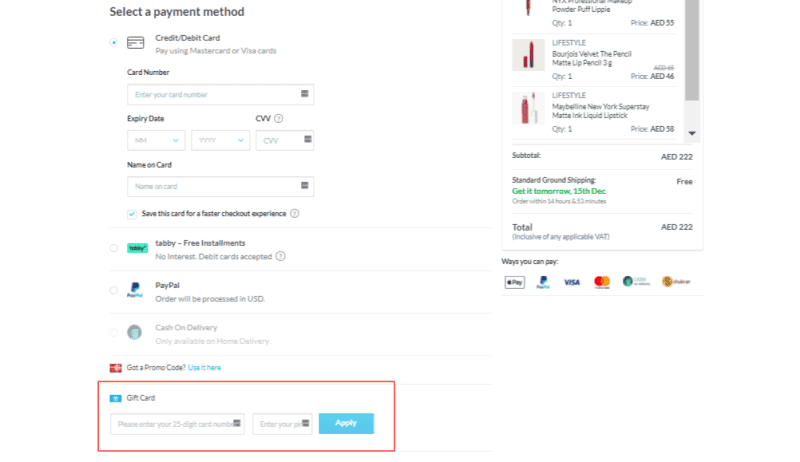 ---
Popular e-Gift Card Searches:
When will I receive the Gift Card?

What kind of gift cards can I buy at Lifestyle?

Where can one use the gift cards?

Can these gift cards be applied during sales?

Can I use a gift card multiple times?

How safe are Lifestyle gift cards?

How long does a gift card remain valid?

Can I order gift cards for someone other than me?

Can I return my Lifestyle gift cards?

What is the process for checking the balance of the gift cards?

What Payment methods are accepted by al giftcards?
For additional questions, you can leave us a message here, and we will get back to you shortly!
Happy shopping!