Build an aesthetic Living Space with IKEA Gift Cards
IKEA gift cards being one of the most useful gift ideas are now available. The cards are issued to be a user-friendly alternative to cash. Because they are digital, egift cards are a much faster way of gifting than physical gift cards.
Create a beautiful home for your family with IKEA, which sells ready-to-assemble furniture, kitchen appliances and home accessories. IKEA has become a popular go-to place to shop for home improvement. IKEA's affordable, beautiful, minimal designs make them easy to blend into any home. IKEA stands for sustainability, with kitchen fronts made of recycled plastic bottles, taps that save water and using energy-efficient LEDs. The company continues to progress on their sustainability goals while also delivering robust performances.
Why IKEA Gift Cards?
Ikea gift cards are unique, reasonable and guaranteed to bring joy to the people closest to you. The gift cards gives you innumerable gift ideas for every kind of person be it-plant lovers, bakers, gamers, collectors and gifts for babies or kids.
IKEA aids in home improvement with good quality furniture at affordable prices yet still looking expensive. They are known for their modern design and simplicity. Ikea products include furniture, bathroom, storage, home decor, and kitchenware.
If you are visiting a friend who has just moved into a new house or attending a housewarming party an IKEA Gift Card would make the perfect gift. Some people like to get surprised while others prefer to pick a gift for themselves. Whatever the occasion, a gift card will be the safest option giving the person the liberty to shop from the Ikea range.
Why IKEA Gift Cards from al giftcards?
An IKEA Gift Card would be a lovely gift, the receiver can redeem their card whenever they want to make a necessary purchase or something they have long wanted to get their hands on. Avoid thinking of a good gift option and give an IKEA gift voucher to your close friends and family. Ikea gift cards are issued at al giftcards. They are redeemable at any time at your nearby ikea store or online and are available in various denominations. They are valid for a period of six months, so balance check the gift card and spend within the ikea gift card balance.
How to Get Ikea Gift Card?
Choose the Ikea Gift Card that you want to buy from al giftcards.

Verify the terms and conditions first.

Now check the Ikea gift card balance of the Ikea Gift Vouchers then click on the "Add to Cart" button.

You will be redirected to the checkout page.

---
How to Redeem IKEA Gift Cards?
Go to Ikea official website.

Add products to your cart and click on view cart.

Redeem your Ikea Gift Voucher number under "Payment" section.

Enter 19-Digits Gift Card number and 4-Digits Pin

Click on "Use this Gift or Refund Card" button for a successful redemption.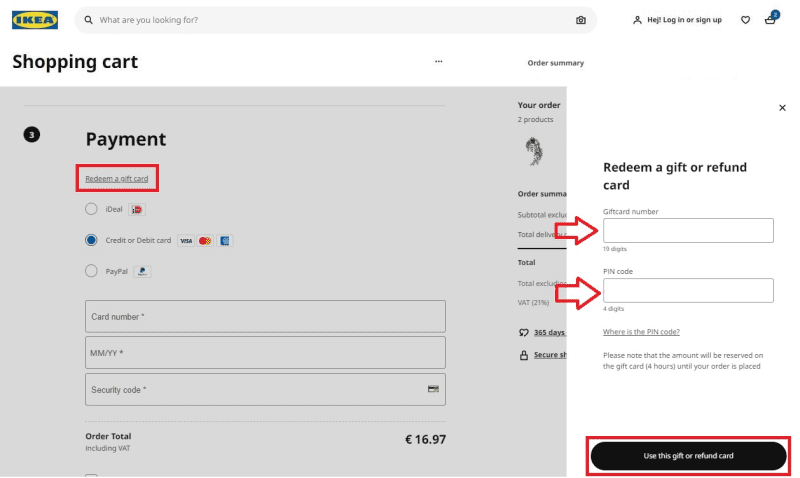 How to check your IKEA Gift Card Balance/Issues on balance check?
Using the Ikea gift card is easy! Go to the official website of Ikea.

To check your Ikea gift card balance, enter the Gift card digits and the 4-digit PIN associated with it.

You can use your ikea gift card at your nearest ikea store or online.
Popular e-Gift Card Searches
When will I receive the Gift Card?

How to get a Ikea Gift Card?

How can I check my Ikea Gift Card balance?

How to use the Ikea Gift Card?

My Gift Card is lost. What can I do now?
For additional questions, you can leave us a message here, and we will get back to you shortly!
Happy shopping!
For further information please visit Ikea Help Center