Ghenshi Impact Gift Card
Enter a realm of wonders and ancient tales with Genshin Impact gift cards. These giftcards have gained immense popularity among gamers as the perfect present. These cards offer an opportunity to obtain "Genesis Crystals," the in-game currency, empowering players to unlock many items and features. Using the Genshin Impact gift card to enhance their gameplay adventure by acquiring formidable weaponry and summoning extraordinary heroes.
These e-gift cards can be redeemed within the game to add Genesis Crystals to the player's account, allowing them to make in-game purchases such as Primogems, item wishes, Battle Passes, and exclusive items. So, treat yourself or your gamer friends to the ultimate gaming experience with a Genshin Impact eGift Card from us. Now you can conveniently find your preferred Genshin Impact Giftcards at al giftcards.
Where Anime-Inspired Fantasy Meets Riveting Gameplay
Developed by miHoYo, Genshin Impact is a free-action role-playing game successor to Honkai Impact 3rd. Available on multiple platforms, including PS4, iOS, Android, and PC, the game presents players with a fantastical open world accompanied by gacha game mechanics. Embark on an exciting journey to assemble your dream team and level up your characters to overcome the most formidable adversaries and domains.
The game's captivating setting unfolds in Teyvat, a realm inspired by ancient China infused with fantasy elements. Players assume the role of the "Traveler" as they venture through Teyvat's landscapes and engage in battles. Employ a wide array of weapons and special abilities, strategically utilizing elemental powers to emerge victorious in combat.
In addition to combat, players can collect various items, including weapons and armor, to enhance their characters. Special "Ascension Materials" can also be gathered, enabling the unlocking of potent "Ascensions" that further augment the characters' abilities.
Furthermore, Genshin Impact offers various cooperative and multiplayer modes, allowing players to team up or even join forces with strangers to tackle missions and challenges. Engaging in "World vs. World" battles allows entire regions of Teyvat to compete against one another, adding a competitive thrill to the game.
What are Genesis Crystals?
Genesis Crystals are a currency within the immersive world of Genshin Impact. These special crystals are the primary means of acquiring coveted in-game items and experiences. By redeeming them for Primogems, players gain access to a wealth of opportunities, such as acquiring Intertwined Fate or Acquaint Fate, which can be utilized through the "Wish" system to summon unique characters and powerful weapons.
In Genshin Impact, Primogems is the premium currency used for various transactions. With Primogems, adventurers can procure character ascension materials, sought-after weapons, artifacts, and other items to enhance their gameplay. Moreover, players can utilize tickets, another form of in-game currency, to obtain exclusive items from the Event Shop and the Battle Pass.
Genesis Crystals offer a wide array of enticing in-game purchases. Character ascension materials, powerful weapons, artifacts, and numerous other valuable assets can be obtained using Primogems. The crystals can be utilized to acquire character skins, weapon skins, and cosmetic enhancements. Android users can download the game from google play, while iOS users can download it from the Apple Store.
Top up your Genesis Crystals instantly!
Genshin Impact has captured the hearts of millions since 2021, emerging as one of the most beloved games of the year. The allure of Genshin Impact extends beyond solitary exploration, as you can embark on this extraordinary journey with friends and find camaraderie within a guild. Consider topping up your account to unlock the game's boundless potential.
By opting for a top-up, you gain access to an array of premium treasures that enrich your gameplay. From formidable weapons to coveted characters, enhance your abilities and make your adventures all the more fulfilling. Moreover, indulging in a top-up grants exclusive access to content, including exciting events and unique rewards unavailable elsewhere.
As a bonus, you'll enjoy enticing discounts on in-game purchases, ensuring your investment goes a long way. Don't let this opportunity pass you by. Top up your account today and brace yourself for the most extraordinary time you've ever had in a game.
Why choose Genshin Impact eGift Cards for Loved Ones?
Genshin Impact eGift Cards are the perfect choice for your loved ones. With these cards, you grant them access to a world of adventure, magic, and excitement. They can explore breathtaking landscapes, engage in thrilling combat, and unravel an engaging storyline.
These eGift Cards also allow them to choose their in-game treasures, characters, and items for a personalized gaming experience. Give the gift of limitless possibilities with Genshin Gift Cards, and let your loved ones embark on an unforgettable gaming journey.
Why choose al giftcards for Genshin Impact Gift Card?
In today's digital age, where technology and e-commerce have revolutionized the shopping experience, al giftcards offer a seamless and convenient platform for purchasing eGift cards.
With al giftcards, buyers can enjoy a vast selection of gaming gift cards, including Genshin Impact. This means that gamers can easily find the perfect gift for their friends who are avid Genshin Impact players without any confusion or difficulty in choosing the right present.
Moreover, al giftcards go beyond Genshin Impact and offer a wide range of gaming gift cards, such as Mobile Legends gift cards, PUBG Mobile UC gift cards, and Go Cash gift cards. Our versatility ensures that customers can access various gaming options for varied preferences.
By opting for al giftcards, shoppers can embrace digital gifting, making the process quick and enjoyable. With our extensive collection of gaming gift cards, al giftcards is undoubtedly the go-to platform for all your Genshin Impact gift card needs.
---
How to Get Genshin Impact Gift Card?
Choose the Genshin Impact Gift Card that you want to Buy from al giftcards.

Verify the terms and conditions first.

Now Choose the value of the Genshin Impact Gift Card, then click on the "Buy Now" Button.

You will be redirected to the checkout page.

Alternatively, click "Add to Cart", Select the quantity and click "Checkout"

---
How to Redeem Genshin Impact Gift Card?
Login to the Official Genshin Impact website.

Click on the Redeem Code option on the top bar.

Enter your Server and Character Nickname.

Enter your Genshin Impact Gift Card Code.

Finally, click the Redeem button.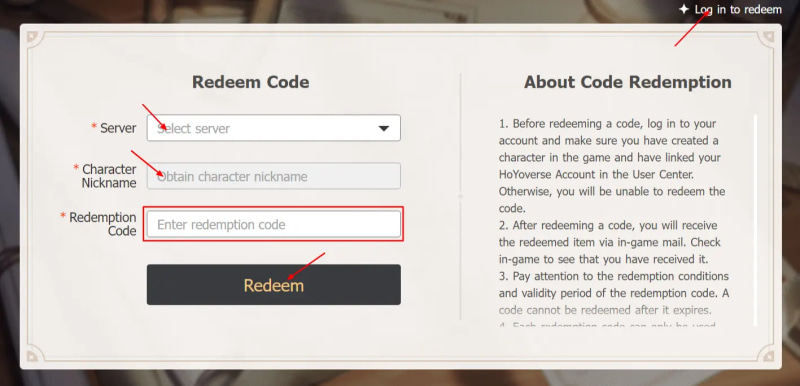 Note:
Before redeeming the code, ensure you have linked your HoYoverse Account in the User Center.
---
Popular e-Gift Card Searches: