Purchase items within the app with a Bigo Live Gift Card
Owned by Bigo Technology, Bigo Live is an online live worldwide streaming platform. With Artificial intelligence and machine learning integrated into this application, the features enhance user engagement and experience during live streams. With Bigo Gift cards users can purchase items and gifts within the website and support their favorite broadcasters.
There are many features that make Bigo Live a popular and entertaining platform for users across all age groups. This platform, if used in a proper manner can help users connect with people of similar interests, live their fun moments, and can also use the app as a source of employment like some popular broadcasters. On Bigo people showcase their live moments and talents and receive virtual gifts from their supporters.
Users can enjoy live content based on what's trending, uploads in their location and what meets their criteria. They can stream or broadcast popular games like Pubg mobile, Fortnite, Call of Duty, Dota 2, Mobile Legends, Hearthstone, League of Legends, Free Fire, and more. They can video chat and video call in multi-guest rooms and make new friends. Users can share photos and videos and add hashtags to their posts. 'Community' a recently added interactive feature allows users to create and manage online communities and share their original content.
There is a lot to explore in Bigo Live and Bigo live gift card code makes the experience all the more fun and exciting.
The many perks of Bigo Gift Cards
Gift your friends, family, and Bigo Live users with gift vouchers. Digital gift cards are a great way of sending gifts to anyone, anywhere in the world. Bigo gift vouchers can be used to purchase items like coins, diamonds, and gems and enjoy the live stream of your favorite broadcasters. These Bigi Live e-gift cards are like prepaid cards with which the recipient can buy various products and services from the Bigo Live website or app as per his/her wish.
Get your Bigo Live Gift Card from al giftcards
Bigo gift cards can be sent to your loved ones and are redeemable in Oman, Bahrain, Egypt, Kuwait, Qatar, Saudi Arabia, Turkey, and UAE. Buy gift cards from al giftcards and select the value of Bigo Gift Card from the many available denominations and gift your dear ones endless entertainment and fun with this gift card. This gift card can be sent to anyone via email and is valid for six months from the date of purchase.
---
How to Get Bigo Live Gift Card?
Choose the Gift Card that you want to Buy from al giftcards.

Verify the terms and conditions first.

Now Choose the amount of Bigo Live Gift Voucher

Buy for yourself or Select the "Send as a Gift" option

Click "Buy Now" to be redirected to the checkout page.


---
How to Redeem Bigo Live Gift Card?
Go to the Official Bigo Live website

Click on Recharge at the top right corner

Enter your Bigo ID and confirm

Select your country from the dropdown menu

Select your payment option

Enter the Bigo Live Gift Card pin code in the box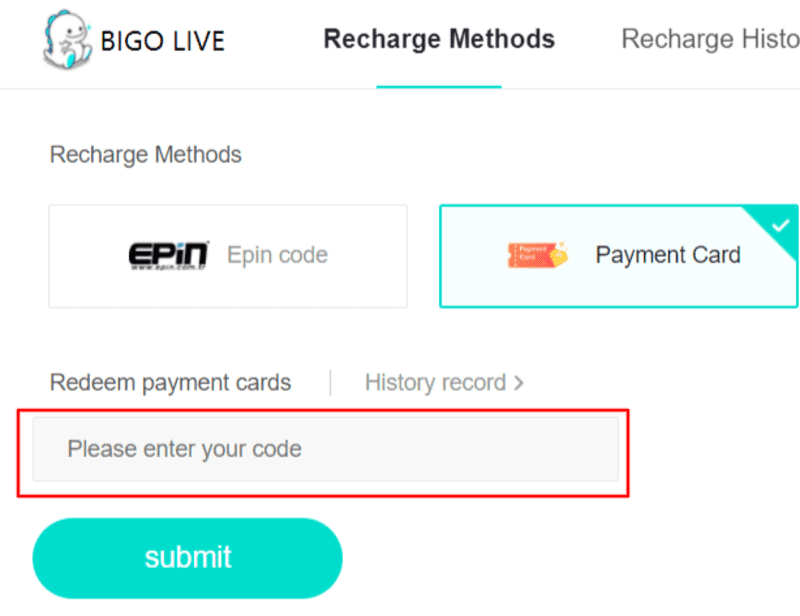 How to check if diamonds are added after I recharged?
Please check the balance in "Me"-"Wallet" after you recharged, diamonds will be added in real time
---
Popular e-Gift Card Searches:
When will I receive the Gift Card?

How to get a Bigo Live Gift Card?

What is the validity of my Bigo Live e-Gift Card?

How to use the Bigo Live Gift Card?

My Gift Card is lost. What can I do now?

How to check if Diamonds are added after I Recharged?
For additional questions, you can leave us a message here, and we will get back to you shortly!
Happy shopping!
Note: Gift card to be redeemed in following regions:
Oman, Bahrain, Egypt, Kuwait, Qatar, Saudi Arabia, Turkey, UAE.

For all terms & conditions, please visit https://www.bigo.tv/agreement.html