Best Buy Gift Card
Best Buy is a one-stop shop for tech enthusiasts, with a wide variety of electronics, appliances, and gadgets to choose from. From the latest smartphones to home theater systems, laptops to gaming consoles, Best Buy has something for everyone.
And for those who want to give the gift of tech, best buy egift card are the perfect solution. With a Best Buy Gift Card, recipients can choose exactly what they want, whether it's the latest smartphone, a new laptop, or a state-of-the-art home theater system.
Best Buy egift card is easy to buy and use. You can buy them online and they can be redeemed at any Best Buy location. You can also create an account to track your balance and view your purchase history. Best buy egift card is the perfect way to show your loved ones that you care. They're the gift that keeps on giving, because recipients can use them to buy anything they want.
Discover a World of Technology at Best Buy
At Best Buy, you'll find an extensive selection of tech products that redefine innovation and elevate your digital lifestyle. Best Buy offers a wide range of products from top brands at the forefront of technological advancements, from the latest smartphones and laptops to smart home devices and entertainment systems. Whether you're a gadget enthusiast, a gaming fanatic, or simply someone who appreciates the convenience of smart technology, Best Buy is your go-to destination for exploring and experiencing the latest tech trends with expert staff, unbeatable selection, and a commitment to customer satisfaction.
Give the gift of technology and let your loved ones or colleagues explore the endless possibilities with a best buy egift card. It's the perfect way to make someone's day special and provide them with the excitement of choosing their own tech treasures from a trusted retailer.
What Makes the Best Buy Gift Card a Great Choice?
Gift cards from Best Buy provide convenience and flexibility. Customers can use the gift card to make purchases online or in-store, as they like. This adaptability enables them to shop however they like, whether that be browsing and making purchases online or going to a Best Buy store.
Secondly, best buy egift card offer flexibility and choice. Whether shopping in-store or online, recipients can use the gift card to buy merchandise of their choice. This versatility allows them to shop in their preferred manner, be it browsing the aisles or shopping from the comfort of their home.
In summary, a Best Buy Gift Card provides access to a wide range of merchandise, excellent customer service, and the freedom to choose items that match personal interests and needs. It's a practical and enjoyable gift option..
al giftcards: The Best Place to Buy best buy egift card
all giftcards are the perfect place to buy best buy egift card. We offer a wide selection of gift cards in various denominations, ensuring that you can find the perfect gift for any occasion. Our competitive prices and fast delivery options make it convenient to get your gift card quickly and easily.
At al giftcards, we prioritize the security of your shopping experience. We employ the latest security measures to protect your personal information, allowing you to shop with confidence. When you purchase a Best Buy gift card from al giftcards, you can rest assured that you are getting a great deal on a gift your recipient will love. Best Buy offers top-quality products and services, and with positive reviews and excellent customer service, they are known for their commitment to customer satisfaction.
al giftcards provides a convenient and reliable solution for gifting. Our selection of Best Buy gift cards allows recipients to choose the items that suit their preferences and needs, whether it's upgrading their tech collection or exploring new gadgets. With no additional fees, you can easily purchase a Best Buy gift card from al giftcards and simplify the gifting process.
---
How to Get Best Buy Gift Card?
Choose the Best Buy Gift Card that you want to Buy from al giftcards.

Verify the terms and conditions first.

Now Choose the value of the Best Buy Gift Card,

Buy for yourself or Select the "Send as a Gift" option.

Click "Buy Now", and you will be redirected to the Checkout page.

Alternatively, click "Add to Cart", Select the quantity, and click "Checkout"
---
How to Redeem Best Buy egift card?
Online:
Sign in or sign up at the Official Best Buy website.

Add the items you want to purchase to your cart.

During checkout, enter the e-gift card number and PIN when prompted.

The gift card's value will be applied to your total purchase amount.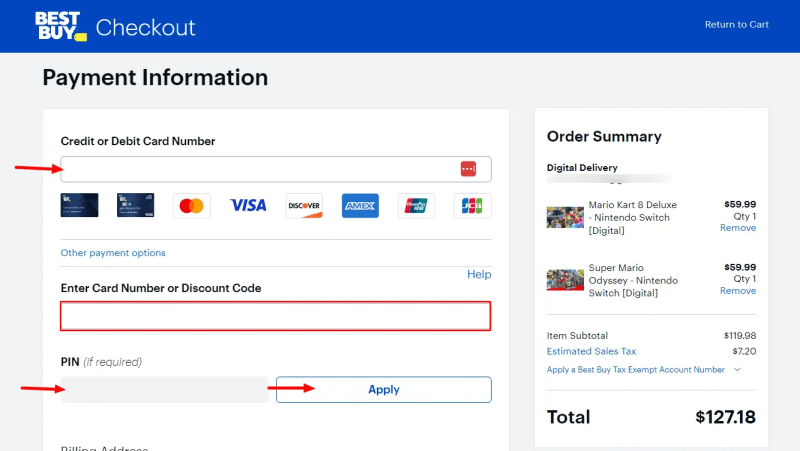 In-store:
When ready to purchase, display the e-gift card on your smartphone at the checkout counter.

The cashier will scan the barcode or enter the gift card details to redeem its value.
---
How to Check Best Buy Gift Card Balance?
Sign in to your Best Buy Account

Go to the Gift Cards Page from the navigation bar.

Then Select E-Gift Card.

Enter the Best Buy Gift Card Number and Pin.

Click Check Balance.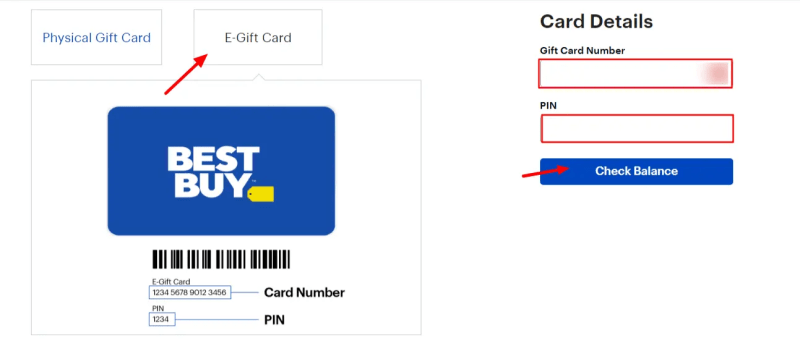 ---
Popular e-Gift Card Searches:
When will I receive the Gift Card?

How to get a Best Buy Gift Card?

My lost my Gift Card! What can I do now?

How do I redeem a Best Buy gift card?

Can I buy Specialty Gift Cards from Best Buy website with my Best Buy Gift Card?

Can I use my Best Buy Gift Card to purchase another Best Buy Gift Card?

Can I use my Best Buy Gift Card to make a payment on a Best Buy Credit Card?

How can I check my Best Buy gift card balance?

Can I use my Best Buy Gift Card Multiple times?

What is the maximum number of Best Buy Gift Cards that I can use for a purchase at Best Buy?
For additional questions, you can leave us a message here, and we will get back to you shortly!
Happy shopping!
Can be used for purchases at any Best Buy store in the United States or online at BestBuy.com, provided the option is available.
Valid for goods and services, excluding both Best Buy and specialty and/or third-party gift cards.
Best Buy Gift Cards cannot be used to purchase prepaid open-loop cards and third-party gift cards. This includes items such as iTunes, Google Play, gaming, or any other prepaid gift cards or codes.
Doesn't carry any additional charges.
Can not be exchanged for cash.
If the card is lost, stolen, or damaged, a replacement can be issued by Best Buy with valid proof of purchase, limited to the remaining balance on the card.
This is not a credit or debit card and cannot be used to pay off a Best Buy Credit Card balance.
You can verify your card balance by visiting a U.S. Best Buy store, going online to BestBuy.com, or calling 1-888-716-7994, with the card number ready.
By buying or using Best Buy Gift Cards, purchasers and recipients agree to follow a designated process for resolving disputes. All terms are applicable unless prohibited by law.
Please visit www.BestBuy.com/gcterms for full gift card terms and conditions.