Find Everything you Need with Target Gift Cards
Target Gift Cards are now available and can be redeemed for merchandise both online and offline. Target is an American big box retail establishment which is a component of the S&P 500 Index. With more than 1,900 locations in all the 50 states of the United States and Washington D.C, Target stores are known for selling a variety of food, household goods, clothing and electronics. Target since its founding has focused on differentiating their stores from its competitors by offering upscale, trend forward merchandise at low costs rather than focusing on low-priced goods.
Target attracts customers from all age groups, from youngsters to adults. USA Today reporter Kelly Tyko has also stated how gift cards continue to be popular holiday gifts. There are many discounts and advantages one receives on gift card purchases. Target has a loyalty program or club, called the Target Circle that gives members rewards for shopping including gift card purchases. Sign up for the loyalty program at Target Circle to gain benefits and access to hundreds of offers and deals.
One of the most commendable features of Target stores is the store experience. Target stores are designed attractively compared to other superstores. They have big and wider aisles, drop ceilings with goods spread out and are well organized. People love to shop using Target store gift cards as they give the best value and unique offerings but cannot be redeemable for cash or refunded. Target is a popular choice for almost any shopping need, it prioritizes customer service and its popularity is known across social media.
Why Target Gift Cards?
Target Gift Cards can be redeemed for merchandise and is one of the top sellers in the United States because of its value and great use. Shop for any occasion with a Target Gift Card and find possibly everything you want at a store near you. Buy gift cards and shower your loved ones with holiday gifts on birthdays, anniversaries, weddings and for various other functions. Choose to give a Target e-Gift Card as an alternative to physical store gift cards and give the recipient the liberty to choose whatever he/she likes. Adopt this hassle-free way of gifting and avoid confusion and delay.
At al giftcards you can purchase Target gift cards of various denominations and curate a card design. As of now Target Gift Cards are available in the United States of America and can be purchased online in USD.
Why Target Gift Cards from al giftcards?
Get yourself a gift card online from a reliable source at al giftcards. Change the nature of the gift card and add a special message to it. Buy gift cards as they work as prepaid cards which you can choose to shop in stores or online whenever you want.
Avoid the trouble of hopping from one store to another to look for a gift. Instead, give your loved one a gift card which gives them thousands of gift options to choose from. This gift card is valid for a period of 6 months and can be used whenever necessary. Target Gift Card purchases can be made as store gift cards or for online purchases but are not redeemable for cash.
---
How to Get Target Gift Card?
Choose the Target Gift Card that you want to buy from al giftcards.

Verify the terms and conditions first.

Now choose the value of the Target Gift Voucher then click on the "Buy Target Gift Card" button.

You will be redirected to the checkout page.

---
How to Redeem Target Gift Card?
Go to Target official website.

Sign up or sign in to your account.

Enter your eGift Card number and access number when checking out.

For in-store redemption, visit any Target store in the USA, sign in to your Target account on your mobile phone, and show your web enable mobile phone or printed gift card to the cashier when checking out.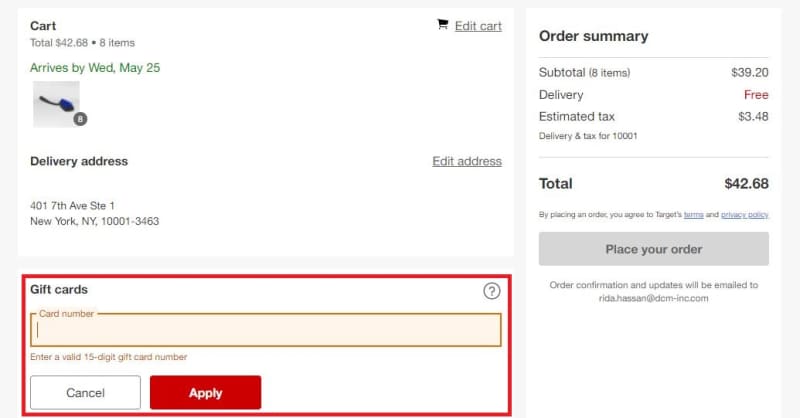 ---
How to check your Target Gift Card balance?
Log in to your Target account to check the remaining balance of your Target Gift Card.

Navigate to your Account/Name.

Select Gift cards.

Enter the 15-Digit Target e-gift card number and the Access Number or PIN.

Review and check your gift card balance.
---
Popular e-Gift Card Searches:
When will I receive the Gift Card?

How to get a Target Gift Card?

What is the validity of my Target e-Gift Card?

How to use the Target Gift Card?

My Gift Card is lost. What can I do now?

Can I use my Gift Card on multiple purchases?
For additional questions, you can leave us a message here, and we will get back to you shortly!
Happy shopping!
Target eGift Card is redeemable for merchandise or services at Target stores in US or target.com and can not be redeemable for cash or credit except where required by law.