Save money Watch TV with Sling gift Cards
Sling TV is a TV streaming service with its headquarters in the United States. It is the first app-based TV service that allows you to watch live television channels and high demand content over the internet. Watching TV is easier and more affordable in Sling TV. This multichannel distributor aims to offer a wide selection of major cable channels and OTT originated services. As of now this service is available, and this gift card can be used in the United States. As of now, Sling media is much loved and accepted by its 2.41 million users.
Sling TV has the Sling Watch Party, an interesting and unique feature that allows viewers to co-watch live TV together from different locations simultaneously. An additional unique feature includes the ability to text and video chat while watching live TV, which is an industry first. Paid subscribers can watch a wide selection of shows and channels. Moreover, people who haven't subscribed can also have access to free channels at "Sling Free".
Sling TV can be streamed from Android or Apple devices, Apple TV, macOS, Windows, Xbox devices, Samsung TV, Nexus Player and Roku among many others. Buy Sling TV gift card as a present for someone and give them access to the best of entertainment via this platform.

Sling Gift Vouchers For Interactive Entertainment
Sling Gift Cards make the perfect gift for any occasion. Include in a gift hamper or simply send it without any reason to uplift someone's mood. Everyone deserves time to relax, de-stress and have a fun time with some unlimited source of entertainment. With Sling Gift cards you get access to 40+ live TV channels and sports. In addition to tv streaming you also get 120+ movies and TV series on demand. Have an interactive session via text or call with the Sling Watch Party. Stream sling media at home or practically anywhere from your big screen or on any digital device. With over 18 languages including Spanish, Arabic, Hindi, Brazilian and more, you do not have to be concerned about the language barrier. Check your card value and redeem your gift card for any available plan.
Get Sling Gift Cards from a trusted source
Purchase Sling Gift Cards from al giftcards, a reliable source where you get the best of gift cards. Sling cards can be easily bought to gift someone instantly. Want to show someone you care? Want to make someone happy by doing something special? Gift a gift card online and be the reason why your loved one is always entertained. They can watch movies, documentaries and shows touching different genres depending on their mood. Choose the value of the gift card from the available denominations. Buy it using either a debit or credit card and send it instantly via email. You can purchase the Sling Gift Cards using little personal information and make payments using a debit or credit card. Add a heartfelt note along with the gift card online to make it more personalised.
---
How to Get Sling Gift Card?
Choose the Sling Gift Card that you want to buy from al giftcards.

Verify the terms and conditions first.

Now choose the amount of Sling Gift Cards then select one of the Delivery Options.

You will be redirected to the payment method page.

---
How to Redeem Sling Gift Card?
Visit the Sling's official website.

Select your desired plan and go to the checkout page.

Select the option "Gift Card" and enter your gift card voucher to redeem your gift card.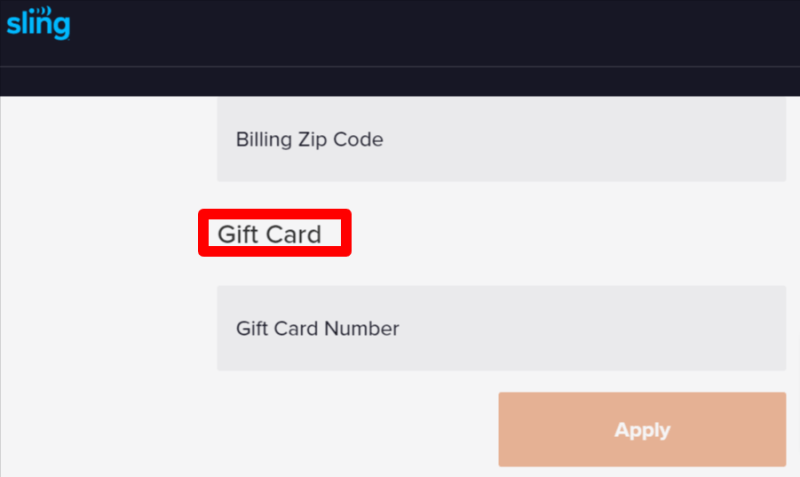 ---
How to Check Sling Gift Card Balance?
Visit the Sling's official website.

Go to the Gift Card section.

Log in to check your balance.

Add your Sling Gift Cards number and PIN.

Press on "Check Balance" and find out your card value.
---
Popular e-Gift Card Searches:
When will I receive the Gift Card?

Can I redeem my Gift Card for cash?

Where can I redeem my Gift Card?

My Gift Card is lost. What can I do now?
For additional questions, you can leave us a message here, and we will get back to you shortly!
Happy shopping!