Rediscovering Trendiest Footwear Styles with Pablosky eGift Cards
We hardly come across web stores that feature footwear and relevant accessories for the kids and even grown-up children. Pablosky is one such platform that deals with products related to the growing feet. This online store of repute specializes in manufacturing, designing, and marketing shoes and other footwear options for the kids, regardless of gender and age.
Besides, the Pablosky gift cards can also be purchased from credible online stores and sent across as gifts to parents who are looking to add new sandals, shoes, sneakers, and more to the existing wardrobe of their kids.
If you know individuals in the Middle East who are looking to throw birthday parties on behalf of their children, sending across a Pablosky gift card is the best possible option. Most importantly, the recipients need not use the gift cards immediately, and they can wait for newer collections to arrive before redeeming the voucher.
With a validity of 12 months, Pablosky gift cards in UAE are some of the best possible gifting solutions for kids who have an undying love for footwear. You only need to select the preferred value and purchase the eGift card from reliable stores like Al GiftCards and relax.
Most importantly, the eGift cards are applicable across the entire store and can be paired as Pablosky Coupon Codes or Pablosky vouchers, depending on the validity and redemption options.
Nothing amazes the kids other than comfortable and trendy footwear. Pablosky, therefore, is one brand that comes with a European heritage and excels in envisioning innovative footwear for kids, preferably with absorbent lining, toe guard, antibacterial insole, slip-resistant rubber sole, bovine leather structure, and more. Therefore, if you are still worried about selecting gifts for children, consider the Pablosky eGift cards, at the earliest.
---
How to Get Pablosky Gift Card?
Choose the Pablosky Gift Card that you want to Buy from al giftcards.

Verify the terms and conditions first.

Now Choose the amount of Pablosky Gift Voucher then Select one of the Delivery Option.

You will be redirected to the Paypal.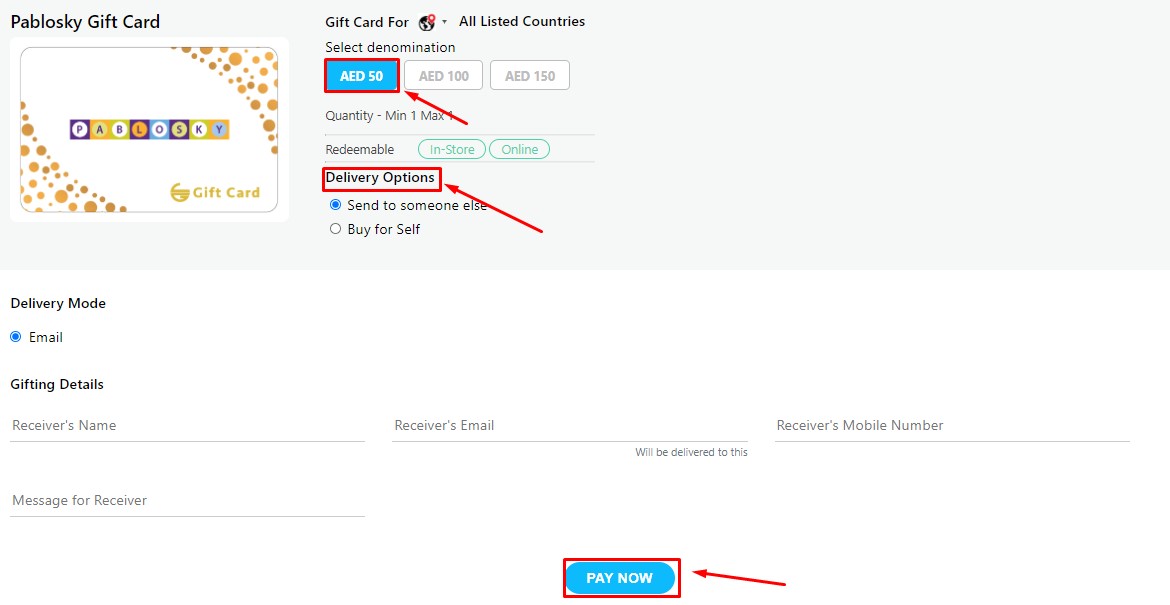 ---
How to Redeem Pablosky Gift Card
First Find your Pablosky e Gift Card Number and pin code from the voucher.

Then Visit Official Pablosky Website

Login/Sign up at Pablosky.

Click on Pablosky Credit Tab, enter the 25-digit gift card number.

Click on Apply to Redeem your gift card.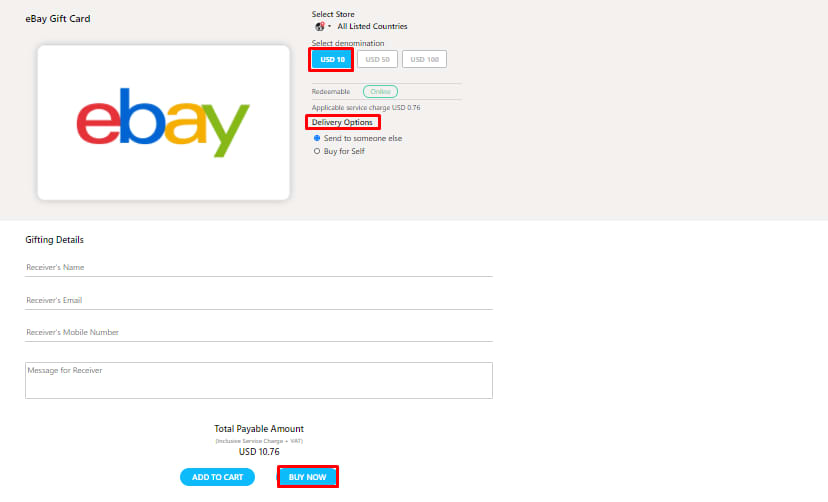 ---
Popular e-Gift Card Searches:
Noon Gift Card, Splash Gift Card, Max Fashion Gift Card, iTunes Gift Card, Playstation Gift Card.
FAQs for Pablosky Gift Cards
We always want and wish the best of the online shopping experience for our valuable customers. All the necessary information and details have been provided to help you shop better and increase efficiency from our side. But, at any time if you have any questions related to Pablosky Gift Cards, you can contact us and we will be there to help you shortly. You can also read along the common questions we encounter from our valuable customers.
How can I purchase a Pablosky Gift Voucher in UAE?
With us, it is easy to shop for Pablosky Gift Cards in UAE. Just follow the mentioned steps to avail Pablosky Gift Card for your little ones. Give your favorite kiddos a Pablosky Gift Cards today!
How to redeem the Pablosky Gift cards?
You can redeem your Pablosky eGift Card at any retail outlets or while shopping online from the Pablosky website. Enter the unique gift card number at the billing counter or at the checkout process depending on the mode of shopping you prefer.
Can I make multiple purchases with my Pablosky Gift Cards?
It is recommendable that you use your Pablosky Gift Card on a one-time purchase. Pablosky gift cards cannot be used for multiple purchases. To redeem the entire amount, choose a Pablosky product that is a bit higher or lower than the gift card amount you received.
What is the validity of my Pablosky Gift Card?
Pablosky gift cards are valid for a year from the date of issue or purchase. To know more about the validity of a gift card, contact Pablosky's customer care team. Always check the date of issue for a gift card. Purchase the products you desire within the validity as once the gift card reaches the expiration date, it will not be valid anymore.
I have an unused balance on my Pablosky Gift Card, what can I do now?
We would always ask you to shop wisely and consider shopping for a product that matches the Gift Card amount. There is no cash provided for the unused balance. The amount that remains unused, you lose it ultimately. So, always consider shopping for something that fits accurately with the amount you receive.
Can I use my Pablosky Gift Card on sale items?
To help you shop better, we would advise you to connect with Pablosky customer care. As different brands and companies have their own set of rules, it would be better for you to ask for assistance from them.
I need to return a shoe I bought with Pablosky Gift Cards. Who should I contact?
All products bought with a Pablosky Gift card can be returned or exchanged following the respective policies of the company. To return a Pablosky shoe, request a return within 14 days of the product being delivered to you. Visit Pablosky's retail store or browse the return bar on the Pablosky website. You will be asked to fill out a form and then just sit back. Make sure to keep the products in the original package along with the bill. Pablosky will contact you shortly.
Can I exchange cash for my Pablosky eGift Card?
We are sorry but you cannot exchange Pablosky gift cards for cash.
I have misplaced my Pablosky Gift Card, what can I do now?
There is no compensation for a lost or damaged Pablosky Gift Card. Try to keep it safe from the next time to not lose the Gift Cards henceforth.
So, hurry and purchase a Pablosky Gift Card today, to make your small one's day happier!