Give your friends and family an exquisite experience with EMAAR Gift Cards
EMAAR UAE is your one-stop destination for hospitality, properties, and entertainment in the Middle East regions. The online store provides you with a plethora of options to choose from when you are indecisive regarding your leisure time. From offering you top choices in the entertainment zone as well as vacation options, EMAAR UAE gives you the perfect excuse to relax on holidays and special occasions.
We, at al giftcards, aid in making the most of this experience for your friends and family with EMAAR eGift Cards. With one EMAAR Gift Voucher, you give your friends and family an option to choose the kind of experience they want to have during their vacation or relaxation days.

Attractions your friends can avail with EMAAR eGift Cards
From the tallest and top Burj Khalifa to the Dubai Marina Mall, Diamond Park, Palace Downtown, and more, EMAAR provides you with innumerous attractions to visit. Celebrate life's small or big occasions with EMAAR properties. The properties that this group offers you include retail shopping as well as dining and other entertainment services you can render to. To keep your gifting options simple, al giftcards have come up with the perfect solution for your loved ones. Give your special ones an EMAAR eGift Cards and let them choose how they want to spend their special days.
EMAAR Gift Vouchers- something for everyone
We are often confused while picking gifts for our loved ones. Be it birthdays, or anniversaries, special days demand something unique and extremely precious. What if we tell you that our range of EMAAR eGift Cards is perfect for every occasion. The EMAAR Group offers hotels and resorts for travelers or staycation enthusiasts. For people who love to shop, exquisite shopping malls take care of their special needs as well. To cater to foodies and entertainment buddies, the Group has unique hospitality and entertainment attractions as well! So, what more could anyone ask for? Browse through our EMAAR Gift Cards to select the right one for your loved one.
Why give your loved ones an EMAAR Gift Voucher?
Al giftcards have customized and curated EMAAR eGift Cards to suit everyone's requirements. Keeping in mind the changing trends in terms of gifting, we have brought you gift cards of denomination AED 100 that can fit your loved one's requirements well. Along with taking care of the denomination value, al giftcards also has an option for you to pen down your thoughts and messages for your loved ones.
So, when you are in confusion regarding a perfect gift to choose, send an EMAAR eGift Card to your special friends. With this eGift card, you let them shop or go on a vacation, as well as enjoy their weekends with entertainment from the house of EMAAR Group's properties.
---
How to Get EMAAR Gift Card?
Choose the EMAAR Gift Card that you want to Buy from al giftcards.

Verify the terms and conditions first.

Now Choose the amount of EMAAR Gift Voucher then Select one of the Delivery Option.

You will be redirected to the Paypal.
---
How to Redeem EMAAR Gift Card
First Find your EMAAR e Gift Card Number and pin code from the voucher.

Then Visit Official EMAAR Website

Login/Sign up at EMAAR.

Click on EMAAR Credit Tab, enter the 25-digit gift card number and 4-digit pin

Click on Apply to Redeem your gift card.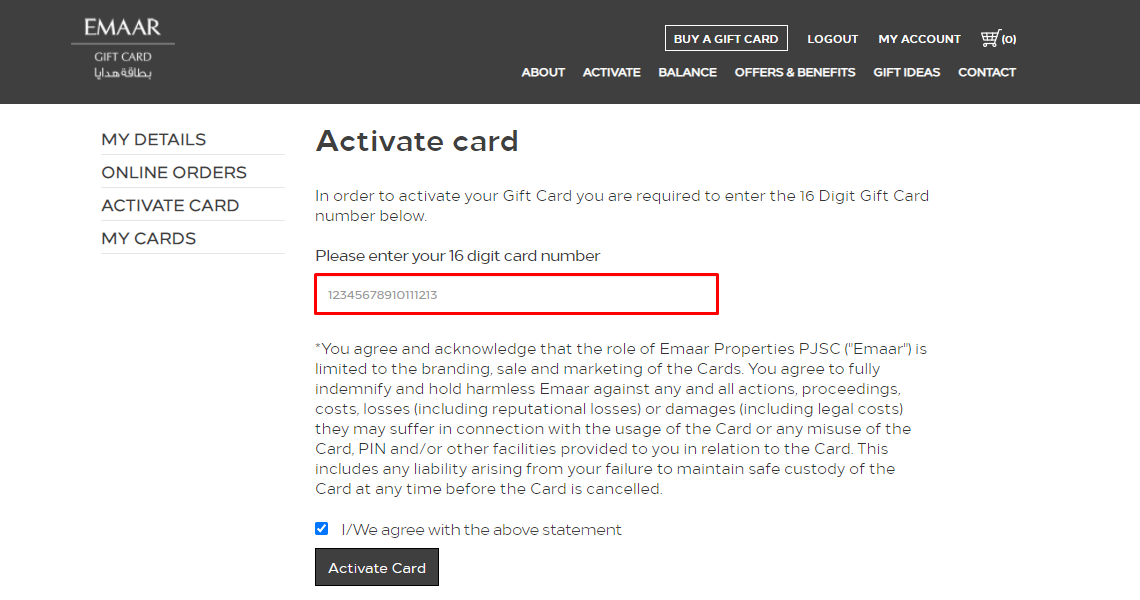 ---
Popular e-Gift Card Searches:
When will I receive the Gift Card?

How to get EMAAR Gift Card?

What is the validity of an EMAAR gift card?

How to activate a EMAAR gift card?

How to use an EMAAR gift card?

How to check the EMAAR gift card balance?

Can EMAAR gift cards be redeemed for cash?

What if the purchase value is more than the EMAAR gift card balance?
For additional questions, you can leave us a message here, and we will get back to you shortly!
Happy shopping!