Be The Hero with Apex Legends Gift Cards
Apex Legends is one of the most played games when it comes to forming a squad with misfits, legendary characters and drifters. Win the ultimate battle with Apex Legends and be the next-gen hero at the face-off. Discover new characters that are roaring with power and have a legendary story of their own. With unique features, strengths, abilities and millions of possibilities sign up for the legendary character that suits you the most. Choose your squad and play with them to challenge the opposing teams. The ultimate squad goal is to combine all the team member powers and slay the enemies at the battleground. Players get ready for this strategic combat encompassing lethal weapons, possibilities, abilities and shifting team players.
At al giftcards, we take this opportunity to offer you the ultimate Apex Legends Gift Cards that can be used while you play the game.
Two Or More Make The Game Even More Fun
When you opt for an Apex Legends Gift Card for a loved one, they get access to a whole range of features, battle weapons, character avatars and more. Build a team, strategize plots to ambush and win the final combat between opponents can be so much better when your friends have added leverage or advantage of gift cards that can be used in so many scenarios. The eGift Card will offer them certificates, Seer, the ambush artist, different skin avatars, and premium features as they step into combat mode. Be the legendary warrior for your friend by giving them an Apex Legends eGift Card that helps them to play better and win at all times. They can also use it in different modes, arenas or battle royale depending, or get a battle pass. So, let's make gifting fun for both you and your friends with the Apex Legends Gift Cards.
Digital Gifting Is Awesome. Here's Why.
Digital Gifting is the new way of showing love or gratitude to your friend and loved ones on their special day. Gamers more than anyone else know how convenient and powerful a tap and swipe can be in today's world. Hence, give your friends something that can be used on the game of their choice that they love the most.
At al giftcards, we take care of all your requirements while you send an eGift Card with denomination choices, personalized messages, and the time when you want to send it to them. Gifting not only becomes easier but instantaneous, ensuring you never miss out on wishing them at the right time. Sounds cool, right? al giftcards take your digital gifting a higher notch with the personalized touch of a sweet message and send it instantly as you select the gift card for your friends.
---
How to Get Apex Legends Gift Card?
Choose the Apex Legends Gift Card that you want to buy from al giftcards.

Verify the terms and conditions first.

Now choose the value of the Apex Legends Gift Voucher then click on the "Buy Apex Legends Gift Card" button.

You will be redirected to the checkout page.

---
How to Redeem Apex Legends Gift Card?
Go to Mircrosoft redeem section

Sign up or sign in to your account.

Enter your 25-digit code under redeem your gift card section.

Click on next then download and play!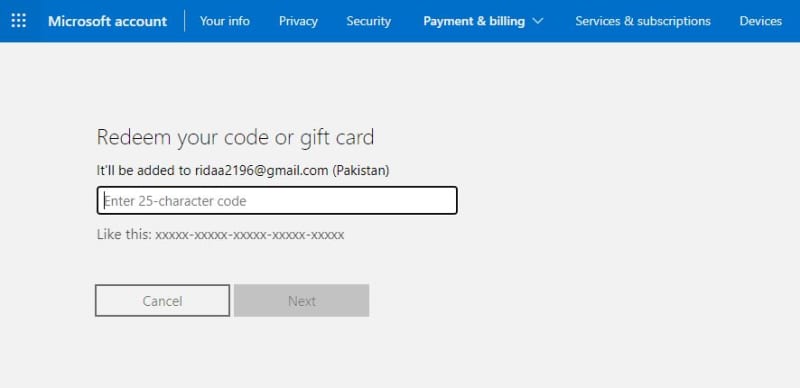 ---
Popular e-Gift Card Searches:
When will I receive the Gift Card?
For additional questions, you can leave us a message here, and we will get back to you shortly!
Happy shopping!