Pamper Your Loved Ones with Tips and Toes Gift Cards
Everyone needs a relaxing day and place where they can rejuvenate after a hectic week, and no one can do it better than Tips and Toes. They have a team of professional salon and spa experts that are known for providing exceptional beauty and spa treatments. Tips and Toes is the Middle East's most successful and trusted salon and spa chain that is known for its unrivaled services and a team of trained professionals. They offer top-notch nail care, skincare, haircare, and body care services that are equivalent to those provided by five-star hotels and spas.
Besides providing world-class spa services, they also provide Tips and Toes gift cards that can be given on any occasion to any of your loved ones. Using this digital gift card, the recipient can avail of any of their services that fall within the gift card value.
Get Access to Top-Notch Beauty Services in Town
From massage to eyelash extensions, hair removal to hammam, Tips and Toes offer a range of beauty services for every woman. Picking a service based on guesswork can often turn out to be a bad gift idea. To overcome this gifting challenge, al giftcards has brought together Tips and Toes gift vouchers of various denominations. Using this eGift card, the recipient can enjoy any beauty service she wants without having to pay for it.
Tips and Toes have the best professionals working for them, so you can rest assured that your loved ones will receive nothing but the best service from them. Besides the normal beauty services and relaxing spa treatments, Tips and Toes also provides natural beauty treatments and bridal makeup services. So gift the lovely ladies Tips and Toes gift cards for the much-deserved relaxation and pampering sessions.
Embrace Digital Gifting with Tips & Toes Gift Cards
With online gifting, you can surprise your loved ones that are staying miles away from you. Now, whether you want to extend warm wishes on Ramadan or wish a happy new year with something special, you can do it in style with Tips and Toes eGift cards.
With changing times, people have started embracing digital gifting as part of their lives, so should you! al giftcards aids the digital gifting process by collecting the best digital gifting options in one place. You can simply browse, select, and purchase the digital gifts that best match the occasion and your budget. And it's done!
Why Choose Tips and Toes Gift Cards?
Gifting is a form of expression that needs to be done the right way. When you give Tips and Toes gift cards to the lovely ladies, you are giving them the freedom to choose the beauty services they want. This freedom of choice and flexibility is what makes digital gift cards the best gifting option. All you have to is purchase a Tips and Toes eGift card for your loved one and let them do the rest.
When purchasing Tips and Toes gift voucher from al giftcards, you get the option to get the eGift delivered to your loved one instantly via email. We also provide a secure payment environment, so you can make online payment without any worry.
---
How to Get Tips & Toes Gift Card?
Choose the Tips & Toes Gift Card that you want to Buy from al giftcards.

Verify the terms and conditions first.

Now Choose the amount of Tips & Toes Gift Voucher then Select one of the Delivery Option.

You will be redirected to the Paypal.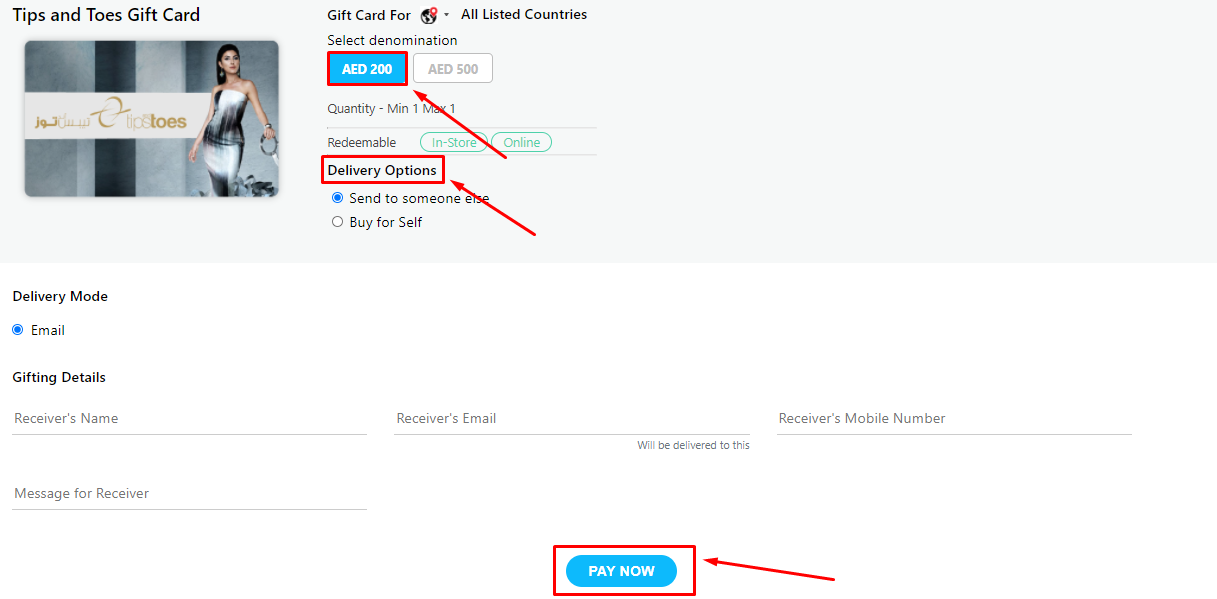 ---
How to Redeem Tips & Toes Gift Card
First Find your Tips & Toes e Gift Card Number and pin code from the voucher.

Then Visit Official Tips & Toes Website

Login/Sign up at Tips & Toes.

Click on Tips & Toes Credit Tab, enter the 25-digit gift card number.

Click on Apply to Redeem your gift card.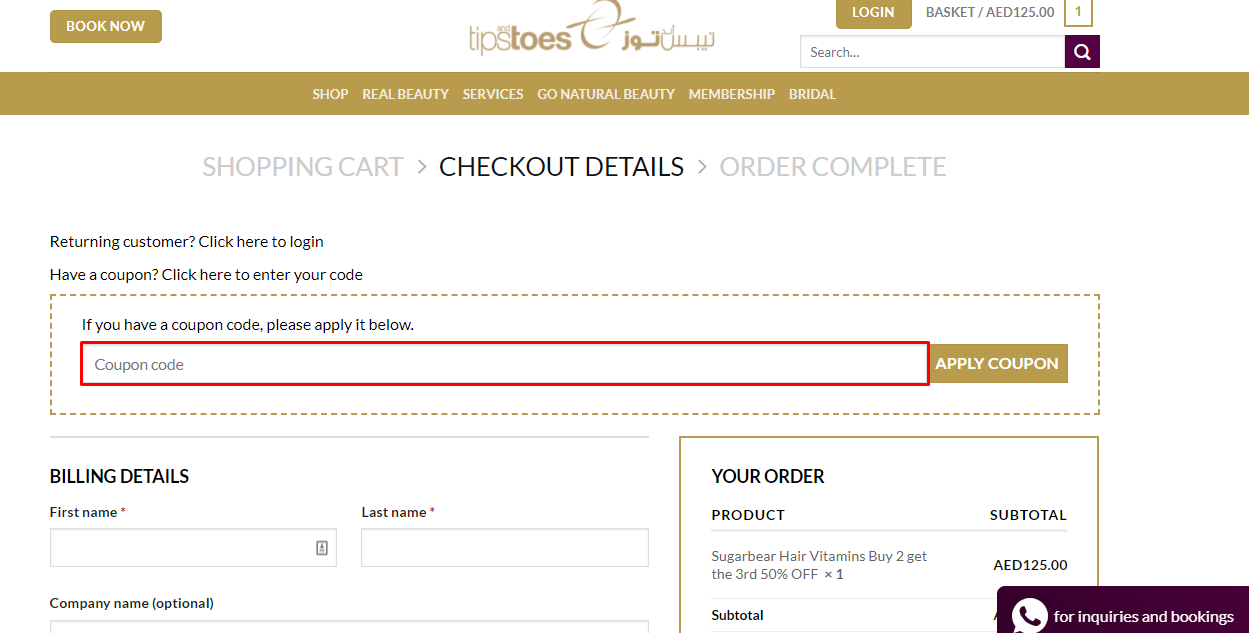 ---
Popular e-Gift Card Searches:
When will I receive the Gift Card?

How to get a Tips and Toes Gift Card?

My Tips and Toes Gift Card is lost. What can I do now?

How to use the Tips and Toes Gift Card?
For additional questions, you can leave us a message here, and we will get back to you shortly!
Happy shopping!