Le Confort eGift Cards and the Reality of Footwear Fanaticism!!!
Although purchasing shoes and relevant footwear is a pleasure in itself, nothing comes close to selecting products from the Le Confort online store that are branded and comfortable at the same time. Therefore, if you are planning to gift something majestic and exclusive to your near and dear ones, a Le Confort gift card is probably the best option in plain sight.
The best feature of this retail footwear store is the comfortable options on display, including the likes of sandals, loafers, sneakers, and more. Not just that, Le Confort also excels when it comes to featuring enthralling handbags and other fashion accessories.
A Le Confort gift card is something that you must immediately look to purchase, precisely to send across as a gift to your beloved friends, family members, acquaintances, or even employees.
Once you get hold of Le Confort gift cards in UAE, you can simplify the footwear buying experience of the concerned recipients. Most importantly, if you do not know the individual in person, it is advisable to go with a gift card instead of gift-wrapping a product that you are unsure about.
A Le Confort gift card is precisely structured to last a year, and a recipient can easily redeem the same, as and when desired. This is why you must immediately considering getting a Le Confort eGift card, listed at Al GiftCards, and make way for rewarding shopping experience for your loved ones.
---
How to Get Le Confort Gift Card?
Choose the Le Confort Gift Card that you want to Buy from al giftcards.

Verify the terms and conditions first.

Now Choose the amount of Le Confort Gift Voucher then Select one of the Delivery Option.

You will be redirected to the Paypal.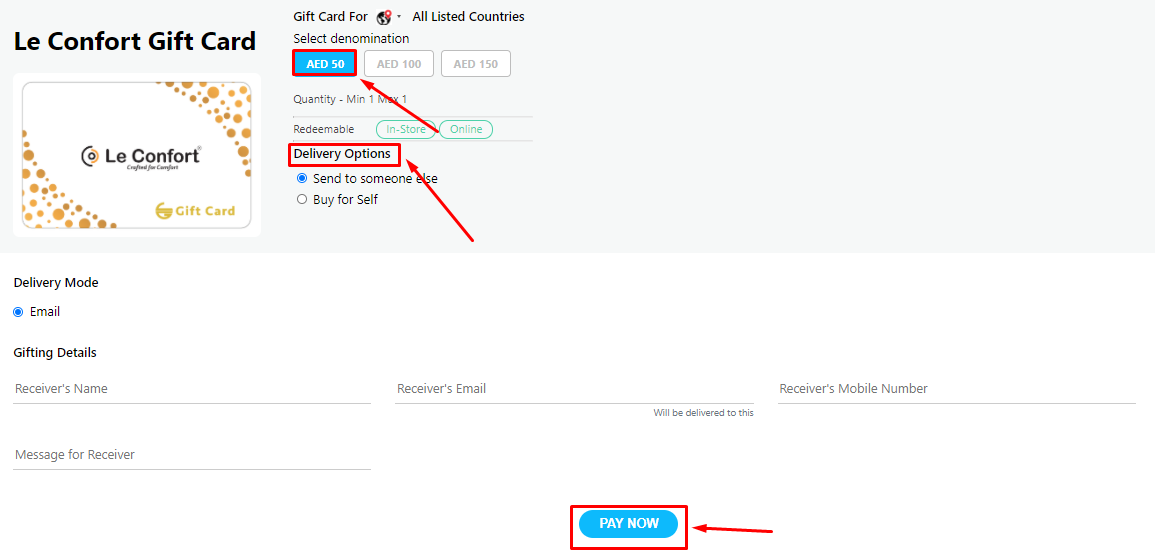 ---
How to Redeem Le Confort Gift Card
First Find your Le Confort e Gift Card Number and pin code from the voucher.

Then Visit Official Le Confort Website

Login/Sign up at Le Confort.

Click on Le Confort Credit Tab, enter the 25-digit gift card number.

Click on Apply to Redeem your gift card.
---
Popular e-Gift Card Searches:
Noon Gift Card,Home Box Gift Card,Babyshop Gift Card,Amazon Gift Card,Centrepoint Gift Card.
1. How to get a Le Confort Gift Card?
To buy a gift card, you can visit our website and choose the voucher amount that suits you. Do check the gift card details before you purchase, and check the number of cards you wish to buy. You can also split your gift amount over multiple cards. Add the Gift Card to your cart at checkout, make the payment, and you're done. You can order a Le Confort gift card online and have it delivered to your doorstep or your loved ones.
2. What is the validity of the Le Confort gift card?
Your Le Confort Gift Card is valid for a period of one year or 12 months from the date of the issue. You can use the card to purchase the shoes and accessories of your choice at any of their online or offline stores within the given validity period.
3. How to activate the Le Confort gift card?
Sometimes you can buy gift cards at self-checkout. These cards are automatically activated once your payment is processed, and your transaction is complete. If your gift card is not activated, visit the activation link listed on the back of your card or check the sticker on the front of your gift card. Usually, you can activate your gift card online or make a phone call to the merchant store if you are unable to use your card.
4. How to use a Le Confort gift card?
You can use your Le Confort gift card UAE to make payments online, via the Le Confort app, or in any of their physical stores. Choose the product you like & proceed to checkout. Apply your 25- digit gift card number and 4- digit pin at the end of the cart or basket page to check how much money you can use from your gift card. Click on the checkout page to complete your shopping.
5. How to check the Le Confort gift card balance?
To check your Le Confort gift card balance, you will need the card number and the PIN or security code printed at the back of the card. Most retail stores and restaurants will allow you to make a balance inquiry online, by calling the toll-free number given on the gift card, or by visiting them in person.
6. Can Le Confort gift cards be redeemed for cash?
No. A Le Confort gift card cannot be exchanged for cash either in full or in part. It can only be used to buy products equal to the Le Confort gift card value at any of their stores.
7. What if the purchase value is more than the Le Confort gift card balance?
Your gift card can be redeemed for part value in case the cart value exceeds the value of the gift card. In such cases, the gift cardholder will have to pay the balance exceeding the gift card value or differential value either in cash, credit card, or debit card.